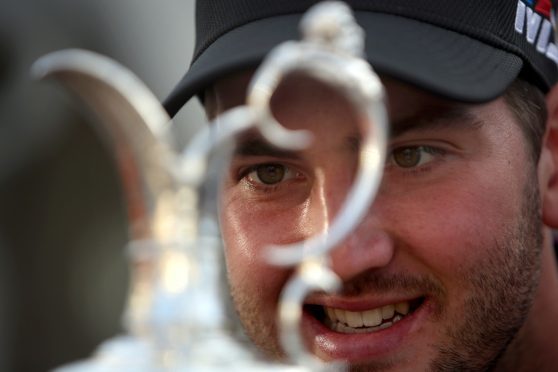 Bradley Neil celebrated his 22nd birthday only last week but when he sees Jon Rahm tearing up the world of golf he feels impatient to get back to major championship golf.
The former Amateur champion from Blairgowrie gets back to his rookie European Tour season in a fortnight in Australia but was helping the R&A promote this summer's Open Championship at Carnoustie in Dundee city centre yesterday.
And while Neil is still at a tender age for most in golf terms, he sees what the likes of Rahm – who could go to World No 1 at age 23 after just 18 months as a professional this month – are doing and wants some of that.
"What Rahm has done is exceptional, and he's obviously a phenomenal player, but it just shows what can be done," said Bradley.
"I mean, what Rory McIlroy, Jordan Spieth, Matteo Manassero and Justin Thomas did when they came out on tour at a young age, Rahm is nearly beyond them already.
"He's just come out oozing with confidence and the thing about him is he's not scared of competing and beating everyone on tour, no matter who they are."
And Bradley believes that this confidence in your ability is an absolute essential if you want to play with the best, even if it leads him into some awkward moments.
"I was at the launch of the Taylor Made equipment when I was in South Africa, on the stage with Retief Goosen and Trevor Immelman, two major winners, and obviously it was an honour to be there," he recalled.
"But in the Q and A session a guy asked me if I had to `pinch myself when I was on the range with these guys' and I thought I have to be careful here.
"You don't want to be the rookie guy who sits up there with major winners, multiple tour winners, Ryder Cup players and says `I want to beat these guys'. How do I reply without sounding arrogant?
"Yes, you stand on the range and you can't help but look at Tiger or Rory or Kaymer. But at the same time, even after all they're done in the game , you have to want to beat them."
Bradley still feels like a fan when he's watching the top players at home on TV, but if he felt like that at the course "these guys would walk all over you."
"It's past the stage for me to be looking up to these guys, now I have to start competing with them," he said. "There's no one player that I look at that if I played my absolute best I couldn't compete with, and I think you have to believe that.
"You have to believe in yourself, like Rahm does. Everyone should feel like that, players like me starting out, also the guys who have been on tour for years but haven't won in a while. You just have to."
The first step for Bradley is getting himself established on the European Tour in 2018, and he's decided familiarity – as much as possible – is the key.
"I already made a mistake by not playing in Australia at the end of last year," he said. "I went to Mauritius instead when I'd have been better at a place I'd been and played well before.
"So I'm going to Perth in two weeks, then Oman, Qatar and South Africa. That's two courses I've played before, and countries I've been to before. I know what's expected in those places, I don't need to make any adjustments.
"Familiarity is huge. Once the tour gets back to Europe it'll be easier, and I'm looking forward to that."
Bradley's packed a bunch of experiences into his few short years since the Amateur win catapulted him into three majors as an 18-year-old.
"I know that when I get back to the Open, whether that's in July or next year or even in ten years, I'll have those experiences to fall back on," he said.
"The Open in 2014 came so quickly for me, it was just a month after I won the Amateur and I felt I had not time to prepare. I'd love to go back and do it all again, to have your first experiences in three majors as an 18-year-old was so difficult, but I'll know how to deal differently next time."
And just being close to the iconic Claret Jug, on display in the City Square yesterday, gets the juices flowing about getting back in the Open.
"It's just such an inspiring trophy, the oldest in golf, just seeing all the legendary names inscribed on it," he said. "I love golf history and it's nice to test yourself on who's won it in what year.
"It's fantastic to see the way people walk by here and suddenly realise "Is that what I think it is?" and want to get their picture taken with it.
"I really hope the Open being in this area again in July that we can promote golf. It's a fantastic game with real opportunities for young people."