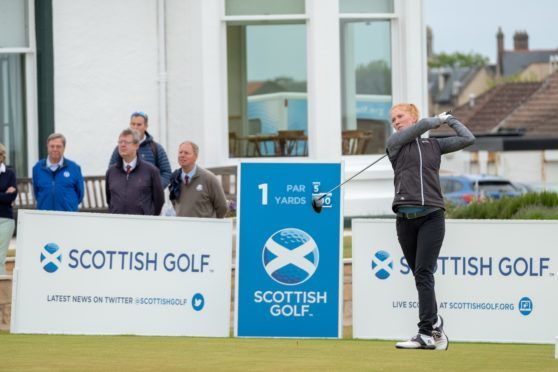 Gemma Batty may have made history by becoming the first player to win both the Scottish and English women's titles, but she's content in her decision to make golf "a glorified hobby" rather than a profession.
The Leeds-born, Moffat-based player celebrated her 24th birthday by winning the Scottish Women's Championship title to go with the English version she won two years ago. In those couple of years, she's become "Scottish", finished her degree at Stirling, fallen out of love with golf and then back in love.
The culmination was Saturday's hard-fought final on the beautifully baked fairways at Elie, a proper battle against former champion Gabrielle MacDonald that was in doubt until the former University of St Andrews student suffered a bit of cruel misfortune at exactly the pivotal moment.
Batty didn't trail after her birdie at the short par four fourth, but her biggest advantage had only been two-up and if anything MacDonald had the momentum, at least until Batty's second shot to 17, off a tricky lie by a bunker that left her opponent having to hole to get the half.
However MacDonald's drive at the last took a kick into rough and she got a real flier on impact with her approach, shooting low across the green and through the out of bounds fence at the back.
Batty had a decent chance at birdie but in the end didn't even have to take her putter back, as MacDonald conceded the hole and the title to her international team-mate.
It was Batty's first attempt at the title, given that she sat out all national championships for two years while she waited for Scottish eligibility, settling with her family in Moffat while attending Stirling and having "gone native". She qualified to play for Scotland in the Home Internationals last year, and to play in national championships this season.
But it was a key decision on her future that really settled her mind about staying in Scotland and playing for fun and competition.
"Last year I was going through a rough spell; I wouldn't say I had fallen out with the game but I wasn't enjoying it as much as I should have been," she explained.
"I decided then that I'd been putting myself under too much pressure playing golf and that's when I started to look at graduation schemes. That was a better option, especially as in the women's game at the moment you are struggling to make a living unless you go to America.
"I didn't want to do that. I want to have a home, I want to have children, I want to have a nice career. I'm happy with the decision I've made and I will come and play in the Scottish Women's Championship as long as I can."
She's started on the grad scheme with the supermarket chain Lidl, and the obvious result of the overall decision is that she loves playing golf again.
"All the players in the Scottish Golf squad this year were told to think of one trigger word for their game mine was enjoyment," she said. "David Patrick, my coach, texted me last night and simply said, `Enjoyment'.
"I have really enjoyed every single round I've played this week on a course that was just exceptional."
For Gabrielle, it was a gutting way to lose after she had fought her way back to all square for the final few holes.
"I thought I had hit a good drive to leave me with a good line into the pin, but it must have kicked quite hard off a slope into the rough," she said of the last.
"I didn't know how it was going to come out and the ball was also below my feet. It was awkward but it was so disappointing to see it go out of bounds."
The 26-year-old still has aspirations to be professional, but she's waiting to see if the LET sees an upturn in fortunes.
"I still want to try and give it a go," she said. "My goal is still to get to the LET. The Tour's not in the best of shape at the moment, unfortunately, so there's not a lot of playing opportunities.
"That's why I'm staying amateur at the moment as I can keep playing in events like this one."