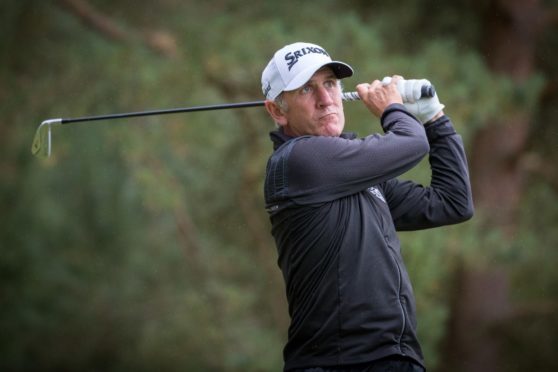 Euan McIntosh's explanation of his preparation for winning the Scottish Amateur Championship at 49 sounded like the opening line to a lament – maybe "Old Golfer's Blues".
"I woke up this morning and my back was gone," he explained. "I needed physio and I'll need physio again now. But don't get me wrong, I could still play…"
And sometimes the blues can be joyful. The veteran from Turnhouse battled a fading swing and an ailing body with a wickedly brilliant short game to defeat Jamie Stewart, his Scotland international team-mate 31 years his junior, on a beautiful afternoon among the tranquil tree-lined fairways of the Rosemount course at Blairgowrie.
The most unlikely of a series of extremely unlikely up and downs, from a divot at the base of a tree on the 16th, brought him a 3 and 2 victory just in time, he thought, as he was rapidly running out of energy.
But he credited Scotland national coach Ian Rae with the tip that got him through to this title, the culmination of an extraordinary return to the elite amateur game after regaining his status following unsuccessful years as a professional.
"Matchplay's not my thing, and I've struggled at it since my return (in 2016)," he said. "I guarantee that I would not have got past another round this week had Ian not spoken to me after I'd struggled in the first round because I'd been terrible.
"He said you have to say to yourself `what am I going to do?' and forget what the other guy does. And that's what I said over every single shot and every single putt, and it transformed me."
That certainly helped in the final when Stewart was boxing putts from all over the place, not least the 50 footer across the fourth green in the afternoon that brought the match back to all square after McIntosh had doubled his one-up lead at lunch.
But if the veteran felt his legs were going, and most of his longer shots were going naggingly left, he saved himself time and again with his razor-sharp chipping and putting.
The short game had saved him all morning and build his advantage in the afternoon.
At the short par four 12th, he pushed his tee shot into thick ferns but got a clean escape to 20 feet and "saw a funnel" that would take the ball to the hole for the birdie that took him back to two-up.
Jamie recovered from a couple of hacks in the trees at the long 14th to hole from outside his opponent at the 15th, and for those in Renfrewshire blue watching, it looked like their boy would get back to one down on 16 when McIntosh's drive scampered through the fairway and came to rest at the foot of a large tree.
"When I got there, I saw it was in a divot as well, so I'm weighing up a miracle shot before I just decided, play out to a spot, you're chipping well, and if Jamie makes a three then good for him," said Euan.
The chip was to 12 feet but in a familiar spot, he added.
"It was in almost the exact same spot I'd had in the morning round, maybe an inch away," he continued. "When things like that happen you kind of feel it's just going to be your day. "
He duly holed the putt for his scrambling par while Stewart three-putted, an unfortunate way for an excellent match to end but there was little doubt the better man had won.
Among the first to congratulate him was his long-time friend the well-known Scots professional and broadcaster Alan Tait –  they played junior golf together and Euan lost to the big man in the Scottish Boys Final of 1986 – who rushed from a previous engagement to be there and was probably even more emotional than the winner.
"It's going to take a while for this to settle in, I think by the time I get home I'll be able to sit down and think `wow, I actually won the Scottish Amateur after all this time'," said Euan.
He's the oldest player to win the national title since the legendary, late Charlie Green won in 1983 at Gullane ten days short of his 50th birthday. Euan turns 50 next February, and he won't defend his newly-won title as he plans to turn professional again and try his luck in Seniors golf.
"I'm a totally different golfer just these last two and a half years to what I was," he added. "I know what you have to do now in terms of working hard.
"The seniors qualifying in America is in November. There's plenty of work for me to do before then."