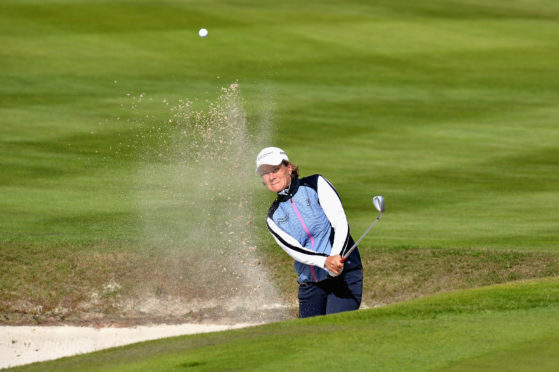 We'll miss her when she's gone. No, correct that, we're probably going to miss her while she's still there.
Catriona Matthew is adamant that her playing career for Europe in the Solheim Cup is over, and that she'll be a captain only next year when she returns to Gleneagles. Yet yesterday the tenacious matchplayer showed exactly why she's been a mainstay for so long.
Holly Cyburn, her team-mate for Great Britain in the European Team Championships, could only stand aside in admiration as the 48-year-old holed three "clutch" putts on the final three holes to first deny and then defeat Norwegian pair Marianne Skarpnord and Marita Engzelius.
Even the ever-cool and collected Matthew gave a fist-pump – more a symbol of satisfaction than outright celebration – as the final putt on 18 went in to clinch victory. It doesn't seem to matter what form of matchplay it is, the Scot is r/elentless.
Matthew and Clyburn, Great Britain Women 2 in this format, go into today's final group match needing just a half to make the semi-finals of the fourball competition at the weekend. The other two women's home teams, Laura Davies and Georgia Hall and the partnership of Michele Thomson and Meghan Maclaren, are also poised for the semis if they avoid defeat today.
In the men's section, Connor Syme and Liam Johnston stayed on course with a narrow win over Irish duo Michael Hoey and Niall O'Briain. A winner-take-all match with Italians Francesco Laporta and Alessandro Tadini today will determine who plays on Sunday.
In all five of six GB teams are well placed going into today's final round of foruball matchplay to reach the semi-finals on Sunday, after Saturday is given over to the mixed-team foursomes.
But the day's masterclass in staying cool came from the veteran Scot from North Berwick, showing all the class that made her so dominant in matchplay in her amateur days and in the Solheim Cup for nearly two decades.
There was even a little scare on the 18th when Skarpnord, on the bank off the tee, shanked her second shot straight at her waiting opponents and her ball ricocheted off the Scot's golf bag.
But Catriona had already proved herself unflappable, holing an eight-footer for par when she left her first putt a little short at the long 16th and Clyburn was out of the hole in the pond, then another of similar length for par at the short 17th.
That meant the Norwegians had a knee trembler each to stay all square and although Skarpnord saved them there, there was no respite on the last.
At 18 Engzelius' downhill putt for a four was too tentative and stayed on the low side, but Matthew's birdie putt from five feet was firm and decisive on the right edge.
"It came down to who holed the putts, and it's what I've been trying to do my whole career," she said afterwards. "I'd much rather have won the three holes earlier, but that's the attraction of matchplay, it can always come down to the final green."
Matthew added that she "got lucky" with her final three putts, but Clyburn demurred.
"It was hard and tricky and thankfully I had a good partner for the final three holes," said the Grimsby girl. "It's too early to be thinking about medals but we'll see where we are, we've still got a tough game tomorrow."
Laura Davies and Georgia Hall won again – the veteran seems to be getting a spark off her young team mate, contributing an eagle and birdie in successive holes – but the third GB&I women's team, Meghan Maclaren and Michele Thomson, won impressively 5 and 3 over Austria to set themselves up for a decisive contest with Finland today.
"We're the under-the-radar GB team and that suits us well," said Maclaren, daughter of European Senior Tour chief David, who is on caddying duties this week.
Thomson added: "We dovetail well and we knew we'd make a really good team this week, so it's nice to be in with a good chance going into tomorrow."
All three GB women's teams could end up in the last four but in the men's competition it's again the third duo, Scots Syme and Johnston, who have impressed.
Syme "didn't play my best today" but he holed a huge 47-foot putt from the lower level at the short 17th to close out the Irish. "It was nice to contribute after Liam did most of the legwork today," he said.
Johnston had three birdies in a match that was always close but the Scots just kept their noses in front, and now know exactly what they have to do against the Italians.
"I said to Conor I fancied him to hole that putt," said Johnston. "We know we have to win the last game, that will clear the mind and we can just go for it."
Thursday's results
Group D: Great Britain W2 (Matthew and Clyburn) bt Norway W (Skarpnord and Engzelius) 1 hole; Sweden W1 (Nilsson and Boqvist) Sweden W3 (Persson and Wessberg) 5 and 4; Iceland M (Hafthorsson and Boasson) bt Italy M1 (Gagli and Migliozzi) 2 and 1; Norway M (Arnoy and Johannesson) Belgium M (Mivis and Buijs) 2 holes.
Group A: Great Britain W1 (Davies and Hall) bt Germany W2 (Gabsa and Ras-Anderica) 4 and 3; Spain W (Jimenez and Banon) halved with Belgium (Leurquin and De Roey); Great Britain M1 (Shinkwin and Slattery) bt Sweden M1 (Langfors and Edfors) 6 and 5; Spain M2 (Tarrio Ben and Borda) bt Sweden M2 (Jennevret and Floren) 1 hole.
Group B: France W1 (Herbin and de Pradenne) halved with France W2 (Dreher and Molle); Sweden W2 (Gustavsson and Engstrom) bt Germany W1 (Cowan and Lampert) 3 and 2; Italy M2 (Laporta and Tadini) bt Great Britain M2 (Enoch and Ford) 2 and 1; Great Britain M3 (Syme and Johnston) bt Ireland (Hoey and O'Briain) 2 and 1.
Group C: Iceland W (Kristinsdottir and Jonsdottir) halved with Finland W (Wikstrom and Komulainen); Great Britain W3 (Maclaren and Thomson) bt Austria W (Wolf and Schober) 5 and 3; Spain M1 (Oriol and Fernandez) beat Poland M (Meronk and Gradecki) 2 and 1; Portugal M (Lima and Santos) bt Denmark (Oversen and Moller) 2 and 1.
Friday's schedule
Group C, 8 am: Iceland W (Kristinsdottir/Jonsdottir) v Austria W (Wolf/Schober); 8.15: Great Britain W3 (Thomson/Maclaren) v Finland W (Wikstrom/Komulainen); 8.30: Spain M1 (Oriol/Fernandez) v Denmark M (Ovesen/Moller); 8.45: Portugal M (Lima/Santos) v Poland M (Meronk/Gradecki)
Group D, 9.00: Great Britain W2 (Matthew/Clyburn) v Sweden W3 (Persson/Wessberg); 9.15: Sweden W1 (Nilsson/Boqvist) v Norway W (Skarpnord/Engzelius); 9.30: Italy M1 (Gagli/Migliozzi) v Belgium M (Mivis/Buijs); 9.45: Norway M (Arnoy/Johannessen) v Iceland M (Hafthorsson/Boasson)
Group A, 10.00: Great Britain W1 (Davies/Hall) v Belgium W (Leurquin/De Roey); 10.15: Spain W (Jimenez/Banon) v Germany W2 (Gabsa/Ra-Anderica); 10.30: Great Britain M1 (Shinkwin/Slattery) v Sweden M2 (Jennevret/Floren); 10.45: Spain M2 (Tarrio Ben/Borda) v Sweden M1 (Langfors/Edfors)
Group B, 11.00: France W1 (Herbin/de Pradenne) v Sweden W2 (Gustavsson/Engstrom); 11.15: Germany W1 (Cowan/Lampert) v France W2 (Dreher/Molle); 11.30: Great Britain M2 (Enoch/Ford) v Ireland M (Hoey/O'Briain); 11.45: Great Britain M3 (Syme/Johnston) v Italy M2 (Laporta/Tadini).