Thomas Bjorn will lean massively on experience after picking four men with 20 appearances and 48 points between them for his wildcards for the contest against the USA in Paris this month.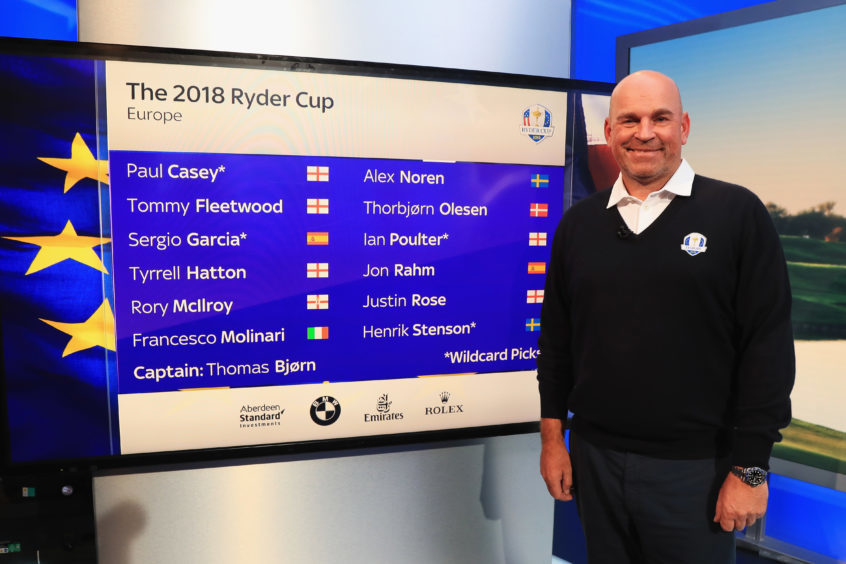 Paul Casey, Ian Poulter and Henrik Stenson were always likely picks but nearly half those points and eight of those appearances come from Sergio Garcia, who has been scrabbling for form for much of the season but wins a wildcard with Bjorn extolling the Spaniard as "the heartbeat of the team".
"It would be like a football team without their captain," continued the actual captain. "(People) have to experience Sergio in the team room and how much he brings to it. We've seen it time after time, he makes everybody around him better."
Ryder Cup: Bjorn's selection of Sergio Garcia is a huge gamble
With five rookies having pre-qualified – Jon Rahm, Tommy Fleetwood, Tyrrell Hatton, Alex Noren and Thorbjorn Olesen – adding another like Matt Wallace, a winner of three events on the European Tour this season including in Denmark just last weekend, was always unlikely to be Bjorn's thinking.
However while most will have no issue with Casey, Poulter and Stenson, Garcia's recent form –seven missed cuts in his last 12 events, and just one top ten finish – is historically bad for any Ryder Cup wildcard on either side. He will be the first Ryder Cup player to have missed the cut in all four of the major championships during the qualification year.
However Bjorn had clearly no doubts about Garcia's inclusion at any time, believing he will raise his game for the competition.
"He is what's great about a European team room, he is everything a European Ryder Cup team is all about," enthused the Dane. "I've watched him as a Ryder Cup player and vice-captain and I have so much belief he'll go to France and do as he always does, on the golf course but also off the golf course.
"We have five great rookies. You need people who have been there and done it all, positively and negatively. I really feel I can trust Sergio with everything in a Ryder Cup."
Bjorn had more rookies as possible choices, like Wallace and Scotland's Russell Knox, but he also had experienced candidates in better form than Garcia, notably the Spaniard's countryman Rafa Cabrera Bello or the Belgian Thomas Pieters, both successes in a losing cause at Hazeltine two years ago.
"There's a couple of disappointed people on the phone yesterday, and those were tough calls to make," added Bjorn. "There's been a lot of guys who deserved a lot of thinking."
Garcia, speaking from Spain, said he was "very thankful to Thomas for believing in me".
"I'm sure it wasn't an easy decision, but he knows what I bring to the team," vontinue dthe 2017 Masters champion. "It's been a tough year but I feel like my game is coming along, and I'm trying to be as ready as I can be to help European team win the cup back.
"Everyone knows how much I love the Ryder Cup and it's very exciting to be part of another team. I'm going to give everything I have on the course and the team room to make sure that the rookies and the other guys feel as comfortable as possible. Hopefully that helps us reach our goal."
There will be less debate about Bjorn's other three picks, recalling Casey and Poulter and retaining Stenson after getting reassurances about the Swede's injury problems this year.
"I had long conversations with Henrik and his focus switched in the middle of the season from personal achievement to this team," said Bjorn. "He has great stature in the team room.
"All four of my picks make it easy to partner up with players who have already qualified. Justin (Rose) would find it difficult if Henrik was not there.
"You have to look at how players to react to who comes in. These players come in with loads of appearances, loads of points, they know what it's like to win and lose."
Bjorn actively sought out Casey to help bring him back into the fold after a ten-year exile from Team Europe and was rewarded with the Englishman's improved form and a win in the Valspar Championship in Florida.
As for Poulter, his win in Houston showed Bjorn that the hero of the Miracle at Medinah in 2012 was "back on track".
"I met him in the car park at Augusta and he told me he was going to be there," said Bjorn. "He was back in that frame of mind we all know.
"Winning tournaments is important (for selection) but that frame of mind to play in this event is just as important."