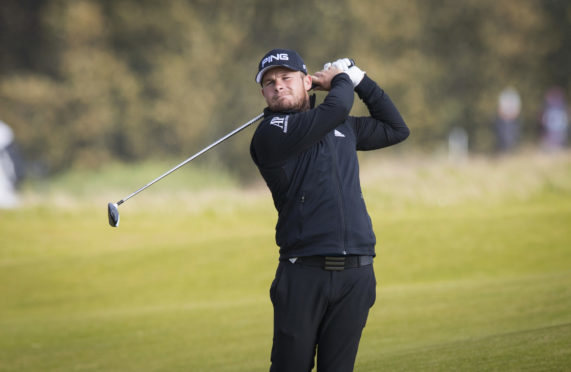 It's not a sudden epidemic –it happens at every big golf tournament – but another spectator felled by a loose shot from a prominent player in the Alfred Dunhill Links Championship yesterday makes it feel like it is.
Hard on the heels of Brooks Koepka's unfortunate incident at the Ryder Cup which led to a female fan losing the sight in an eye, Team Europe hero Tyrrell Hatton's shot at the 15th in the first round at Kingsbarns hit a woman spectator square in the forehead.
The woman, from Edinburgh, had to go to hospital for stitches, having got a hug from a chastened Hatton.
However the Englishman got reports that no lasting harm had been done when still on the course.
"It's probably one of the worst feelings I've had on a golf course," he said. "It's the first time I've ever hit someone, so I was pretty devastated.
'"I was getting updates when I was out on the golf course, because I wanted to know how she was doing, and when I finished my first nine holes, I got told she was OK.
"She went to hospital just to have a couple of stitches but there were no concerns from a medical point of view."
Hatton and his group called out a warning to the crowd when his shot was off-line, but at 300 yards away in windy conditions like yesterday that's not always going to be heard.
"My head was all over the place. I was absolutely devastated, I still am. It's not a sight you ever want to see," continued Hatton.
"You want spectators to come out and have a great day. Unfortunately, on this occasion, she didn't get to enjoy her day. I'm just very thankful that she's OK."
On the back of Koepka's incident, there's likely to be more clamour for the safety of spectators at golf events, but this is a reasonably common occurrence – Luke Donald, in the same group on the same hole, hit a male spectator on the ankle with no ill-effects.
Other than have galleries pulled back miles from the fairway – and they were further away than normal at the Ryder Cup – it's hard to see what more could be done. Rory McIlroy, for example, had shots hit three different spectators in the course of one round at the BMW PGA Championship at Wentworth in May.
"It kind of reminds you that golf isn't that important, if you know what I'm trying to say," said Hatton, who eventually finished with a two-under 70. "'From that point, I wasn't even thinking about it being hard to concentrate, I was just thinking about what had happened."
Koepka, who also shot a two-under 70, empathised with his fellow Ryder Cup player.
"Unfortunately it happens every week, with what happened last week it's been more publicised but it happens every week that someone gets hurt.
"Everyone is doing what they can to limit the risk – the European Tour, PGA Tour – they are all doing what they can.
"But on days like today when it's blowing 30 miles per hour winds it's hard to control the golf ball."
Koepka admitted that he was still torn up about the incident last week but had tried to keep it off his mind on the course.
"It has gotten me, I'm torn up about it and I was shaking yesterday in the press conference talking about it," he said.
"But I can't let it affect me on the golf course. You've still got to go out there and expect to hit the fairway.
"I've hit errant shots thousands of times and you've got like six seconds from when that ball is hit with the driver to when it usually lands – and in those six seconds you try to yell fore and get everybody's attention.
"But sometimes it's hard, people are on their phones or chatting and not paying attention to what's going on. From 300 yards back it's really difficult to get someone's attention in five or six seconds."