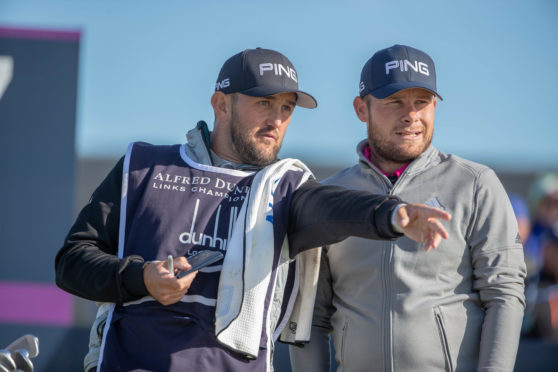 Buoyed by the news that the women injured by his errant shot on Thursday had been discharged from hospital and was actually back watching golf yesterday, Tyrrell Hatton is in poised for a special bit of history at the Alfred Dunhill Links Championship.
They're made of stern stuff in Scotland, but we knew that. The Edinburgh woman – who wishes to remain anonymous – hit square on the forehead by Hatton's ball in the first round of the Dunhill got a couple of stitches and was apparently back out on the course yesterday.
Reassured, Hatton shot a six-under 66 at Carnoustie yesterday to share third place behind leaders Lucas Bjerregaard and Andrea Pavan, both of whom took advantage of much calmer conditions yesterday at Kingsbarns. Hatton is clearly the class of the top of the leaderboard, although Ryder Cup colleague Tommy Fleetwood also moved up into the top 10 with a five-under 67 at Carnoustie.
However the Englishman is poised for some real history in the making, with 36 holes on the Old Course – with a calm forecast for the weekend – and a real chance of winning the Dunhill crown for the third time in succession.
Ernie Els, at the Heineken Classic in Australia from 2002-04, and Tiger Woods, from 2005-07 at the WGC event at Firestone, are the last two to have won the same European Tour sanctioned event three years in a row.
But Hatton seemed most pleased by his telephone conversation with the woman struck by his ball on the 15th and the news that a wee injury like that couldn't keep her from her golf.
"I got her number and called to make sure she was OK, and obviously I'm very thankful that she was," he said. "She was discharged from hospital and got home. And she was going to Kingsbarns today, to watch some more golf!
"She's going to be at St Andrews tomorrow, so I will see her then.
"It was a tough day yesterday. Obviously I tried my best not to think about it too much today. But the positives are that she's fine and is able to enjoy the golf for the rest of the week."
On the course, Hatton seems in the groove again, although he's wary that before he won it twice he found this event hard going.
"It seems I either miss the cut in this event, or win it," he said. "The first two years playing here were difficult.
"Obviously I've got good memories coming back here, and I've got confidence because I played lovely last week, in such a massive event. It's been a good couple of days. There are still two to come and I'm looking forward to playing St Andrews tomorrow, hopefully another calm day."
It's a very different Carnoustie to July, however.
"We're fortunate this week because the rough is down, so you can get away with a few wides. It's not really important to hit fairways, a completely different test to the Open.
"They're also a bit kinder with the pin positions to get us round."
Hatton's eagle at 14, hitting a choked-down nine-iron to ten feet downwind, was the spark to get him into a share of second with Marcus Fraser and  Austria's Mattias Schwab.
Fleetwood, meanwhile also moved up ominously, if not nearly in the record-breaking 63 style he did when on this course exactly a year ago.
"Five-under on Carnoustie is never to be sniffed at, especially when I felt I didn't play very well," said Fleetwood. Swings issues caused by Thursday's wind made him less than wholly satisfied, but he expects to have that cleared up for the weekend.
"It's weird. The same shots that cost me The Open, cost me today. My sixth tee shot, and I can't hit it left on 12. I just kept hitting the same shots (as July).
"But it's so different, looking at the par 3s with no grandstands around them. 18 today was a little bit of an anti-climax after playing in The Open."
Just three back with two rounds to play on the Old Course is exactly where he wanted to be, he added.
"I had a target at the start of the day," he said. "I thought if I could get to six-under, and I've got St Andrews to play twice, kind of my favourite course, so it's really all down to me after that.
"Mentally and physically, I'm fine."
The two at the top are no mugs, for sure. Pavan, the Cezch Open champion from earlier this year, shot a 63 at Kingsbarns to join Bjerregaard, who has seven top tens this season including a second place at the European Masters in Switzerland last month.
The Dane is almost exactly a year on from his sole win on tour so far, at last year's Portugal Masters, but another win doesn't look too far away.
Of the visiting Americans, Tony Finau's 66 at Carnoustie was the best score of the day, moving him up to a share of 12th going into the final two days.