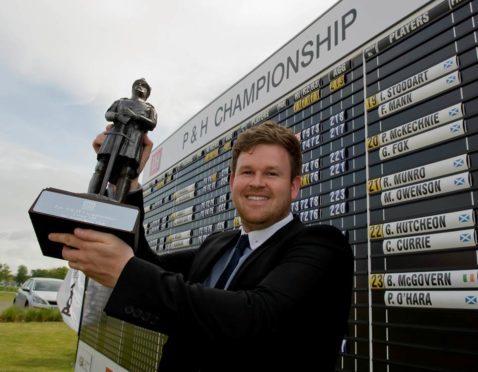 The M&H Logistics Scottish Professional Championship is poised for a thrilling finish on the King's Course at Gleneagles today as the field bunched together laving Paul O'Hara and Greig Hutcheon as co-leaders.
The veteran Hutcheon is seeking his third national title and O'Hara his first – he finished runner-up three times in the Scottish Amateur Championship as well – but there are six players with four shots of the lead going into today's final round.
And as O'Hara said, getting on a roll on the King's and posting a score in the low sixties is possible even if the winds do get up as forecast.
"I remember coming in last year in the final round at two-under and thinking that was pretty good but seeing 64s and 65s on the leaderboard," he said after a 66 put him at ten-under, tied with Hutcheon.
"Guys further back will just be freewheeling and going for a low score. But all I'll be thinking of is playing my own game and seeing what happens.
"I've got everything set for the rest of the season, I'm in the EuroPro Grand Final and I'm in the PGA playoffs (in Turkey) already, while most of the other guys are still fighting for a top three spot (in the Order of Merit).
"So maybe that'll help me a little. It certainly be great to win the national title, that would be an achievement to be proud of."
Hutcheon, who is battling hip problems at 46, thinks this could be one of his last chances to win the national title.
"There's just so many good young players coming through," said the Aberdonian. "Physically I don't know how much longer I'll be capable of competing at this level."
Hutcheon had a long toil of a day but for the third day in succession he picked up two strokes at the long final hole, which was for the first time in this championship even longer yesterday.
"They used the new back tee on the 18th for the first time, and I was pretty unsure what to do," he said. "Eventually I said to my caddie let's just go five-wood, five-wood because you're not carrying the saddle off the back tee.
"And I know it's still downhill and wind helping but my second five-wood I hit 270 yards to literally two feet back of the pin, it's turned a pretty unremarkable round into a good one (a 68) and that's three days in a row I've eagled it now."
Erskine's Chris Currie moved up yesterday with a five-under 65 which gave him confidence "after playing complete mince all season" but now he's just a shot off the lead with 18 to play. Graham Fox, another former champion, slipped into sixth place but just four back with a 65.
Paul McKechnie, in fifth at seven-under, is another who thinks that there's plenty of scoring chances on the King's in the final round.
"I played with Paul (O'Hara) for last three days and both us feel we could have been miles better than we are," he said.
"There's still a 64 or 65 rattling around out there. I normally do well here and so looking forward to tomorrow."
Scores:
200 P O'Hara (North Lanarkshire Leisure) 68 66 66, G Hutcheon (Paul Lawrie Golf Centre) 68 64 68
201 C Currie (Erskine) 67 69 65
202 G McBain (Newmachar) 66 67 69
203 P McKechnie (Braid Hills) 67 68 68
204 G Fox (Clydeway) 68 71 65
205 J McLeary (Unattached) 67 69 69
206 S O'Hara (North Lanarkshire Leisure) 71 70 65
207 C Lee (Craig Lee Golf Studio) 70 71 66
208 N Fenwick (Dunbar) 67 69 72
210 G Wright (West Linton) 72 70 68, A Forsyth (Mearns Castle) 72 68 70, A Oldcorn (Kings Acre) 69 70 71, C Kelly (Scotland for Golf) 62 76 72
211 J Steven (Pumpherston) 73 70 68, S Gray (Lanark) 69 71 71, G Hay (Mearns Castle)  71 68 72
212 F McKenna (Caldwell) 69 74 69, M Patterson (Williamwood) 71 67 74, T Higson (Gleneagles) 69 67 76
213 G Brown (Montrose Golf Links) 70 73 70, C Farrell (Cardross) 70 71 72, G Paxton (Ralston) 72 69 72
214 K Nicol (Dunes Golf Centre) 72 70 72, G McDougall (Elie Links) 76 66 72
215 J McGhee (Swanston) 68 74 73, Z Saltman (Unattached) 71 69 75
216 C Ronald (Carluke) 72 70 74
217 R Munro (Duddingston) 75 69 73
220 R Cameron (Unattached) 72 72 76, M Owenson (Gullane) 71 72 78
223 R Tinker (Piperdam Golf & Leisure Resort) 73 71 79