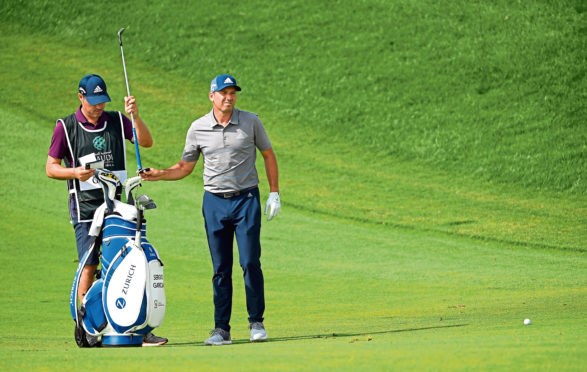 Maybe it's because it was Superbowl week, or the 6 Nations starting up, But golf seemed as if it desperately wanted to get noticed last week.
It seemed very much like the sport had lost its collective mind, and was doing a full scale Trumpish tantrum screaming for attention. Any attention.
The culmination of it – although Rickie Fowler's car crash of a final round in Phoenix tried hard to finish the week's chaos off on a spectacular note – was Sergio Garcia's incredible and mystifying behaviour at the Saudi International.
Garcia was summarily disqualified from the inaugural event for damaging FIVE greens in what seems to have been a petulant but prolonged fit of pique during Saturday's third round.
The news came via European Tour media release, not detailing what damage was caused, but giving Sergio's profuse apologies to his fellow competitors and acceptance of his disqualification.
And for 24 hours we had no clue what had really happened until my friend Martin Dempster, one of the few journalists attending the event (brave enough to attend?) went to look at the greens in question and spoke to a number of players, all of whom played down the incident.
Martin found a divot mark in the sixth green, which – circumstantially – we must believe was Sergio's handiwork. It seems he had slammed his putter into the putting surfaces in frustration.
There is no TV footage of his tantrum, which has given rise to various conspiracy theories but it's entirely reasonable – European Tour Productions, who give Sky their pictures, won't habitually film Saturday morning backmarkers. There seemed to be no spectators at the event all week.
There is footage of Garcia's previous tantrum in Saudi on Friday, a proper, multiple club swipe, foot-stomper in a bunker after he thought he'd been left a badly raked lie. It's perhaps illustrative of the foul mood the Spaniard was in.
Why was he in such a mood? Well, the new Saudi course had very heavily grained greens, which many players found difficult to putt on. You'd hope there would be more to it than that, but Team Sergio won't be saying.
Had this been, say, Wentworth or a central European course there probably would have been more vocal complaints about the course and Sergio's behaviour but everyone on the tour – players and officials alike – were on their very best behaviour last week, not to offend their new, potentially lucrative clients.
Hence perhaps the absolutely ridiculous decision to play down the whole affair and take no other sanction on Sergio other than his disqualification.
He's not going to be banned – he was DQ'd for "serious misconduct" which you'd think would result in a hearing from the tour beaks – and he didn't have to give up a single riyal of the no doubt substantial appearance fee he accepted to play in the event.
This column has praised Sergio in the past, and perhaps, like many on tour, played down his frequent mental diversions as part of him being "human". There are plenty taking this route already, but here's where we have to break ranks.
This is not the same as spitting in the cup, or wellying a shoe into an advertising board. This is not, not even remotely, the same as Phil Mickelson chasing after his runaway ball in the US Open.
This is much more like, for example, Simon Dyson's infamous tapping down of a spike mark six years ago, which got the Englishman a two-month ban, a five-figure fine, and a lifetime's worth of scorn from many of his peers.
Sergio's was a concerted and intentional damaging of a course over FIVE holes, more than an hour's worth of play.
Two year olds get over tantrums quicker than that. Sergio is 39 and – although I hesitate to invoke the usually irrelevant Serena Williams parenthood clause – a father. So much for that bringing him maturity.
Clearly the punishment that has been accorded to Garcia is laughably insufficient. His clout on tour is considerable but this is almost a challenge to Keith Pelley's authority; an unprecedented act such as this deserves special attention, no matter how famous the perpetrator.
Simplified rules? You're having a laugh
More fun with Rule 10.2b(4) this week, with Denny McCarthy penalised two shots at the Phoenix Open only for the tour to protest on his behalf and have the penalty rescinded.
The difference between this and Haotong Li at Dubai, apparently, was that Li was on the green. Ah right, that's all perfectly clear, then.
Of course it's not. Whatever the rules boffins say, it looks like the R&A and USGA caved to the big cheeses at the PGA Tour at the first sign of revolt a week after saying the rule had no grey areas at all.
Well, it clearly does. They need to establish the degree to which they reasonably enforce this rule, because no-one's quite sure what to do now.
The players, on the other hand, need to stop whining about something that should barely inconvenience them.
Sorry, asking for the impossible there.