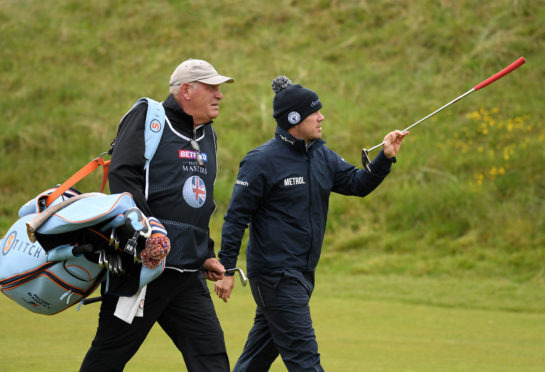 Richie Ramsay doesn't look much like Fred Flintstone, but "caveman golf" is the key to him being just one off the lead in the Betfred British Masters.
Ramsay shot a second round 67 to follow his opening 66 crediting a simple approach modelled on Dustin Johnson, and the wise words of new caddie, the veteran looper Guy Tilston.
"It's caveman golf, like Dustin Johnson," said Ramsay. "He just picks a target and says `we'll hit it on the line of that tree'.
"I had a tendency to get over-complicated about what I was going to hit and how I hit it. Guy's been great for that, he's picked up my yardages very quickly and he's always on at me to keep it simple.
"I'm thinking about multiple options and he'll say, `it's just a soft 9-iron, commit to it'. And he's been right most of the time."
Ramsay's finish was particularly welcome, chipping and putting for birdie at the long 17th and then rolling in a 25-footer for birdie at the last, joining three others on 11-under just one behind  Matt Wallace.
"All I'm thinking about is that I get another two chances to play a great golf course," he said. "My reward is going to be getting home to see my daughter Olivia on Monday morning."
"Oh, stress!" said Robert MacIntyre when he emerged from the scorers at Hillside after an eventful second round 69. But like all things with the Oban left-hander, it's all relative.
Literally so. The 22-year-old has his entire family with him in Southport –with one exception that will be sorted today – and the result is he's able to relax and withstand the wavering fortunes of a round that included just two pars in his first 12 holes.
It seems MacIntyre has the perfect kind of temperament for a golfer; an ability to forget what he's just done, and to switch off once he's left the golf course.
On the course yesterday there was a bit of forgetting to be done with two double bogeys caused by a tendency to push his driver left. The second came after a lost ball in a gorse bush on 18, his ninth.
However after each double he struck back immediately with a birdie, and he finished with eight in all.
"My good was great and my bad was horrific," he said. "But the game is there. My short game and my irons have been as good as they have ever been.
"It's just getting it on the fairway somehow and from there I can attack any pin. In a right to left wind I've always struggled and it's just about tweaking a few things."
Away from the course, his extended family and Mum's roast beef at their rental house have him in peak mental order.
"I don't like to think about golf when I'm away from the course," he said. "It's great to have the family here, they keep you on your toes."
His Mum Carol followed him all the way round with his two young twin brothers, who are being fostered by the MacIntyres. Dad Dougie, a greenkeeper at the Glencruitten club back home, will finally get down this morning to see his son play as a European Tour player for the first time.
"Dad saw me at Spey Valley on the Challenge Tour last tear but the rest of the time we've been just too far away," he said. "It'll be great to have him watch me, he and my best mate are driving down tonight."
The new young Scots on tour are egging each other on, as Liam Johnston admitted after a four-under 68 that lifted him into the top 25.
"I'm still close friends with Connor (Syme) and I was on a day off in London when he won on the Challenge Tour a couple of weeks ago," he recalled. "I thought to myself, I want to get out right now and practice.
"We feed off each other. It was great to see Stevie (Gallacher) and Davie win as well, and all of the rest of us are trying to do the same thing."
It certainly manifested itself later in the day between the old friends, with Syme responding with a 68 as seven of the 10 Scots in the field made the cut.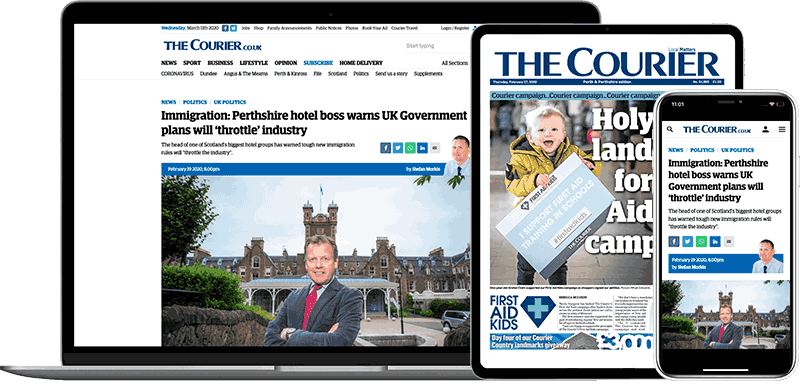 Help support quality local journalism … become a digital subscriber to The Courier
For as little as £5.99 a month you can access all of our content, including Premium articles.
Subscribe