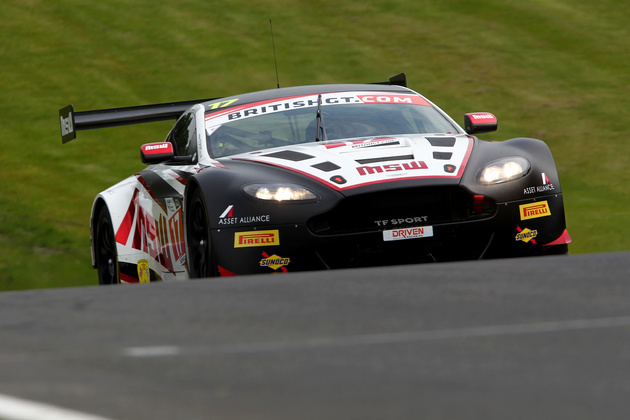 Reigning British GT champ Jonny Adam has held onto the 2016 title lead after a thrilling bank holiday double header.
The Fife 31-year-old and teammate Derek Johnston missed out on victories which would have put the TF Sport name into the championship history books, but solid fifth and fourth place finishes in the Oulton Park sunshine has kept Adam's defence well on track.
And the Camberley-based Scot used the weekend track time to give motorsport fans an exhilarating driver's eye view of the dips and curves of the challenging 2.69-mile International circuit with a thrilling in-car lap at the wheel of his Aston Martin Vantage V12 GT3.
The latest rounds saw the Black Bull Ecurie Ecosse team score its first GT3 podium of the year, with Edinburgh's Alasdair McCaig and Rob Bell holding position from second on the grid in their McLaren 650S GT3 to finish just 10 seconds behind the winning Bentley of Rick Parfitt Jnr and Seb Morris.
But the outfit's GT4 young guns – Angus 16-year-old Sandy Mitchell and 19-year-old Ciaran Haggerty – were denied the honour of making it a double podium for the legendary team by the tiny margin of just 0.757 seconds.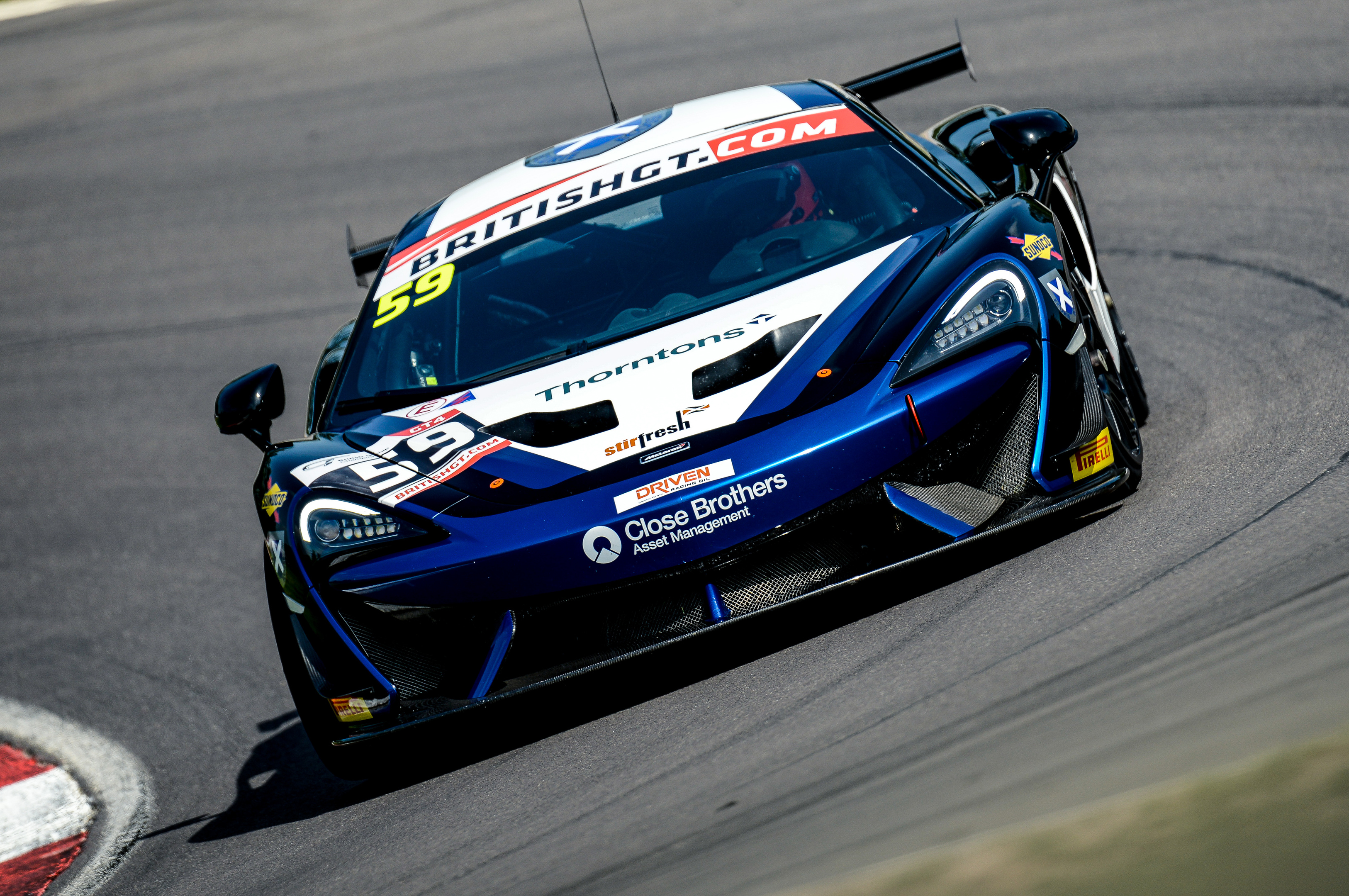 The talented youngsters battled through the weekend's second 60-minute race with an ill-handling car, a result of damage the McLaren 570S GT4 suffered in the bank holiday opener.
As Dundee High School youngster Mitchell reeled in the third-placed car the race was red flagged, bringing a premature end five minutes before the scheduled finish and with it a reprieve for the Letham driver's rival ahead.
"The team did a great job to repair the car between races and initially we struggled for pace in race two, but towards the end, as some of the other cars dropped off in pace, we were able to maintain our speed.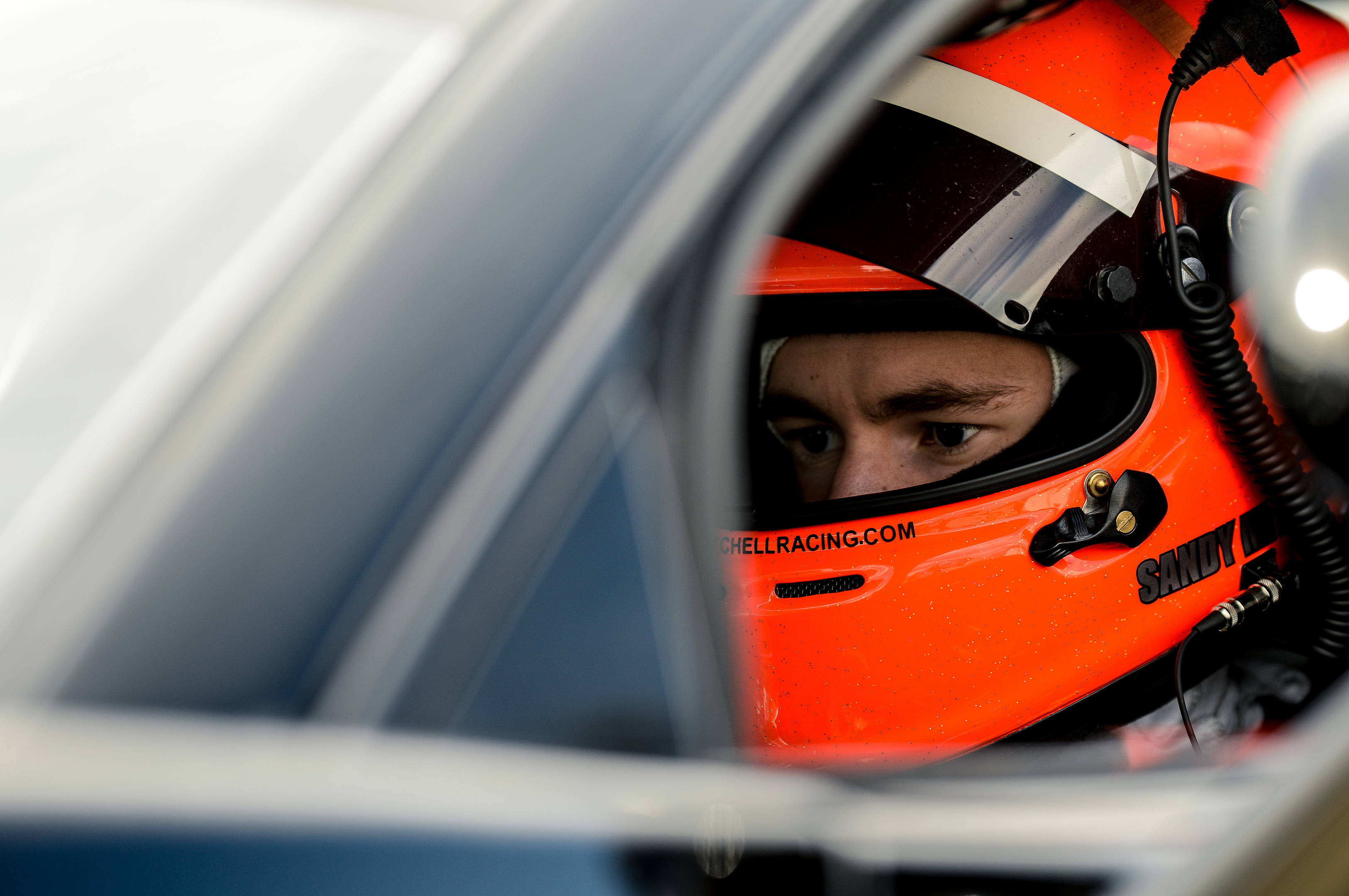 "Over the last few laps I was catching the cars in front, and had got right on to the back bumper of the car in third. But when the red flag came out to stop the race, that was it: game over.
"
We finished P4, just 0.7s off a podium: close again, but we'll get there soon," said the schoolboy star, the youngest ever driver to compete in British GT.
Picturesque Oulton bit back in the British F3 round of the programme when 19-year-old Indian racer Ameya Vaidyanathan's cheated death after he was catapulted into a horrifying series of mid-air rolls.
"Once the accident finished, I was in quite a bit of shock but once that initial traumatic period had subsided then it was all ok," said the teenager.