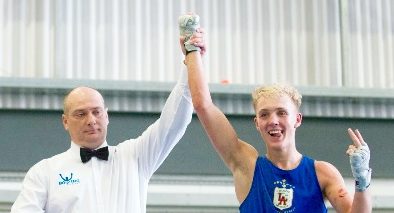 Kelty boxer Craig Morgan has bounced back from the bitter blow of a double hand fracture and will represent Scotland against England and Wales this weekend in Sheffield.
The 17-year-old amateur initially suffered the setback two years ago when he broke his thumb and then his knuckle with his coaches joking that he punched too hard.
However, the left-hander used the time away from competitive action to hone his skills with his right in his new Lochend gym in Edinburgh which is run by renowned coach Terry McCormack and counts Josh Taylor among its stable of fighters.
Now, having unanimously won the Scottish championships at Glasgow recently, Morgan's next big step will come this weekend in the Tri-Nations contest.
The teenager, who grew up in the same street as pro Connor Law, said: "I broke my thumb two years ago this month.
"Then the day I got the all-clear from the consultant five or six months later, I broke a knuckle sparring.
"Despite that, I was still training and was practising with my right which needed working on a bit.
"So although I was obviously disappointed to be injured it did work out for me in way.
"When I came back I won a couple of fights at 64 kilos but to be fair I didn't feel it was the proper weight and I felt sluggish.
"So I am now boxing at 60 kilos and I feel I am doing well.
"I have been picked for Scotland in the Tri-Nations against England and Wales on Saturday in Sheffield.
"My ultimate dream would be to be picked for the Junior Commonwealth Games in the Bahamas later this year.
"Nobody has been picked yet so I will just try to do as well as I can and take it from there."
Morgan admitted that he has learned a lot since joining the Lochend Gym.
He added: "I moved there two years ago and it has been great for me to be involved with gold medallists and champions.
"I have sparred with some top pros and Terry does a fantastic job there.
"I had heard nothing but good things about him and he will always adapt things to your style not the other way round.
"I am learning all the time."