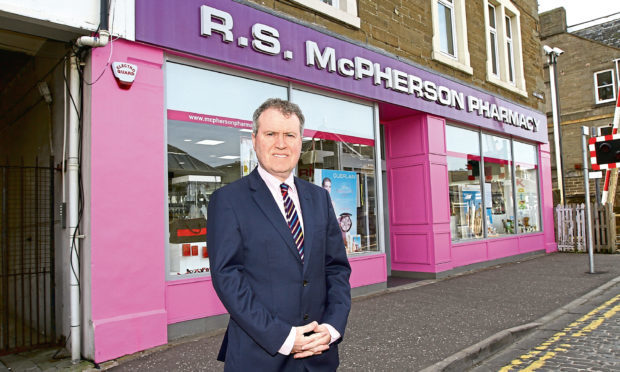 Continued expansion is very much on the cards for Perthshire-based Davidsons Chemists.
The long-established group has grown to have 40 pharmacies across Scotland – a big jump from the 10 outlets in Perthshire and Fife just over 20 years ago.
Managing director Allan Gordon said: "We continue to look for new pharmacy acquisitions, with the medium-term goal of achieving 50 pharmacies.
"As part of our expansion policy, we will also be recruiting senior pharma people into our operations management team to enhance support for our branch network."
Davidsons Chemists has just completed agreements to acquire four more pharmacies.
Two are in Dumfries and Galloway and they will join the business in November, followed by two in Dunblane in April 2021.
Davidsons Chemists has its headquarters plus a central warehouse facility in Blairgowrie. It also has a subsidiary in the town which trades as an agricultural merchant.
There are currently around 450 staff throughout the group.
This total is anticipated to increase substantially in the next decade, as Allan expects the number of pharmacies to reach 60, with a jump in staff numbers to around 700.
The first Davidsons Chemists pharmacy was started in Blairgowrie in 1897.
Allan has now been with the group for 30 years. After qualifying as a chartered accountant in Edinburgh in 1990, he joined as company accountant later that year before becoming MD in the late 1990s.
All said there had been no magic wand to produce success over the last 100-plus years.
He added: "Our key driver is to make the patient/customer journey professional and safe.
"Behind that journey are many key principles that combine to provide a winning formula."
These include having highly-trained and knowledgeable staff, operational support structures, flexibility in patient service needs, and maximising IT use.
Asked about the effect of Coronavirus on his business, the MD said: "It has impacted our business to some extent, but pharma has been sheltered from the worst of the Covid storm.
"The biggest impact for us has been to update our service delivery to make us Covid compliant.
"So, we needed to refresh our standard operating procedures for the pharmacies to ensure that all our policies for dealing with patients and their medicines were appropriate and safe.
"We also had to source all the PPE kit that our staff would need for themselves and to re-design our patient-facing instances to create safe spaces for advice and consultations."
Allan said patients always need their medicines and it is vital that pharmacy stays open for business as usual.
He added: "We've done this throughout the last six months and will continue to do so during the winter period. Pharmacies are staying open during public holidays and they are carrying out more deliveries to patients' homes. Very much sending the signal to patients that we are here for you, you can rely on us."
The MD said that Coronavirus had raised the strategic importance of pharmacies and pharmacists.
He added: "The Scottish Government has been very supportive of pharmacy and understands the benefits of encouraging a greater role for accessing a healthcare professional on the High Street.
"I can see that Coronavirus has accelerated the pivotal role of the independent prescriber pharmacist, the significant growth of serial prescriptions and the introduction of the Pharmacy First service.
"All of these developments mean that Scottish patients will often now make the High Street pharmacist the first port of call rather than the GP surgery."