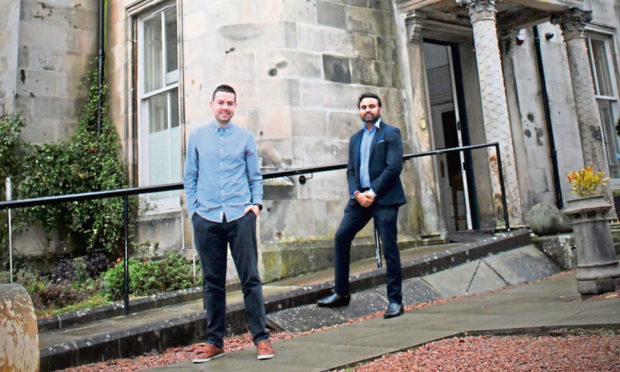 A Dundee hotel has become the first associated hotel of the Crieff Hydro Family of Hotels.
The venture will see Crieff Hydro working in partnership with the new proprietors of the Taypark House Hotel, which is set to reopen within the next few weeks if Covid-19 restrictions are eased.
The move is the first partnership of its kind for the group, with more expected to follow.
The deal will see the group provide marketing and sales support for the hotel, which is set be operated by executive head chef, Glenn Roach and business partner William Salve.
Mr Roach built his careers as a chef with Carnival Cruiseline and a number of restaurants including Michelin-starred Pied a Terre in London, before being appointed head chef of the Rocca Restaurant at the Macdonald Rusacks Hotel in St Andrews.
Mr Salve, who has 14 years' experience working across a number of hotel groups, including the Macdonald Rusacks Hotel, will lead the front of house team.
Stephen Leckie, from Crieff Hydro Family of Hotels, said: "We are delighted to welcome Taypark House Hotel as our first associated hotel with more in the pipeline.
"We will support Glenn and William with sales and marketing assistance for both the accommodation and the restaurant at this stunning luxury boutique hotel as he establishes himself in the new role.
"We are delighted to work with such an accomplished and well-known chef as Glenn as he goes on this adventure to make Taypark House the name on everyone's lips for beautiful bedrooms and an exceptional dining experience.
"We believe Glenn. William and their team will create a warm and welcoming destination for all and ensure its longevity for another century or more."
The Taypark House Hotel, located in Dundee's west end, is a category B listed former Scots baronial mansion constructed in 1863 and now features a 10 individually designed bedrooms.
Mr Roach said: "I believe we can learn a lot from the team at Crieff Hydro, so we are incredibly excited to see where this journey takes us.
"We have the opportunity to do something extra special to cement its position and reputation here in Dundee.
"The beautiful surroundings of the hotel provide much inspiration for the menu we have been working on with provenance of the ingredients we use crucial to our offering.
"We are looking to establish a menu of small plates encouraging families and groups to share and try new things."
The latest accounts lodged at Companies House shows Crieff Hydro, which owns a number of hotels, saw turnover increase from £29.8 million in 2018, to £31.2m for the year ending February 28, 2019.
Pre-tax profits at the group rose form £981,000 in 2018, to £1.2m last year, with the majority of turnover delivered by accommodation and restaurants, followed by sports facilities, other operating centres and rents from land, buildings and grazing.
The family owned group first opened in 1868 and now has eight venues – seven hotels and one cafe, with two venues in Perthshire, three in the borders and three in the west highlands.
The portfolio has seven hotels and one cafe.