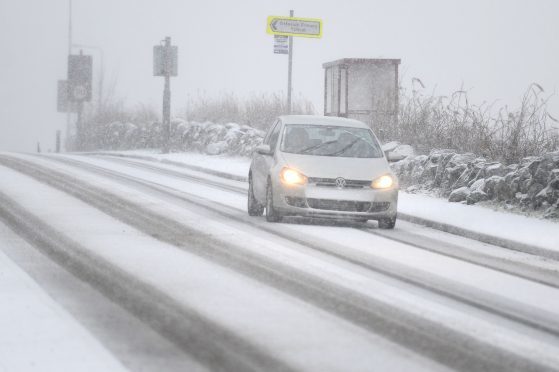 Police Scotland has warned drivers across the country to be prepared for adverse conditions on the roads as winter weather returns.
Three Met Office yellow warnings covering much of the nation, including Tayside and Fife, are in effect until Wednesday afternoon.
The first for Courier Country is in place from 6am until midnight on Monday, another from midnight until 3pm on Tuesday and a third from midnight until 3pm on Wednesday.
Travel is likely to be effected as the cold conditions endure with the snow most prominent in the hills and higher roads, but still possible at lower levels.
In response to the forecast Police Scotland has issued a stage two "travel with caution" warning effective from midnight on Monday.
The Police Scotland statement said: "Drivers across Scotland are advised to travel with caution, as the latest weather warnings are announced.
"Police Scotland have issued a stage two – travel with caution warning from midnight tonight. This will be reviewed late morning tomorrow."
Deputy head of road policing for Police Scotland, Superintendent Louise Blakelock said: "We are expecting snowy conditions over the next couple of days, especially on the higher level routes.
THREE snow warnings in effect for almost all of Tayside and Fife until Wednesday
"I would urge drivers to plan accordingly, check the conditions ahead and make sure they are prepared for all eventualities.
"Many people will be returning to work after the Easter break and conditions may be challenging on some routes not only due to snow but also surface water and spray as the snow melts.
"No-one should ever place themselves at risk on the roads and there are alternative arrangements you can make such as delaying travel until conditions improve or using public transport.
"I want to ask drivers not to become complacent and the key is to be fully prepared, drive safely and to the conditions.
"Be fully informed by checking the @PoliceScotland, @TrafficScotland and @MetOffice Twitter feeds before you travel to get the latest information and forecasts."
Up to 2in of snow could land on Monday. On Tuesday as much as 5.9in is predicted on the highest routes, with between 2in – 3.9in landing possible on ground above 656ft.
The Met Office said the wintry weather will "persist" into Wednesday.
Dundee and the Angus and Fife coast look likely to avoid the wintry showers.