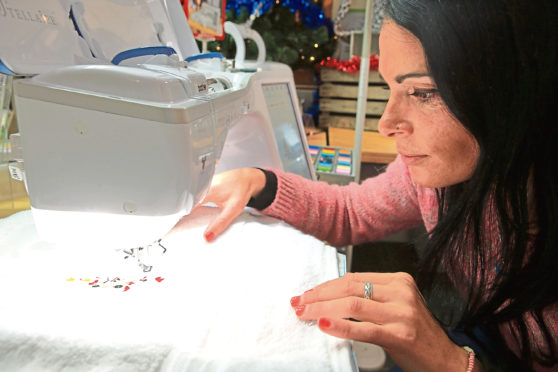 Gayle heads to the crafter's paradise that is Karelia House in Highland Perthshire…
I was once gifted a stunningly ornate vintage sewing machine…as a joke.
It was given to me by pals (with a strange sense of humour) who clearly thought the last thing I'd ever want to do was use such a beautiful antique.
I must've given the impression that I was rubbish at sewing, knitting, crocheting and anything remotely crafty, because, let's face it – I thought I was!
It won't surprise anyone to hear that that gorgeous machine has been gathering dust in an attic for about 15 years.
So when I turn up at Karelia House, known globally as a bit of a crafter's paradise for those who love to knit, sew and embroider, I'm in for a big surprise.
Sewing machines have moved on BIG time and the Brother model I'm about to use is as fancy as you get.
There's no need to thread a needle with your fingers, and this bad boy pretty much does everything for you via downloadable embroidery designs and sewing patterns.
It means there are no limitations when it comes to creations – and you don't need to ooze talent to produce something pretty special.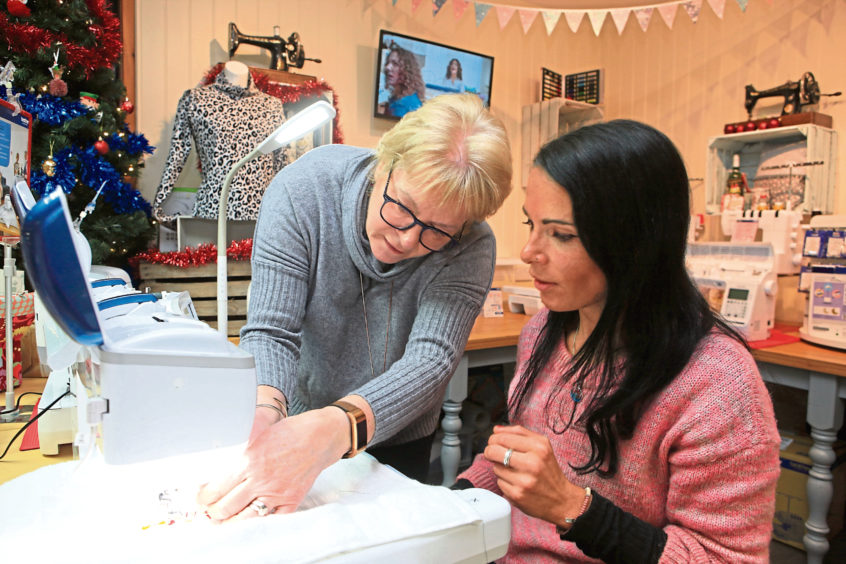 Fancy having a unicorn design on a jacket, or a football on your shorts? No problem. Just download the picture of your choice and Bob's your uncle.
As my mind boggles at the vast possibilities, Shirley Shearer, who runs Karelia House with her daughter Sam Weir, tells me we're going to embroider a festive design on to a towel.
"A lot of people say, 'that's lovely but there's no way I could make it'. Of course they can," says Shirley, as she switches on the machine.
"Yes, you can create a masterpiece even if you've never sewn before."
We pick out a design of a Christmas tree bedecked with baubles, press a few buttons, manoeuvre different colours of thread into the machine, and wait. It's incredibly simple.
The whole process takes around half an hour and the final result is really lovely. It'll be nice to tell folk I "made" it, too, although I do feel it's a bit like cheating.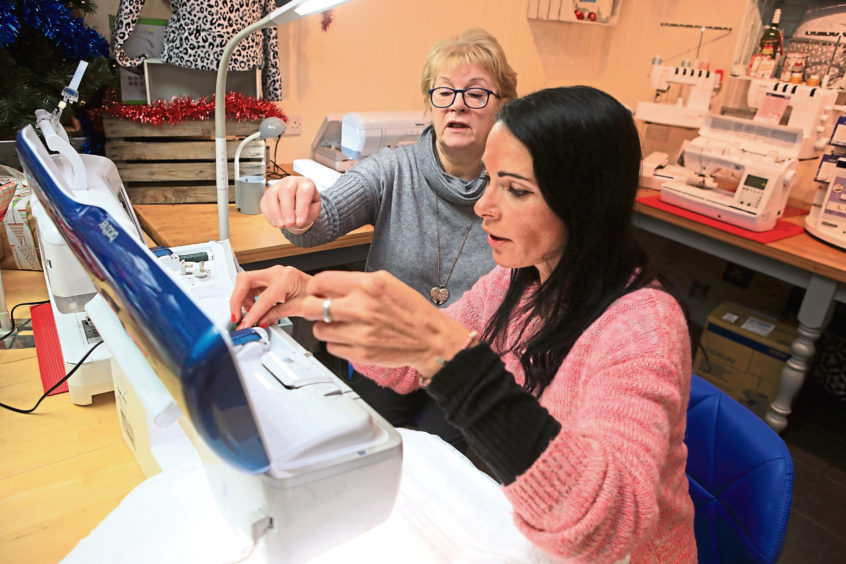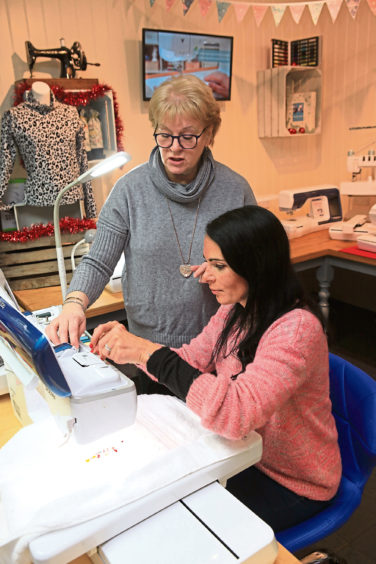 As Shirley and I are busy, Sam's gorgeous Basset hound Clive shows up, demanding cuddles which I'm more than happy to give.
Clive hangs out here a lot, and is a great advocate for the place, which is 100% dog-friendly.
Another fab aspect of Karelia is that it boasts a cosy cafe – so of course I have to sample the coffee and cake while sat in front of the roaring log fire.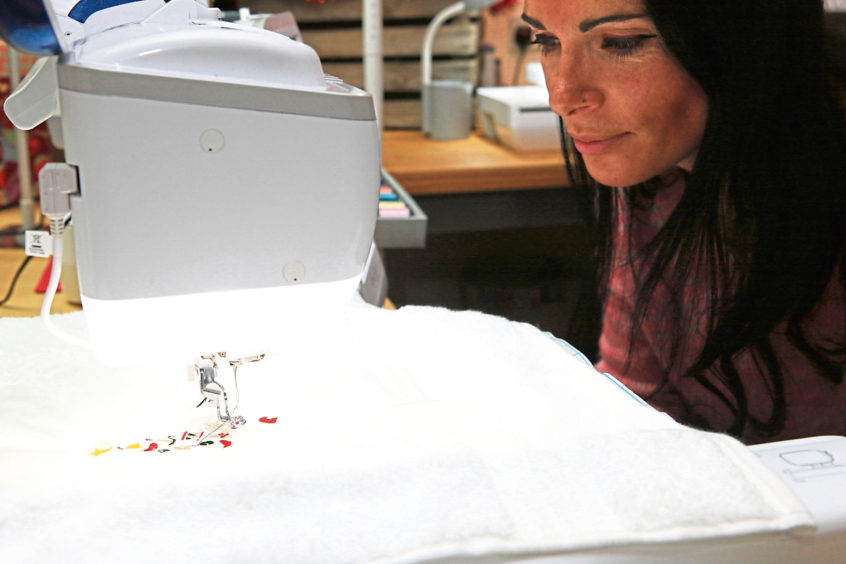 Karelia House is in a truly stunning location, four miles from Aberfeldy and on the banks of the rivers Tay and Lyon, but it's hard to find unless you know about it.
"You don't just happen upon this place," smiles Sam, who also runs a sports therapy business next door.
"It's very much a destination. People can spend the whole day or longer here."
Many people do exactly that, with bus loads showing up to buy quality yarn and fabrics, and take part in workshops.
"Some people took public transport down from Shetland for a two-day coat-making course recently and we had a coach party in from Canada," says Shirley.
"We like it when people can finish projects in a day, so they can take something away with them. It's about the joy of crafting and feeling the potential of what you can do, whether sewing, knitting, quilting, patchwork or embroidering."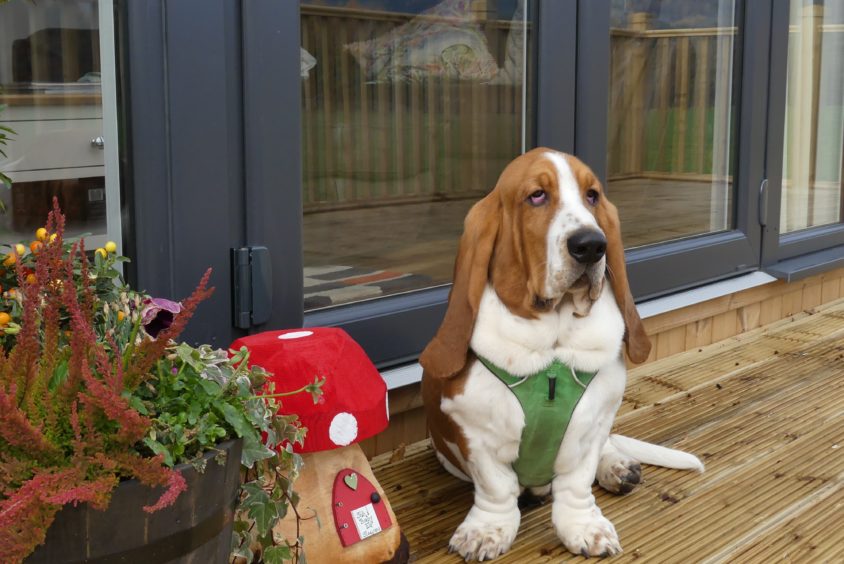 While most customers are women, there are some men, too, including a trucker who came in to embroider a pennant to hang from his lorry!
"Really, anything is possible," says Shirley. "And of course, it's always relaxing and therapeutic. It's a chance to learn and recharge."
For anyone keen to create a capsule wardrobe, Karelia has a series of courses coming up this year which will teach participants how to create garments perfectly tailored to your figure.
They'll advise you on the best patterns for your sewing ability, shape and style, and help you choose a colour palette.
Clothes to be made include tops, tunics, jumpers, wrap dresses, skirts, shirts, blouses, trousers, jumpsuits, coats and jackets.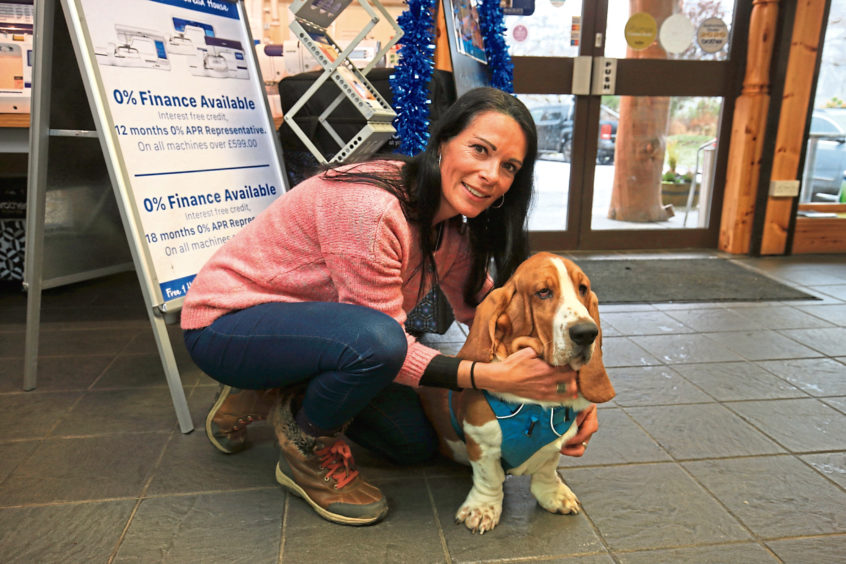 Karelia also run denim jacket workshops, where you bring in your own garment and then embroider a design of your choice on to it.
For those who want to truly embrace the experience, they can sign up for sewing and knitting retreats, staying at the newly opened chalet which boasts the most gorgeous views of distant hills, rivers and sheep.
It's beautifully decorated by Shirley with most furnishings from Aberfeldy-based Spirit of Wood.
I can well imagine staying here for a night or two, taking crafting inspiration from the views and peaceful atmosphere…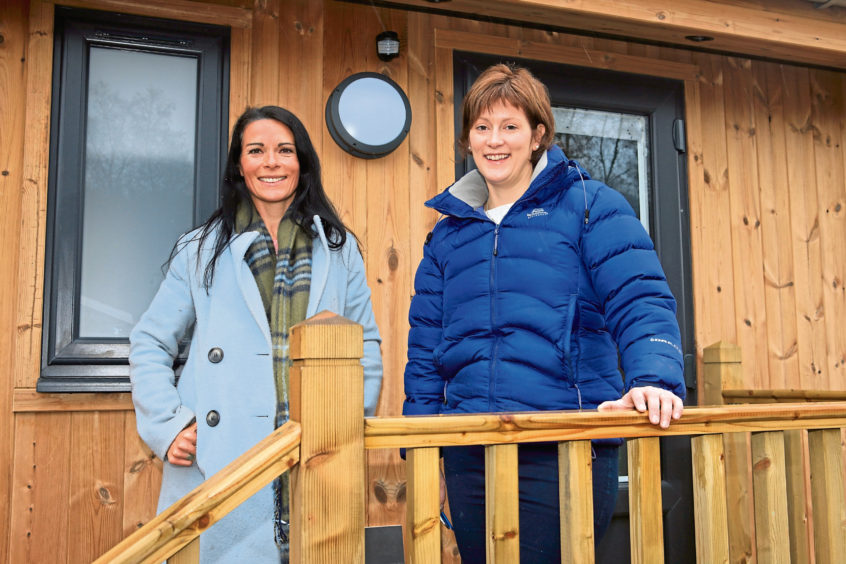 As well as running courses, Sam and Shirley are happy to donate spare yarns to allow budding knitters to complete projects.
So whether you're a crafting pro, or a total amateur, get along to Karelia House and you're guaranteed to have a great time.
Where else can you experience the perfect combination of crafting, coffee and cake, meeting a friendly Basset hound and exploring (and potentially staying in) a stunning part of Perthshire?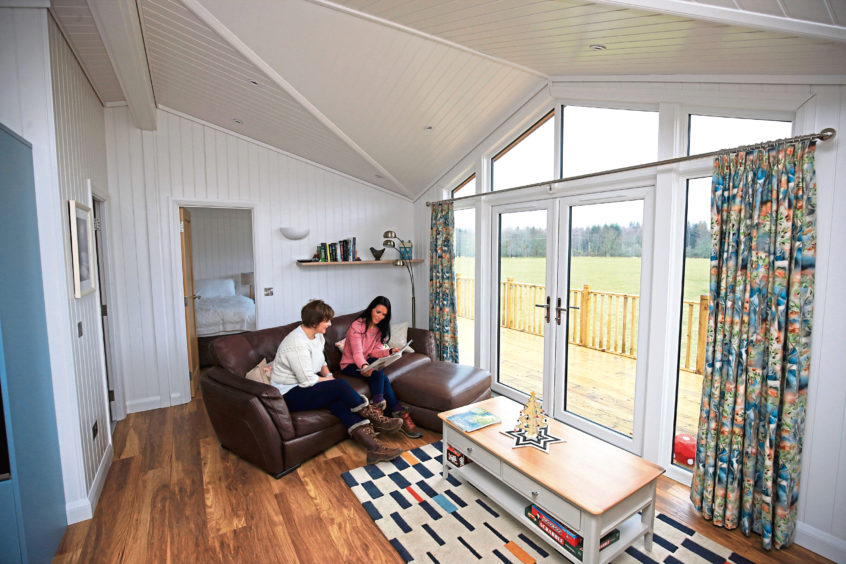 info
Karelia House opens for 2020 on January 6. For details on courses or to book the log cabin, see kareliahouse.co.uk or phone 01887 822027