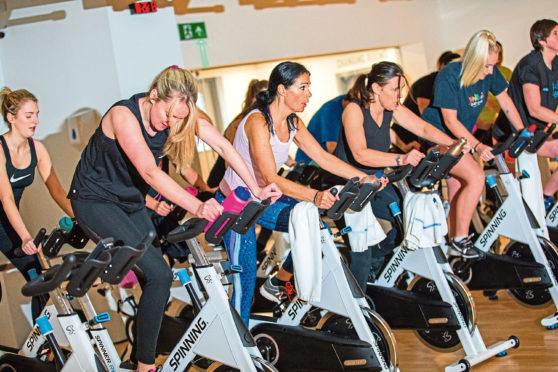 Gayle kickstarts 2020 by burning off some festive calories at a sweaty spin class at Crieff Hydro…
Eaten too many mince pies? Scoffed an entire tub of Quality Street? Welcome to the club!
As we burst into January 2020, many of us will be suffering the effects of overeating throughout the festive period. And predictably, with waistbands feeling tighter, comes guilt and a New Year's resolution.
I've tried to stay reasonably active over the last few weeks, but my usual quota of runs, walks and yoga sessions has diminished greatly thanks to a packed calendar of social events.
So when I was invited to join a spin class in Crieff Hydro's newly opened fitness studio, I jumped at the opportunity.
The last time I did spin was in 2010 when I lived in the centre of Glasgow and was a regular gym goer.
I had forgotten just how tough – and sweaty – a workout it is.
For those who've never heard of spin, it's basically a form of indoor cycling with classes focusing on endurance, strength, interval training, high intensity and recovery.
Sessions are done using special stationary exercise bikes with weighted flywheels which allow for a smooth and more efficient riding experience.
My spin class is taken by Crieff Hydro's resident Mr Motivator – fitness coordinator Jack Mitschke.
Originally from Poland, Jack came to Scotland when he was 16 and loved it so much, he decided to stay here.
After a quick briefing and setting me up so the saddle is at the right height, Jack heads to the front of the class, cranks up the music, hops on his bike and instructs us all to start spinning.
We start off with a warm-up, gradually building speed and resistance in time to the beat of the song.
As we spin into the second pumping dance tune, Jack asks us to increase resistance, which we do by turning a knob clockwise. The sweat really starts to build, and by the third tune, it's pouring down my face and neck.
The session lasts 45 minutes and as the tunes get heavier and faster, we sprint (cycling at full speed with less resistance), climb hills (done with heavy resistance while standing up in the pedals) and "jump" – alternating between sitting in the saddle and standing up, gripping the handlebars.
Throughout the class, Jack asks us to check our revolutions per minute (RPM), which show up on a digital monitor.
Generally, we're spinning at around 80 to 110 RPM for virtual flat roads, 60 to 80 for simulated hills with heavy resistance, and up to 150 or higher for sprint sections.
My thigh, calf and glute muscles burn, my heart races, sweat flows like a river and as Jack commands us to push up the resistance even more, I can't believe it. This is definitely a case of "no pain, no gain!"
Just as I think I can't take any more, we move into the cool down section – phew!
We finish off with some gentle stretches and the chance to get our breath back.
Jack reckons the average 45-minute spin class can burn between 400 and 600 calories, plus you keep burning them for hours after. Sounds good to me!
"It's a great HIIT (high intensity interval training) workout," he says.
"Spin is kind to joints and has a lower impact than running, so it's suitable for most people. We often have professional cyclists coming to classes and one last week said: 'Holy smoke – this is tough!'"
Music playlists are chosen by instructors, so the euphoric dance tunes we've been spinning to are thanks to Jack.
"It's good to mix up the tracks but it's impossible to cater to all tastes," he says.
"I play everything from dance to rock and try to change up the playlist every few weeks to keep it fresh and so people don't know what to expect."
It's exciting times for fitness fans coming along to Crieff Hydro, with the new studio also boasting the biggest custom-built Queenax fitness machine in Scotland.
Never heard of Queenax? It's a form of training conducted around a specialised frame, focusing on functional and suspension movements.
There are multiple points on the frame where you can attach different pieces of kit, enabling a wide variety of exercises to be performed.
These are based on the "primal" movement patterns, which includes exercise focused on push, pull, squat, bend, lunge, twist and "locomotion" movements.
Once you've sweated it out, either at a spin class or during a Queenax session, you can head to the Hydro's Victorian Spa for a chill-out session.
Here you'll find a pool, steam room, sauna, and fab spa bath. You know you deserve it!
info
Crieff Hydro's new fitness studio offers 253 classes a month, and includes spin cycling with 16 new spinning bikes.
It also offers Queenax circuits and group classes and up to 1,800 unique virtual classes, including virtual boxing, virtual core, virtual kickbox and virtual insanity.
The studio is open to residents and non-residents. Non members can also access the facilities. For details about becoming a leisure club member, see crieffhydro.com