As Tyrannosaurs arrives at the National Museum of Scotland in Edinburgh, Michael Alexander hears why the mass extinction of the dinosaurs can help us think about the state of the natural world today.
When the Tyrannosaurus Rex roared onto cinema screens in Steven Spielberg's 1993 blockbuster Jurassic Park, it captured the public's imagination as the "king of the dinosaurs" which reigned during the late Cretaceous Period some 65 million years ago.
But as the most comprehensive exhibition ever mounted on tyrannosaurs makes its only European appearance at the National Museum of Scotland in Edinburgh, the museum's Keeper of Natural Science Dr Nick Fraser said real-life knowledge of these eight tonne behemoths is relatively new with more fossils being found almost every year.
"The first T-Rex skeleton was only found in 1900," said Dr Fraser, who explained that tyrannosaurus rex lived throughout what is now western North America, on what was then an island continent known as Laramidia.
"One hundred and 20 years on, we've gone from finding one to 20-odd different forms and that is still increasing. They have a history going back 150 million years ago to 65 million years ago.
"So they were incredibly successful. Some of the earlier ones were quite small – maybe a metre, two metres long. They were quite lightly built. But they all shared a few features in common.
"If you look in cross section their teeth are D-shaped which is a classic feature of tyrannosaurs.
"They also have this very peculiar arrangement of their hip bones with a huge great big swelling on them which is hugely exaggerated. They are a distinct group of animals but very diverse in their own right. And of course they died out in a mass extinction!"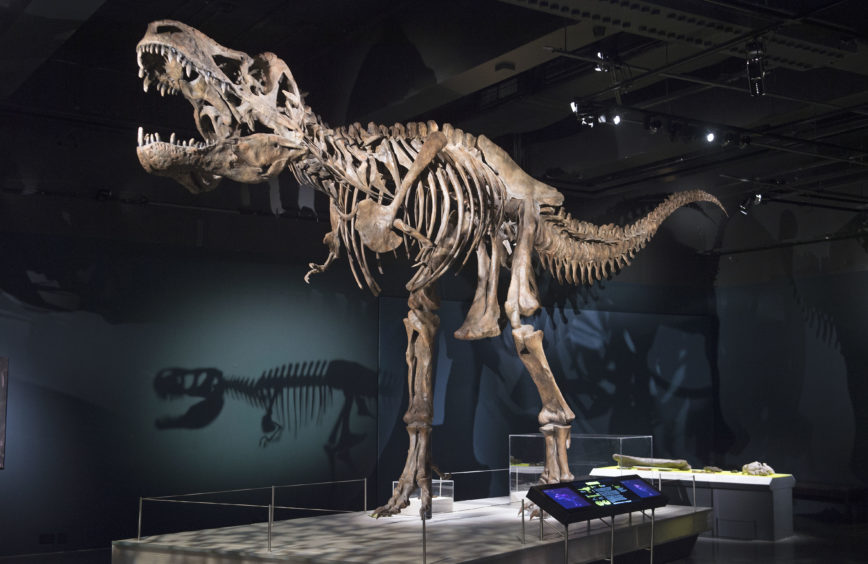 Tyrannosaurs, which opened at the National Museum of Scotland on January 23, explores the most feared and revered of all dinosaurs, bringing the latest palaeontological discoveries to life and challenging preconceptions about these ferocious predators.
The exhibition features rare fossil specimens, cast skeletons including one of 'Scotty', one of the largest and most complete T-Rex skeletons in the world, and incredible models of feathered dinosaurs.
While the most famous of the species is the mighty T-Rex, tyrannosaurs came in all shapes and sizes and from many parts of the world.
But while most people associate the wiping out of the dinosaurs with the legendary asteroid hitting Earth some 65 million years ago, Dr Fraser hopes that visitors will also think about the significance of mass extinctions to the world today.
"Potentially we've recognised five mass extinctions in the history of life on Earth and are potentially hitting the sixth now," he said.
"So it's important to remember they are not just archaic animals from which we developed all sorts of myths and stories. They are real animals living in time and there's something to be learned from them about today's way of life and what's going on in the world. They are all inter-connected."
Dr Fraser said it was quite a coup that this is the only European outing for the exhibition, created by the Australian Museum and toured internationally by Flying Fish.
Tyrannosaur research is one of the hottest areas in palaeontology and exciting new discoveries are regularly re-drawing the family tree.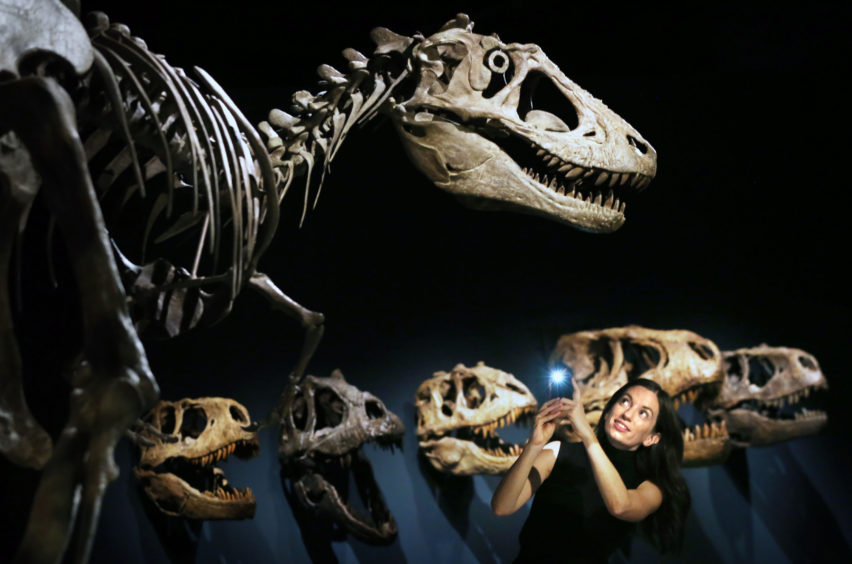 The exhibition includes T-Rex bones from the Carnegie Museum of Natural History – including those found a couple of years before the naming of T-Rex in 1904.
But Dr Fraser admits that away from the grandeur of the T-Rex, the standout highlight for him is the smallest skeleton on display.
The exhibition includes detail of two species discovered recently in China, Dilong and Guanlong, which date to nearly 100 million years before T-Rex.
"The stand out for me is the Dilong – that's the emperor dragon," he said.
"The actual fossil comes from north east China, where some of these feathered dinosaurs come from. It's a feathered tyrannosaur which is really quite exciting. But I think it's a little and large show here.
"You've got T-Rex at one end, Dilong at the other. I think just between them you can see how diverse this group was. To be able to think of tyrannosaurs or these meat eating dinosaurs may well have had feathers too. I find Dilong really quite exciting. The emperor had clothes!"
Dr Fraser grew up in Lewes, Sussex, which was the home of Gideon Mantell who found the first dinosaur fossils in the 1820s.
The chalk cliffs in that area are Cretaceous in age. They have fossils in them that includes dinosaurs but also lots of marine animals from that same period.
The term Dinosauria (meaning terrible reptile) was coined by Richard Owen in 1841, and with this heritage on his doorstep, it did help spark Dr Fraser's interest in natural history.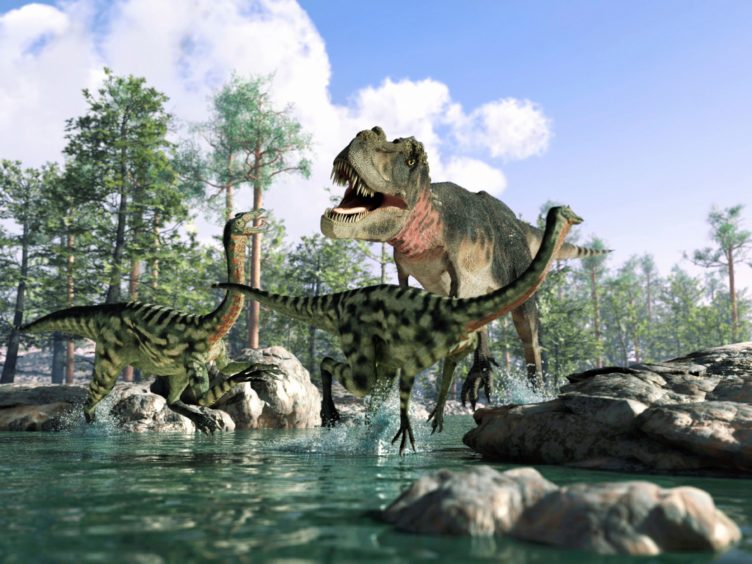 He went on to study zoology as an undergraduate and geology as a postgraduate at Aberdeen University.
But despite knowledge of dinosaurs being less than 200 years old, he does wonder if the plethora of fossils in China helps explain the concept of dragons in Chinese mythology.
"There are incredible deposits of dinosaurs in China and it's highly likely the whole concept of dragons arose from the remains of these big animals that people didn't know what they were," he said.
"The whole idea of dragons probably came from dinosaurs. You can go back 3000 years for that."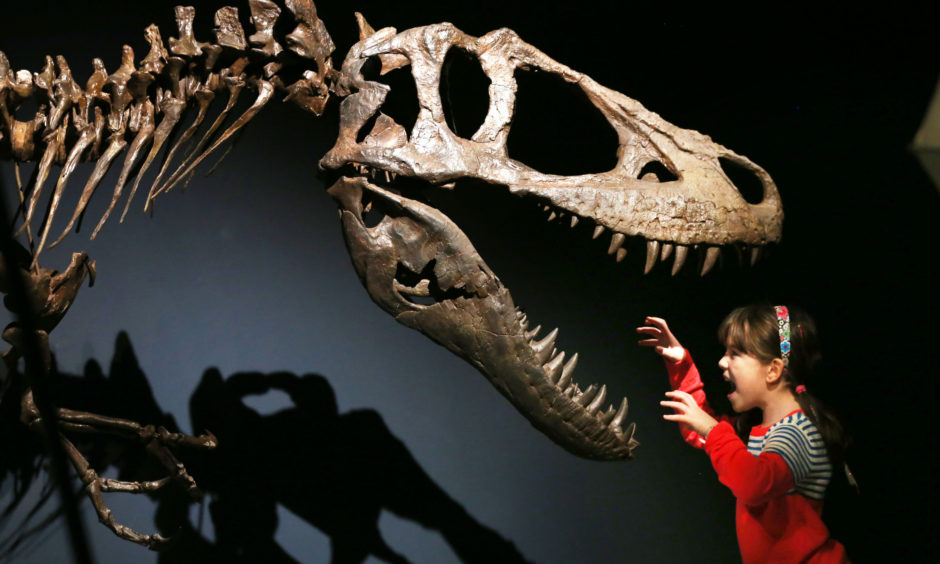 Of course the land we now call Scotland was also home to dinosaurs once upon a time. Dinosaur footprints on Skye, for example, are evidence of that, while other material could be sediments of the age equivalent to the oldest tyrannosaurs, Dr Fraser said.
But strictly speaking the dinosaurs didn't all die out at the end of the Cretaceous as they survive in the form of birds in our gardens – a "very specialist group of dinosaurs"!
*Tyrannosaurs, runs at the National Museum of Scotland until May 4.
Prices for the ticketed exhibition are adult £12; over-60s £10; student, unemployed, disabled £9; child (5–15) £6; Under 5s free; family of 3 £22, family of 4 £29; carers of disabled people free.