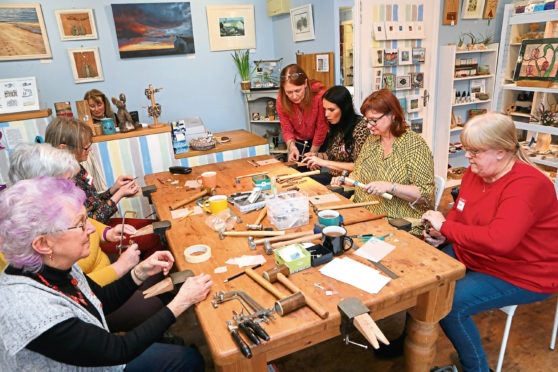 Jewellery designer Sheila Roussel runs beach glass workshops across Courier Country, although they may be going online for a while. Gayle joined one in Johnshaven…
Sunbathing? Poring over a good book? Drinking piña coladas in the shade?
When it comes to time spent on beaches, Sheila Roussel would much rather be scouring the seashore for pieces of glass and shells.
The jewellery designer has spent years collecting objects that shine, sparkle and gleam and skilfully incorporating them into her work.
"I love travelling and especially enjoy beach holidays to the Canary Islands, Cyprus, Italy, Spain and Greece," says Sheila, of Birkhill in Angus.
"Over the years I've accumulated an interesting collection of beach glass. I started thinking about how I could use all this to create wearable pieces of jewellery."
Sheila runs jewellery-making sessions across Courier Country and they're hugely popular.
I signed up for a beach glass and silver pendant workshop at Starfish Studio, a fantastic treasure trove of arts and crafts in Johnshaven.
I'd never attempted to make my own jewellery so when I see the trestle table laid out with hammers, saws, punches, drills and other miscellaneous power tools, I feel a minor twinge of panic.
Thankfully, Sheila puts me at ease, reassuring me the class is suitable for beginners and promising to help every step of the way.
Before we get started, she shows us some of her own pieces of jewellery – influenced by the beauty of natural forms, their vibrant colours and delicate structures – and then we watch a slide show of other students' design processes.
It takes a while to choose a piece of beach glass from Sheila's vast collection – there are so many different shapes, colours and textures.
Initially, my eyes are drawn to a bold blue bit with red and green flecks through it, but deciding it's an odd shape, I put it down and settle on a smooth green triangular piece with a ripple across it instead.
Others go for teardrop-shaped clear glass, and one lady looks like the cat that got the cream with her deep emerald oval piece.
If we want to choose a semi-precious bead to add to our pendants as embellishment, we can do so, but I choose not to, preferring to keep my design minimalistic.
It would be folly to dive straight in and start hammering away at valuable sheets of silver, so instead, Sheila dishes out small squares of copper which we can practise on. It doesn't matter how badly we mess up on these.
"Try experimenting with different textures using hammers and decorative punches," encourages Sheila.
I'm a fan of a punch with a Celtic symbol on it, as is the lady sitting next to me.
We exchange a conspiratorial wink and agree to keep it close to hand.
Other people create wave patterns, star shapes and even their own initials on the copper.
Then it's time to bring out the scary-looking hand saws.
The idea is to practise cutting on copper. I struggle, fearing I will sever a finger, but Sheila comes to my aid and demonstrates how to use the tool safely.
After a few shaky attempts, I manage to cut in a straight line, but ultimately, you should be able to cut out a shape. maybe a moon or a star if you're feeling adventurous.
Sheila then invites us to sketch our ideas onto paper, and comes round individually, offering further encouragement and inspiration.
I decide I'll opt for a long-ish piece of silver while others choose a more squat-looking sheet.
I cautiously attempt to punch my Celtic symbol onto my silver sheet and curse when it moves, resulting in an indistinct, blurred pattern.
I decide to leave this "mistake" behind me and crack on with the process of punching until something vaguely beautiful starts to emerge.
It's not what I had planned at all, but it's certainly unique.
We then drill holes into the silver (through which our chains will thread) and file and sand the edges to achieve a lovely smooth finish.
After immersing the silver in hot, soapy water, we polish it using an electric hand tool until it gleams magnificently.
The final stages include joining the glass and silver – either using a wire wrapping technique or a silver bail to hold the pendant together. I choose the latter because it's easier!
We're all given a choice of two styles and lengths of silver chain for our pendants – either diamond cut or rope chain, and either 18 or 20 inches.
Then it's the moment we've all been waiting for – putting on our creations and looking in a mirror.
I am genuinely delighted at how beautifully mine has turned out – it truly is stunning!
From the huge grins on everyone's faces, I can tell we're equally proud and happy.
I can't wait to wear my pendant in public, but with coronavirus keeping us all away from each other, I may have to make do with showing it off on this page – and on social media – for now.
info
Sheila has postponed workshops due to the coronavirus pandemic until further notice but she is considering running online tutorials.
Normally, workshops run all over Angus, Perthshire, Fife, Dundee and Aberdeenshire, as well as at her home studio in Birkhill.
The beach glass and silver pendant workshops are suitable for beginners and are designed to introduce jewellery-making techniques and tools essential to the job. There is an option to use your own beach glass if you prefer.
Sheila's other workshops include: textured silver ring; silver pendant or earrings; textured silver bangle; and bespoke sessions tailored to individuals.
Sheila was designer-in-residence at DJCAD 2014/2015. She's a freelance craft tutor for community groups and a freelance designer with V&A Dundee.
sheilaroussel.co.uk