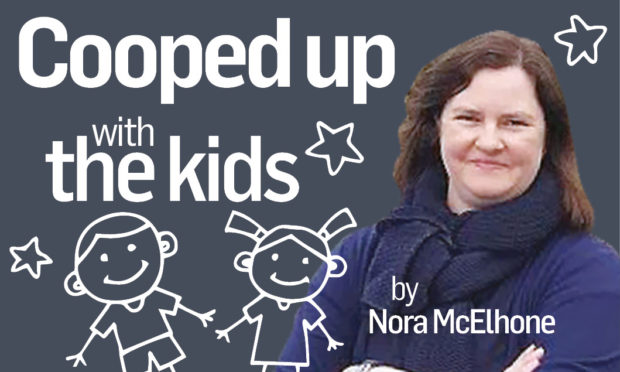 Home school has its own drawbacks, and the kids know when mum is on a video call and powerless to stop mischief happening, Nora McElhone discovers
"It's like talking to FOUR. SEPARATE. WALLS!" I hear myself guldering* as I try for the upteenth time to send the kids outside for 'break time'. The frustration has risen steadily since school was supposed to start at 9am. No one is keen to do anything of any constructive nature at all, except the youngest who doesn't actually need to do anything constructive.
When I fail to engage anyone in their school work I decide that a snack followed by outside playtime is the perfect solution and can't believe that my darling children don't share my enthusiasm. It's one of those days when nothing seems to go to plan and I fear if any of the neighbours happen to glance into our garden they will see actual steam coming out of my ears.
"Would you refuse to go outside at break if Mrs R told you to go?" I ask, genuinely perplexed. Eventually they do head out into the garden and close the door and I enjoy at least four and a half minutes of peace before someone gets clobbered with a space hopper.
If there's one thing those of us working from home during lockdown have learned to appreciate, it's the more you stress the importance of the phone call or video meeting you are about to embark on to your brood, the more chaos they will endeavour to create.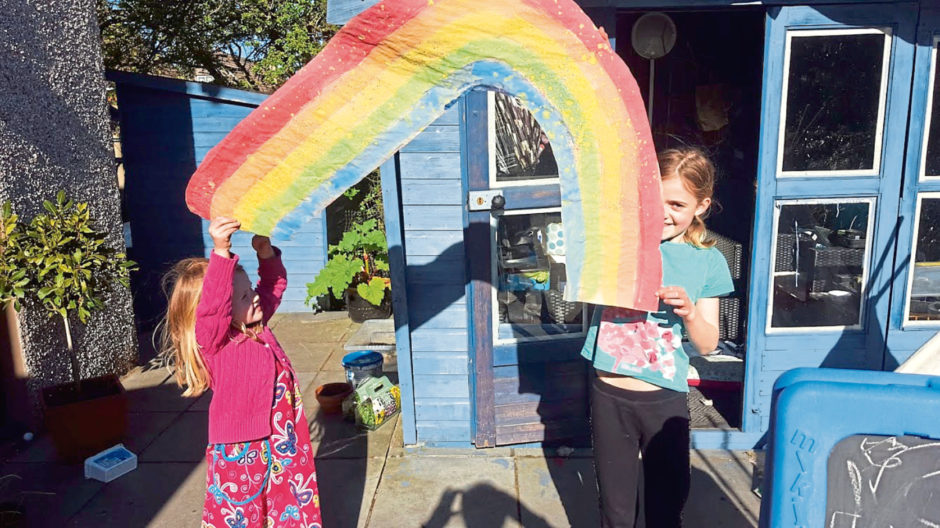 The fact is, they know rightly that you are pretty much powerless to intervene as testing the seaworthiness of model boats descends into a full-scale water fight before your very eyes. You act casual as the participants parade past your laptop in various states of undress and degrees of drookitness and then thank God that you have managed to extract yourself from the meeting before they come back downstairs wearing each others' clothes.
The girls were also sporting beards fashioned from their own hair but it is son number two, resplendent in his little sister's tights and skirt, impressively co-ordinated with his big sister's top, who steals the show. Meanwhile, their big brother is busy making us all lunch and generally being helpful (probably as he can sense that his mother may dissolve into a gibbering wreck at any moment!). Having had a few wobbles early on in this whole bonkers situation, he has settled to do his work when he needs to, is super keen to help and also perceptive enough to offer hugs when his beleaguered mum needs them.
Home study is still having its ups and downs but I am trying to remain calm and a) not strangle any of my own children or b) drown in the flood of home school ideas on social media. I know they are well meant, but surely I can't be the only parent who will scream if they see one more idea for an exciting science experiment, wholesome art project or picture of a pristine child baking in their very own mud kitchen?
It's all intended to be helpful but I really do feel I may be reaching information overload.
Trying to get each of the kids to do at least some of their home study tasks is pretty much all I can take at the minute. (The boat-building started out as a science project and you saw how well that went!)
Social media, giveth and it taketh away, and I now look forward to regular posts from friends and fellow parents who are reassuringly finding this whole situation as challenging as I am. As we commiserate over the highs and lows of prolonged periods at home, it helps to hear we are not alone in our frustrations and little moments of joy.
And we do have plenty to be thankful for. Whether that is the fact we can finally make use of the craft materials I have been hoarding for 10 years (or more), the simple pleasure of my girls working together to paint a beautiful rainbow or managing to get the whole family out on a bike ride without any major drama, it's not all bad being cooped up with our tribe.
*Gulder = a loud shout, typically one expressing anger.