Michael Alexander speaks to artist Craig Coulthard about the image of a stressed soldier used to preview the forthcoming DCA Thomson exhibition at Dundee Contemporary Arts.
Apparently gripped by anguish and despair, the stressed-looking soldier holds his head in his hands and says: "How can ah tell the bairns what ah've done?"
The black and white cartoon that appeared in Wednesday's Courier was certainly a talking point.
It was carried to cryptically preview the DCA Thomson exhibition which opens at Dundee Contemporary Arts on Friday December 2 and runs until February 19, exploring the rich cultural heritage of Dundee publisher DC Thomson & Co Ltd.
But don't assume that the image features a soldier suffering from Post-Traumatic Stress Disorder (PTSD).
According to Fife-raised artist Craig Coulthard, who selected the image from a 1970s Commando comic before adding his own text, it's all about individual interpretation.
"Some people may make the connection with PTSD," explained former Madras College pupil Craig, 35, the son of a former RAF Leuchars armourer who served with 43(F) and 111(F) Squadrons.
"In general I think we need to be more acknowledging about mental health. "Looking back to my childhood I knew military people and I knew their experiences.
"I think children of people in the military have a different viewpoint than people who have no military background.
"But I wanted to make a more general statement. I wanted it to be an expression of doubt or concern – because there's a lot of doubt and concern in the world at the moment!"
The DCA Thomson exhibition, programmed in partnership with DC Thomson to celebrate the 80th anniversary of The Broons and Oor Wullie, features work by six participating artists – Rob Churm, Malcy Duff, Rabiya Choudhry, Hideyuki Katsumata, Sofia Sita – and Craig Coulthard.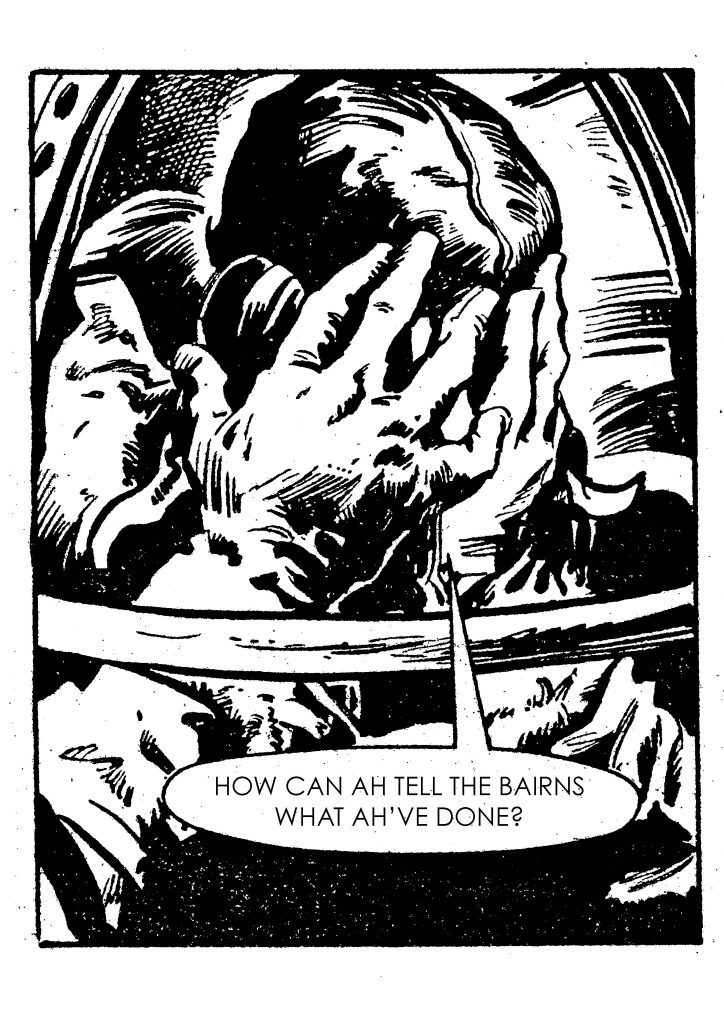 They have each visited the DC Thomson archives and will be exhibiting their own individual takes on DC Thomson's history.
Craig, an Edinburgh College of Art graduate who grew up in West Germany, Fife and is now based in London, admits he did not read Commando comic as a boy.
"I was more into the Beano, Dandy and Roy of the Rovers," he explained.
"I didn't so much avoid Commando as it wasn't so much of a novelty growing up around a military base."
But when he was asked to do the Dundee exhibition, having become best known for 'Forest Pitch' as part of the Cultural Olympiad attached to the London 2012 Festival, he bought second hand copies of Commando comics off eBay and "mined" them for his work.
He chose the 'head-in-hands' image from a 1970s comic to show someone in a stressful situation.
The text was deliberately written in the vernacular to "identify" with Courier audiences.
For the main body of his work, he chose eight 'talking head' images based on Commando panels and used text quoting Stefan Westmann – a Corporal who fought with the German 29th Infantry Division during the First World War.
In a post-war interview, Stefan gave an honest and harrowing description of killing a French Corporal and reflected on how war turns civilised men into killers.
For the second part of his exhibition, Craig selected eight pictures of explosions from Commando comics and accompanied them with text from the Ministry of Defence website, quoting their policy on PTSD.
In addition, Craig made a short tutorial video with Commando cover artist Ian Kennedy about the art of explosion drawing.
Dundee Contemporary Arts director Beth Bate said Commando comic stories on the surface could be seen as being about courage and bravery.
But beneath the surface they also dealt with issues such as cowardice and fear – meaning they weren't always as straightforward as they seemed.
"This particular project taps into that," she added:
"Craig's work shows the human side to conflict and the often very traumatic experiences that our military personnel can go through.
"I think it's a very courageous thing that DC Thomson have done that they have allowed artists to explore some of these incredibly important themes through this project and to be able to use Commando and Commando comic to be able to do that.
"I'm sure it will provoke a reaction which to some extent was the intention.
"It makes us think about the long term impact of conflict upon many of our military."
The DCA Thomson programme of events begins on Friday December 2 with Meet the Artists, an evening event featuring an exhibition introduction from Beth Bate, and the chance to hear from the six participating artists.
The free exhibition then runs from Saturday December 3 until Sunday February 19, 2017, and is free to attend.
Other events are running alongside.
On Saturday December 3 families can join exhibiting artist Hideyuki Katsumata for Comic Inspirations – a fun-filled workshop exploring the exhibition where children can create artworks inspired by comics and annuals.
As well as work from the six artists, there will also be DC Thomson archive material on show. Throughout the exhibition, DCA's Activity Room will also be open (unless being used for a workshop), where families can go to relax and take part in a free creative task.
For a full programe go to www.dca.org.uk/whats-on/event/dca-thomson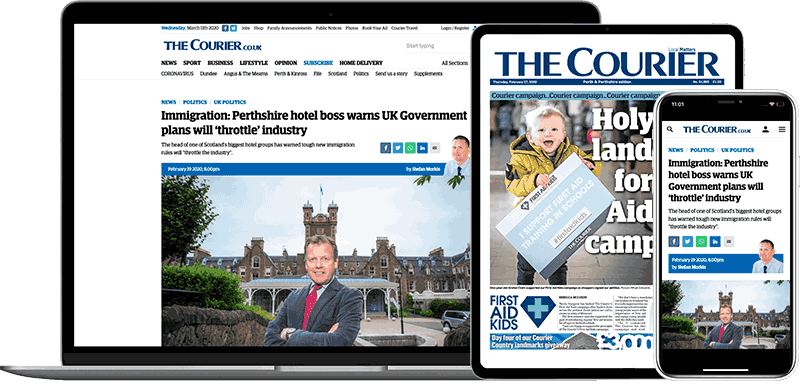 Help support quality local journalism … become a digital subscriber to The Courier
For as little as £5.99 a month you can access all of our content, including Premium articles.
Subscribe