As Newport Sound returns with another intimate line up of music and spoken word – including post-punk indie pioneers Boots for Dancing – event founder, musician and Dundee teacher Dominic Venditozzi talks to Michael Alexander about the establishment of the community-based hub of local and national talent.
Dominic Venditozzi isn't great at sound bites, he admits.
But when the 45-year-old musician and Dundee school teacher is  asked to sum up Newport Sound, which returns to the Rio Centre in his home village of Newport on Friday November 3, he describes the event he founded seven years ago as a "quality interactive intimate gig".
There's no doubt that the DIY, not-for-profit Fife show has flown relatively low under the radar since launching in 2010.
Over the years Dominic, who has also released three EPs with Sonny Carntyne, has welcomed quality guests including King Creosote, Dundee lo-fi outfit Spare Snare, Jonnie Common, RM Hubbert and Adam Stafford.
Now Newport Sound returns with Fife/Edinburgh indie originators Boots for Dancing joined by the "precociously beautiful" song-smith Hamish Hawk and the New Outfit.
They are joined by a debut for Fife balladeers Crakes and a return for writer Zoe Venditozzi (Dominic's wife) who was recently named as a Grenfell Anthology '24 Stories' contributor alongside names such as Meera Syal and Irvine Welsh.
"The show that I put on is intermittently run three or four times a year," says Dominic who juggles work with Dundee City Council's education outreach team with life as a married father-of-three.
"But what makes it unique is that there are very few things like this in the Dundee area right now that are DIY, operating across creative sectors and providing entertainment that at the same time comprises a mixed media of art.
"That's important for a number of reasons. People engage with this kind of event and it is very popular because it is fun but also because it speaks to them.
"It speaks to their sense of having artists in there that are positive, that are reflective, that are deeply involved in their craft and that are blooming good performers.
"I also deliberately schedule local people whether they be writers doing spoken word or local emerging artists.
"I think that is a selling point as well because no one else is really doing that apart from the odd 'open-mic' night – and that's not to denigrate open-mic nights! This is just something totally different."
Originally from Glasgow, Dominic, who is now firmly embedded in the Newport community, was brought up on a diet of Simon and Garfunkel and Abba before moving into The Smiths, The Pixies then electronic and techno.
He was inspired to establish Newport Sound when he started to write his own songs and struggled to find a venue for a gig.
"I initially put it on in a community café – but it was so successful that we ended up getting thrown out because the rounds of applause were too disturbing for the neighbours!" he laughs.
"That's when I decided to go for the Rio which is a great art deco venue."
Today he has room for "every kind of style" and that is reflected in the calibre of the artists he invites.
He is particularly excited about securing Boots for Dancing – a post punk band with roots in Fife and Edinburgh who were active between 1979 and 1982 and reformed in 2015.
The band was formed in late 1979 by Dave Carson (vocals), Graeme High (guitar), Dougie Barrie (bass), and Stuart Wright (drums) –supporting the likes of Talking Heads, early U2 and the Human League during the 1980s and recording two sessions for John Peel's radio show.
And Dominic says it's fair to say that without Boots for Dancing, indie music as it is today might just not have happened.
"Boots for Dancing were lauded as being among the real Scottish vanguard of changing alternative pop culture in the early 1980s along with Orange Juice," says Dominic.
"Their place within Scottish music history – even though they are a completely unknown band to many people – is representative of  the punters who will come to this gig, and the fact that Scotland in itself, and especially Fife, is an innovator for an alternative creative culture that absolutely influenced all of modern pop history in an alternative sense.
"There was no 'indie' until this period of time between the late 1970s/early 1980s.
"It was post a visit by The Clash to Scotland – the Sex Pistols were banned of course but made informal appearances under other names –that these people started going 'you know what we are doing this already'.
"And very rapidly these indie music  scenes grew in Scotland, Edinburgh, Stirling, in very small pockets – they just started blossoming and became this creative movement that massively influenced pop alternative culture history."
The capacity for Newport Sound, which regularly sells out, is just 110.
But making full use of the intimate, art deco setting where the bands play "in the body of the kirk", Dominic does not want it to grow any bigger.
"It's the intimacy that's important," he says.
"It's more about the fact you are right there among it.
"To grow bigger would start to involve bigger fees for bigger artists.
"It would involve having to go official in terms of funding.
"This is purely DIY. It's money in, money out. People get paid well and then we wait to save a little money for the next one."
He pauses. "I say 'we' – it's me really!" he laughs. "I use friends to do some of the art work, the sound engineering."
Dominic says one of the key aspects is that the bands are right in amongst the crowd, creating a unique atmosphere. And it's an experience that the audience – and the bands – seem to appreciate.
"The best example was the time I put the trestle tables out with candles on them and stuff," he adds.
"One time when Adam Stafford came – he's a very avant guard musician and film maker  called the slow motion preacher who does this one man intense building of loops and songs over the top –  he came down the gap between the tables in the middle and went into a kind of almost trance.
"People were at once quite agog but they were also absolutely riveted.
"I'd say that in each artist's way they do something quite similar. Jan Burnett from Spare Snare did it – he comes walking into the crowd and does stuff. People just love it.
"What more could you ask for in a wee North East Fife village on a Friday night?"
*Newport Sound's Winter Minter, Rio Community Centre, Newport-on Tay, Friday November 3, 7.30pm.
Ticket information is available via newportsoundtickets@gmail.com  or by contacting Groucho's in Dundee.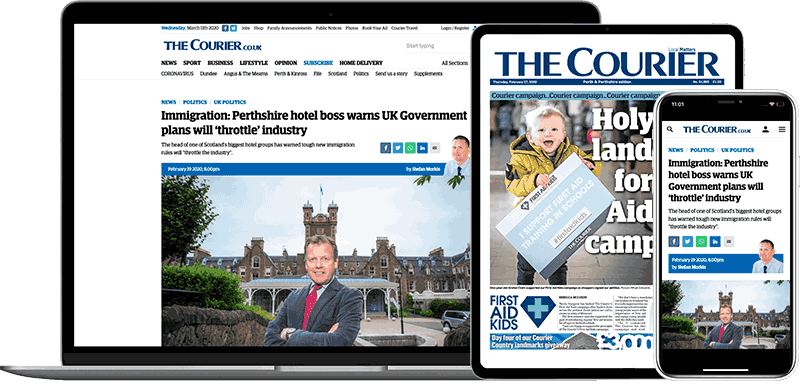 Help support quality local journalism … become a digital subscriber to The Courier
For as little as £5.99 a month you can access all of our content, including Premium articles.
Subscribe