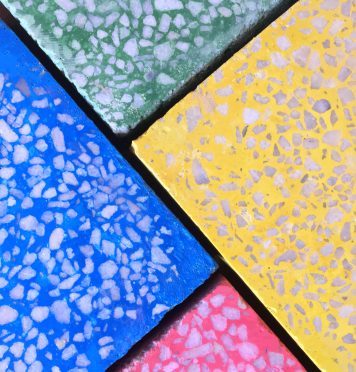 What do you get if you run an exhibition dominated by five tonnes of terrezo marble floor in tandem with an exhibition that invites visitors to interact with 200kg of eggshells?
The answer can be found at Dundee Contemporary Arts from this weekend where two solo winter exhibitions are being launched featuring major new site-specific commissions: This Mess is Kept Afloat by Kate V Robertson, and Fragments by Andrew Lacon.
The two artists only met for the first time this week as they set up their exhibitions.
However, they have been aware of each other's work from afar and have been working in close collaboration with DCA's exhibitions team to create sculptural responses to the architectural interiors of DCA galleries.
The two exhibitions, presented concurrently from Saturday until February 25, will be completely distinct in all but their shared focus on materials, from the excavation and interrogation of their structural qualities to the ways in which they are used as tools and vessels for cultural, social and political agendas.
Kate, 37, who is originally from Edinburgh and graduated from Glasgow School of Art in the city where she is now based, said both sets of work will "utterly transform" the spaces that host them.
In This Mess is Kept Afloat, she will present an expansive new installation of sculptural works in which the visitor's attention will be brought not only to the walls, but to the floors, ceiling and windows of Gallery 2.
Exploring the sculptural and sensory possibilities contained within her carefully chosen materials, the artist invites visitors not only to look, but to touch, feel, smell, and perhaps even contribute to the destruction of some of these artworks.
"The first thing visitors experience is a couple of pieces on the floor, so you literally just walk onto the art when you come in," says Kate who describes exhibiting at DCA as being high up on her "wish list".
"Some of that will react to you – there's a cobbled floor made of concrete casts. Some of those will crack when you walk on them. That's quite a sensory experience. And then you'll walk under some art works. At the end there's a kind of beach sand floor piece made of crushed egg shells and that definitely has a different sensory experience. And there is an odour to that too!
"All DCA staff have been collecting eggshells for me so I'm sure there's going to be a spike in Dundee egg consumption for the considerable future!"
In Fragments, Andrew, 32, a Manchester School of Art lecturer based in Birmingham, invites visitors to be active participants in his response to Gallery 1.
Subtle yet substantial, his sculptural work will sprawl across the whole gallery and challenge how public displays of objects can explore relationships between national culture, social class and artistic intention while focusing on a single raw material that is now synonymous with the history of art and architecture: marble.
"The entire exhibition comprises a single object – a terrazzo marble floor constructed from a series of four-foot square slabs of marble pieces suspended in brightly coloured casting," he says.
"The story of this work can be traced back to a journey I made from Mexico City to Birmingham in 2015, carrying a cotton rucksack filled with a stack of Mexican pink marble through customs. Aspects of this journey mirror my ongoing artistic investigation into the often complex political lives of materials: how they are obtained, appropriated, and used far from their places of origin.
"Fragments positions these wide ranging ideas in a deceptively simple way using colours,  shapes and forms to hint at underlying narratives and overlooked histories."
*Fragments by Andrew Lacon and This Mess is Kept Afloat by Kate V Robertson, DCA Galleries, Dundee, December 9 to February 25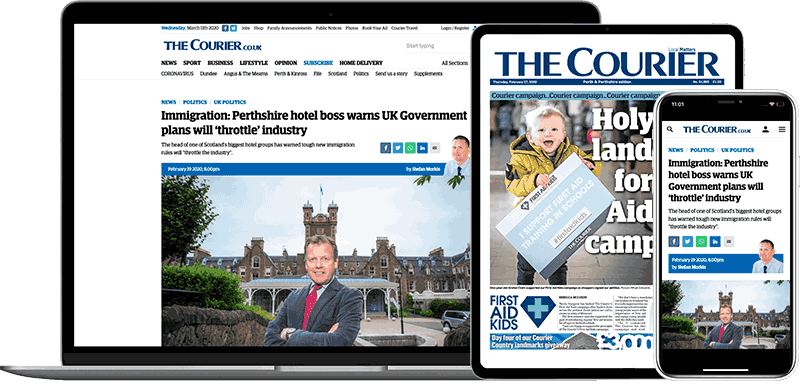 Help support quality local journalism … become a digital subscriber to The Courier
For as little as £5.99 a month you can access all of our content, including Premium articles.
Subscribe