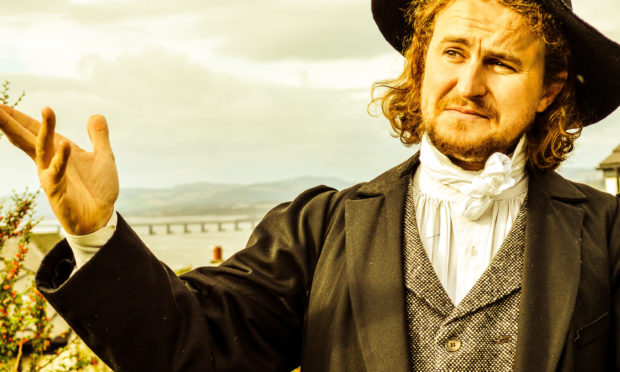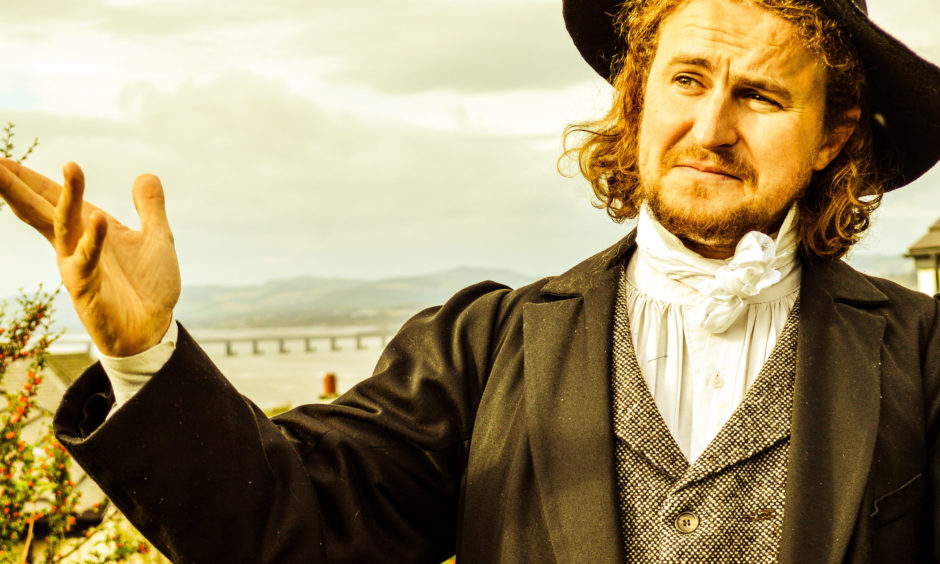 Ahead of McGonagall's Chronicles (Which Will Be Remembered For a Very Long Time) arriving at Dundee Rep on March 31, multi-award winning writer/performer Gary McNair talks to Michael Alexander about his "love" for the notorious poet William Topaz McGonagall.
He is the 19th century poet and tragedian of Dundee whose audiences threw rotten fish at him and who has been widely hailed as the writer of the worst poetry in the English language.
But was William Topaz McGonagall genuinely bad or did he consciously adopt a style that enhanced his notorious reputation that lives on to this day?
"It's one of those things we'll never quite get to the bottom of," laughs writer and director Gary McNair who is bringing his show McGonagall's Chronicles (Which Will Be Remembered For a Very Long Time) to Dundee Rep.
"If he knew he was bad, he played his cards very close to his chest.
"But it does create the question.
"Some folk report that they saw him coming off the stage with a wry smile. There are also a few clues. There's a few of his early poems which just weren't very good – he gets worse and worse – but he re-writes his earlier poems in a more McGonagall style which are funnier and worse.
"Either he perfected a style and had to re-write those things, or he wanted to live in the canon of generally accepted bad good work!"
Glasgow-based Gary, 32, from Erskine, is no stranger to Dundee Rep.
The Royal Conservatoire of Scotland-trained drama school graduate was there in 2016 with Donald Robertson Is Not A Stand-up Comedian.
Performed by McNair and Brian O'Sullivan, McGonagall's Chronicles is directed by former Dundee Rep associate director Joe Douglas (Cheviot, Death of a Salesman, The BFG) with music by Frightened Rabbit guitarist Simon Liddell.
McNair's stories of the trials and triumphs of growing up in working class Scotland have toured the world to huge critical acclaim.
But he admits it's only a couple of years since he first became aware of McGonagall – revealing that the McGonagall poem that made him "guffaw" most is The Famous Tay Whale.
"When I was doing Donald Robertson is Not a Stand Up Comedian a couple of years ago, it was all about this wee guy who was wanting to be funny but who was absolutely awful at it," he says.
"We took a lot of joy at how bad he was at telling jokes.
"But he was getting bullied and whatnot. It was funny but a shame.
"It sort of looked at our culture of Schadenfreude and humour as a bullying tool.
"So I was in the middle of making that show when I met up with a pal in Glasgow and I was telling him about my favourite bad comedians, because I do love seeing terrible comedians. It's a strange vice that I have!
"And my pal said 'you must know about William McGonagall?'
"I said 'who's McGonagall'? And he read me a few poems and I was instantly in love with the guy!
"I went straight out and phoned my brother who has lived in Dundee for 15 years now. I said 'do you know William McGonagall?' He said 'McGonagall? He's the poet laureate of the Tay!'
"My brother then sent me McGonagall's self-penned book – his questionable autobiography – and I never turned back from there!"
Gary initially wrote a six minute "warm up" biography on McGonagall which has now been developed into the full McGonagall's Chronicles.
He describes it as "cradle to grave stuff" and says McGonagall deserves "love and respect" for "carving his own path".
"I suppose you've got to have a wee bit of confidence as a writer to do this," he adds. "That has been the challenge. I've had great fun with it.
"But the question is, 'is my writing good enough that I can make it bad enough?'
"You see a lot of attempts at McGonagall online and they don't feel like McGonagall. They just feel like a bad poem!"
*McGonagall's Chronicles (Which Will Be Remembered For a Very Long Time), Dundee Rep, March 31, www.dundeerep.co.uk
POEMS
*Gary McNair has provided The Courier with some special poems written in McGonagall style:
1.
 – An Ode To Professor Stephen Hawking
It was on the 14th of March in the 18th year of this millennium
That the world bade farewell to one of its greatest craniums
He was often seen down the planetarium
But sadly we'll not be seeing any mair o' him
Raise a toast
Charge your glasses at a lock-in
Fly the flag at half mast
For Professor Stephen Hawking
He understood the universe more than most
But he was a humble man who did not like to boast
He didn't need big fancy titles to prove he was right good
Perhaps that is why he refused a knighthood
He sold nearly as many books as Mantel and Gaiman
Explaining the complex physics of time to the layman
Famed for his mind and his electronic voice
His cameo roles in popular shows like the Simpsons did make people rejoice
It would have made people's hearts heavy with dismay
When he left this world in the month of March and on the 14th day
It was a sad day indeed as he wasn't the only one going
He left us on the same day as Bullseye's Jim Bowen
____________________________
2.
The Beast From The East
The good people of Scotland
Were visited by a terrible snowy beast
The storm which has been named
The Beast From The East
It snowed so much that when The Beast did blow
Houses and cars were buried in snow
And what's even more surprising –
The snow level just seemed to keep on rising
Oh how The Beast did blow and how it did bray
Freezing many Scottish rivers from the Clyde to the Tay
Many cars and trains proved to be inferior
When trying to drive through the snow from Siberia
The storm did howl and seem to say
That people would be best to stay
In their houses
For a couple of days
People struggled to make a homemade feast
When many of the supply lines ceased
And it was hard to get egg, milk and even bread to make a piece
The people all searched their freezers hoping they'd stowed away a quiche
And if someone was to become deceased
You may have struggled to get hold of a priest
Oh how people wished they'd get released
From the howling wind and snow from The Beast of The East
No planes took off
No trains were running
But the white covered streets
Were simply stunning
——————————————
3.
Trump cancels visit to the United Kingdom
The President has cancelled his trip to the UK
Because he doesn't like where we moved his embassy
He says this is the reason for cancelling his visit
But many of us ask ourselves… is it?
Perhaps he thought it wise to avoid the bad press
Or the chance of his visit causing civil unrest and protest
For we live in an age where feedback is immediate
And many people of this great nation believe he is an eejit
It would be easy for me to make fun of the man
For his bewildering haircut or his satsuma tan
Yes we could focus on these surface facts
But I'd rather take issue with the way he acts
He boils the blood of many good humans
With the way that he openly disrespects women
He calls the media fake news
When they don't agree with his narrow views
And he certainly annoyed all and sundry
When he tried to stop Muslims from entering the country
Some say May should not have offered the place
And that now he has cancelled, she has egg on her face
For she had a chance to look strong and stable
But in this simple task she is clearly not able
Though his decision may not last ad infinitum
This poet is glad he's not visiting the United Kingdom.
_________________________________________
4.
Royal wedding 
Rejoice! There is to be a royal wedding
For a great celebration the country is heading
Which Royal is due to marry?
It's Her Majesty's grandson, Harry
Many people will be pleased to see Harry wed
And they will hope it will help put his silly behaviour to bed
He has often attracted bad press from the paparazzi
Like the time he dressed up as a German soldier
And though he will likely never wear the crown
We're all rather pleased to see him settle down
And his bride, most beautiful to be seen
Will be the newest relative of the Queen
You may recognise her due to one main factor
She's been on the telly where she works as an actor
She's not the woman that plays Miss Marple
She's in that show Suits, and her name's Meghan Markle
To see a royal on their wedding day
Will make many hearts feel merry and gay
I dare say not even republicans would smirk
As we will all be given a day off work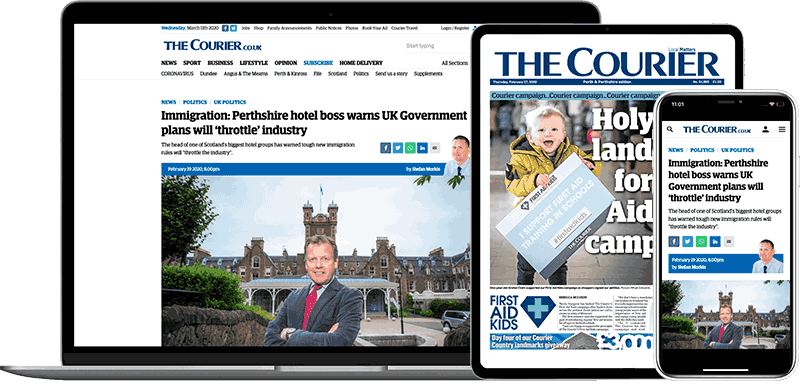 Help support quality local journalism … become a digital subscriber to The Courier
For as little as £5.99 a month you can access all of our content, including Premium articles.
Subscribe