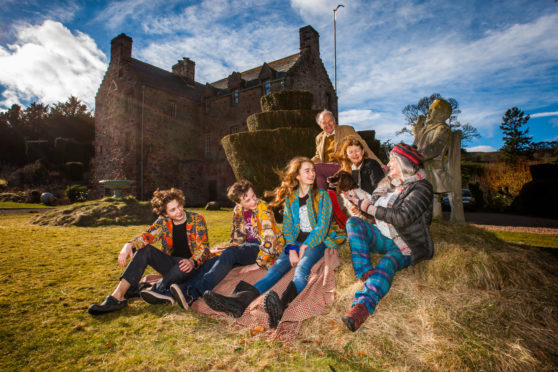 As gardens all over Courier Country open up to raise funds for charity, Caroline Lindsay takes a look at three properties with a special story to tell in the Year of Young People.
Alice in Wonderland topiary staggers across the lawn, bumping into stone globes and statues from three centuries while historical and literary figures are scattered among pleasure gardens first laid out in the 18th Century. Welcome to the magical realm of Fingask Castle, perfect for storytelling and spinning yarns.
The 16th Century Perthshire castle is one of six properties across Scotland (all members of Scotland's Gardens Scheme) taking part in Growing Stories in the autumn as part of the Scottish International Storytelling Festival and the Year of Young People. The aim of the event is to offer a fun packed way for people of all ages to explore some of Scotland's gardens and see them with new eyes.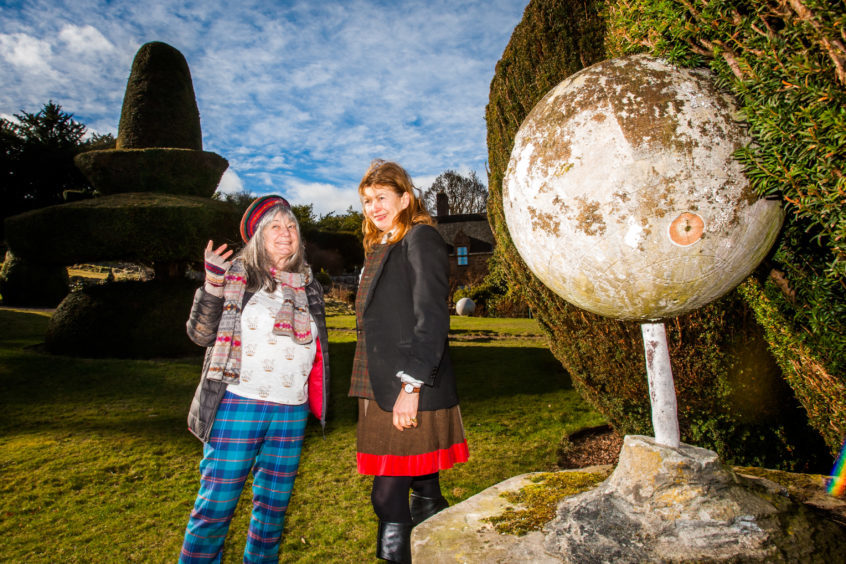 The Fingask gardens, where Bonnie Prince Charlie once walked, are romantic but also have a definite sense of humour with three jolly drinkers – Burns, Tam O'Shanter and Souter Johnnie – dominating the short yew walk above the castle.
Stories are like gardens – they bring people together and grow but also need nurtured and cared for.
Local storyteller Lizzie McDougall will be weaving magical myths and fantastic fables at the Fingask event on October 11. Her belief that gardens feed the soul means her stories are all about making connections with nature.
"My path to storytelling has childhood roots," she says. "My love of stories was ignited by Edinburgh characters whom I was fortunate to know. There was Mary Dunlop the Barrel Organ Lady, who told of walking with her pony through the highlands, and Compton Mackenzie who told the tales he had heard on his island adventures," she recalls.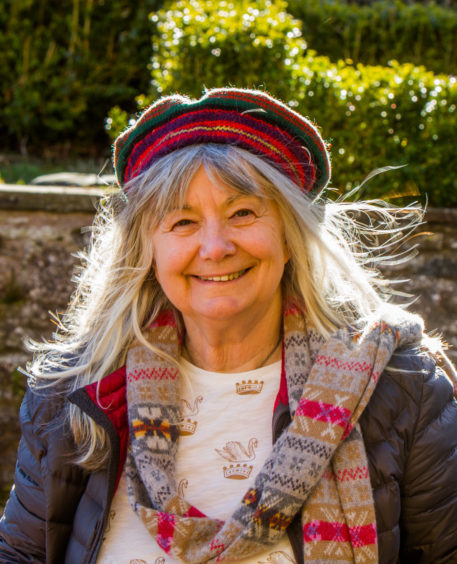 "Both inspired my love of storytelling and a fascination with the highlands and islands.
"I felt drawn to follow them and seek out stories directly from people, not books, and I have been incredibly lucky meeting people with wonderful stories to share."
To gather stories for the autumn event Lizzie had a "wonderful" visit to Fingask Castle to learn about its past and present from owner Andrew Threipland.
"It is often said 'the past is another country' but, while listening to Andrew some characters seamed to reach through time and really ask for their story to be told," says Lizzie.
"The story of one, a close friend of Bonnie Prince Charlie, really stood out. After a little further research I have discovered that as well as Fingask he also lived on Edinburgh's Royal Mile, directly opposite the present day home of the Scottish Storytelling Centre.
"I'm am particularly looking forward to sharing his and other stories at the garden storytelling day," she smiles.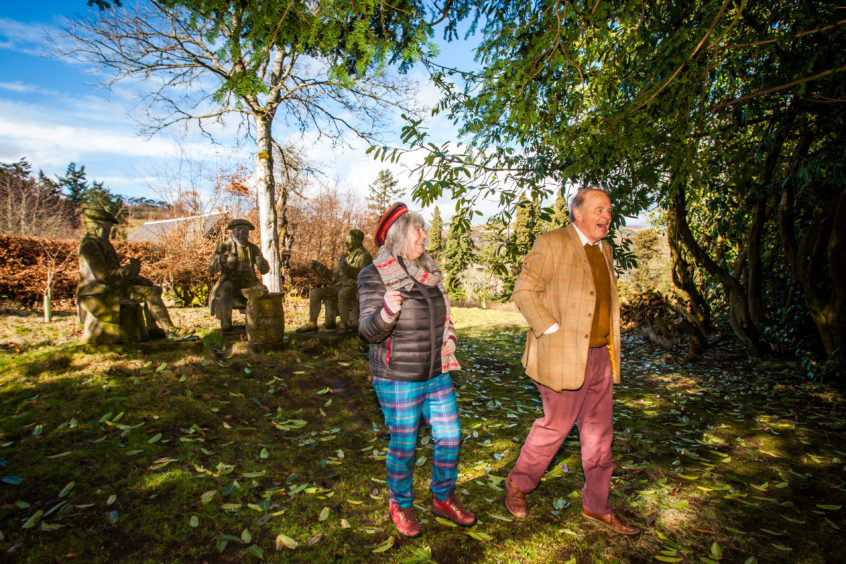 Andrew's children gave Lizzie a tour of the gardens and filled her in on the Alice in Wonderland topiary and other statues, steel shapes, black torsos, and belvederes.
"The gardens of Fingask are overflowing with stories and it's wonderful to hear stories from families who have spent generations in historic places that connect us to the environment," she says.
"I feel blessed to be able to carry on sharing these and other tales – as a storyteller I continue to travel around Scotland passing on the stories and hopefully inspiring future generations to keep our storytelling tradition alive."
Falkland Palace in Fife is holding a Herb Day on July 15 with a range of hands on family-friendly activities on offer to encourage everyone to learn about how these versatile plants have been used through the ages.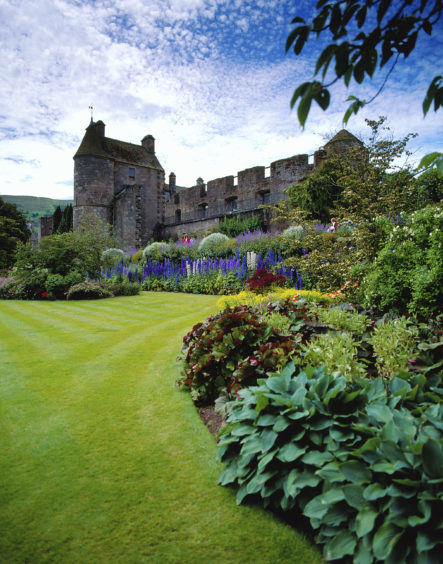 "Within the palace storytelling is one of the most important tools we have to inspire future generations," says Naomi Webster, learning officer with National Trust Scotland.
"We aim to highlight the importance not only of tangible heritage but also of the tapestry of events that have shaped the history of our nation," she continues. "
We find that bringing in professional storytellers throughout the year during our events helps to bring alive the bricks and mortar and really lets people understand what life was like for those who lived in the palace at the time of Mary, Queen of Scots."
Another garden in Courier Country keeping the medicinal magic alive is the Herbalist's Garden at Logie, near Kirriemuir. Owned by Gavin and Terrill Dobson (Scotland's Gardens Scheme's national organiser), this fascinating garden features more than 150 herbs, including medicinal herbs for different body systems. All the herbs are labelled with a brief description of actions to help novices learn more about this ancient art.
Open on July 28 and 29, there will be all sorts of activities on offer for kids, from a garden quiz to tasting sessions.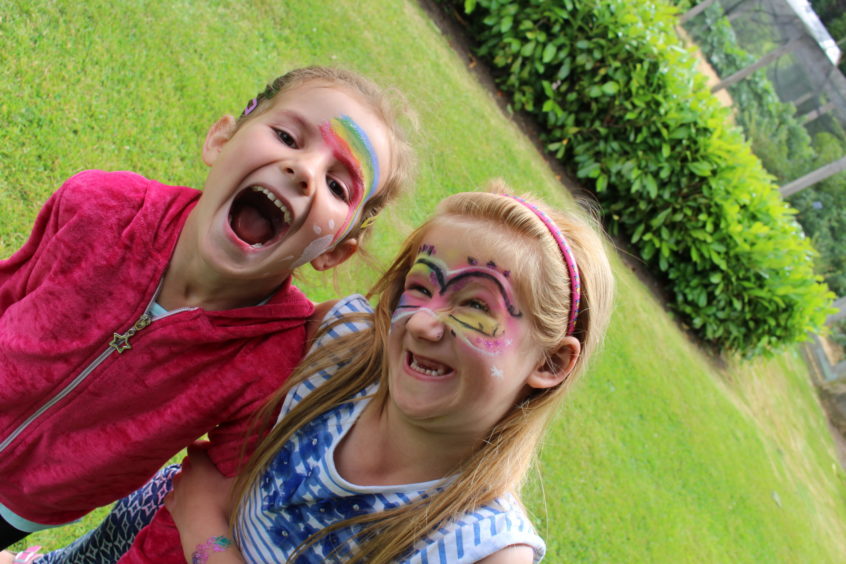 "It's so important to encourage children to explore gardens and develop a connection with nature," says Terrill. "I'm really excited by the Year of Young People and we're especially pleased to partner with Scottish storytellers to bring our gardens alive to children, of all ages."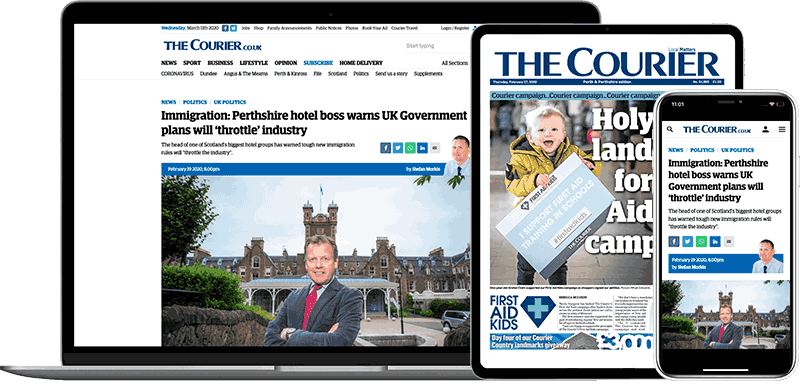 Help support quality local journalism … become a digital subscriber to The Courier
For as little as £5.99 a month you can access all of our content, including Premium articles.
Subscribe