As part of Epilepsy Scotland's #TalkEpilepsy campaign the charity is encouraging people living with epilepsy to share their experiences to combat stigma and talk about the impact of epilepsy.
Long-time Epilepsy Scotland supporter, Tom Davies shares his experiences of being diagnosed with epilepsy when he was 15 years old:
"I was first diagnosed when I was 15 and I'm 30 now.
"When I first found out I had epilepsy I felt scared, a bit unsure of what it was. The initial shock of what had happened after my first seizure, not know what is going on, and lots of medical tests which led to the diagnosis of epilepsy. I didn't know anything about epilepsy.
"I thought it was a lot more serious than it actually was. Now I know completely what my epilepsy is, what my triggers are, what medication I need to deal with it and what limitations I have.
"One of my main triggers is sleep deprivation. Things like going out on a night out, staying out late and then getting up the next morning. I had to limit that after a few bad incidents of having a seizure. I had to learn what I can and can't do.
"I had been on a night out and woke up relatively early to play in a football match. I went for a shower and, as sleep deprivation can trigger seizures for me, I had a seizure in the shower. I knocked out four teeth, cracked my jaw and my cheekbone. I was in a neck brace for two weeks because I had such severe whiplash.
"That made me take my epilepsy more serious, because this incident affected a lot of people around me. It was a long haul to get my face back together and knocked a lot of confidence, thinking that I couldn't go out and lead a normal life.
But the reality is the more you understand what it is you can and can't do, you can make adjustments.
"The advice I would give someone who has been recently diagnosed would be to spend quite a bit of time reading up on it, find charities like Epilepsy Scotland, find support groups where you can talk about it, contact Epilepsy Scotland's helpline on 0808 800 2200."
Epilepsy Scotland's #TalkEpilepsy campaign is designed to get people to talk about epilepsy and dispel some of the myths and misinformation that is still out there.
Would you know what to do if someone living with epilepsy had a seizure?
With around 55,000 people living with epilepsy it is important to know basic first aid so you can help keep someone safe and potentially save their life. The charity has come up with a helpful way of what to do when someone is having a seizure.
T  – Time the seizure
A  – Are airways clear
L  – Lead to safety
K – Keep calm.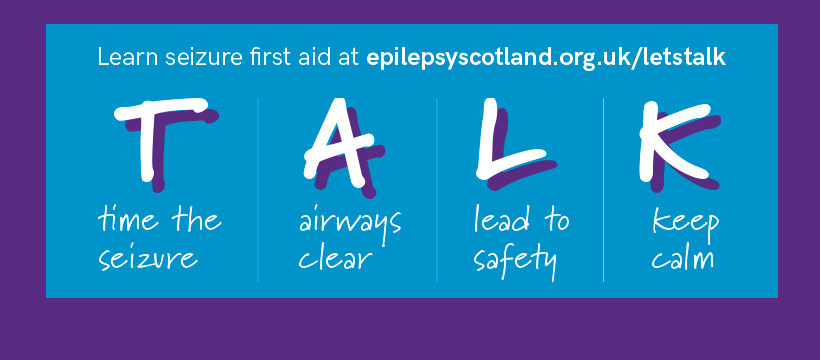 Epilepsy Scotland have also launched a new text donate process. Text LETSTALK to 70085 to donate £3 towards our work across Scotland.
Epilepsy Scotland Chief Executive, Lesslie Young said: "There is a lot of misinformation surrounding epilepsy. This national campa
ign aims to dispel myths and to encourage people across Scotland to learn about epilepsy.
"Our campaign provides people with vital first aid information and by talking to people who have epilepsy, like Tom, and encouraging them to share their experiences of living with epilepsy the campaign highlights the different aspects of someone living with epilepsy and how it is more than just seizures."
*For first aid information and to learn more about Epilepsy Scotland's campaign click here to visit the website.