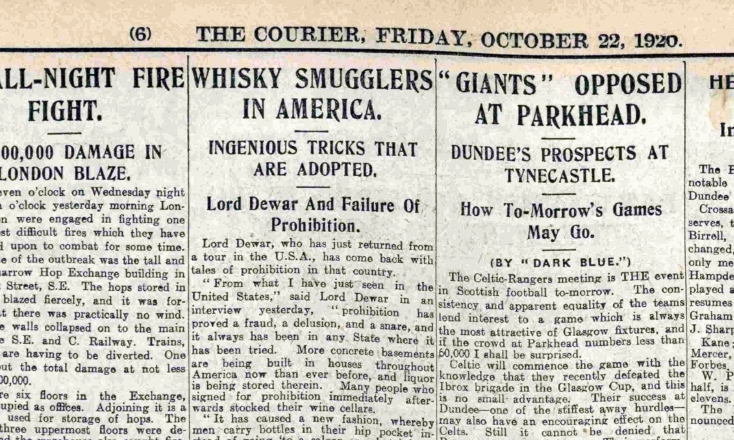 Just under 100 years ago, the United States declared nationwide Prohibition, which, seen through the hindsight lens of history, was arguably the daftest legislation passed by a well-established democracy in modern times.
It also offers valuable lessons about Brexit, not that ardent Brexiters will be any more open to learning those lessons than the Prohibitionists heeded those political leaders, including then-President Woodrow Wilson, who warned of Prohibition's dire consequences—proof that some political ideas can almost become religious dogma.
Throughout history, humans have had a love-hate relationship with alcohol. In good times, it has enjoyed the highest repute—think of the Romans' wine god Bacchus and how Christ turned water into wine. Yet in bad times, when people drank to drown their sorrows, drink was seen as the root of all evil.
Such a view swept the US, mainly in rural areas, in the late 19th century. Male drunkenness and drink-aggravated violence against woman was a big problem which, as in Britain and other countries, led to unemployment, poverty and blighted family lives.
Many US anti-drink groups sprang up, the most feared being the Anti-Saloon League—axe-wielding women who would swoop and demolish a bar or saloon in a few minutes. By 1919 some 36 US states had gone dry and few politicians dared speak out in defence of drink. Upshot: US-wide Prohibition from January 1st, 1920.
Overseas, it had a calamitous effect on the Scotch and Irish whisky industries, but its impact on the US was far worse. People still wanted their drink, spawning a vast criminal network, much of it Mafia-linked, which smuggled in drink from Canada, Mexico and elsewhere or produced it in clandestine locations.
Turf wars between gangs led to countless murders, the most notorious the St Valentine's Day massacre in Chicago in 1929.
Significantly, Franklin D Roosevelt won the 1932 presidential election in part because he pledged to scrap Prohibition.
So why the link to Brexit? Simply that American voters and lawmakers saw Prohibition as a silver bullet that would cure all the country's ills, just as today many voters, particularly in England, feel leaving the EU is the silver bullet to cure all Britain's ills.
However, I fear their silver bullet may turn out to be a rusty nail.