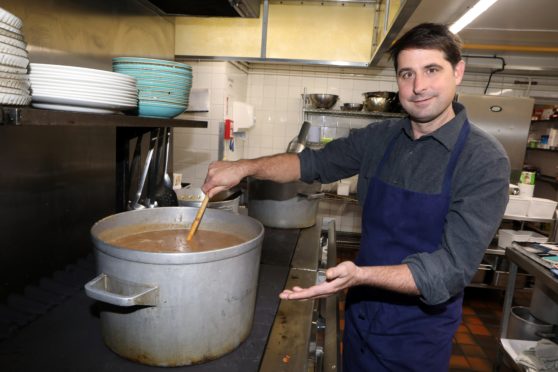 Top US chef Justin Walker was at the Invercarse Hotel in Dundee recently to cook a special Thanksgiving dish for members of the Dundee Alexandria Twinning Association. Executive chef at Walkers Maine, a famous New England restaurant, he cooked a Native American Wampanoag Sobaheg Stew as an amuse bouche.
Like many chefs, Justin started cooking as a young child and recalls: "My grandfather was a cook in the US Army during the Second World War and I can remember always being under his feet when he was cooking at home. I have such fond memories of the delicious smells from the kitchen of helping slice garlic…
"I caught the bug really early and when I found professional cooking I loved it."
Ask Justin what he enjoys most about cooking and he replies: "I love being able to reinvent something whenever you like, to change the ingredients of a dish. Being able to change something all the time is important to me to keep it fresh."
Anyone who works in this industry knows it can be tough, with more than its fair share of challenges.
"It is hard work and you need incredible dedication and to stay focus. Like any trade you're learning how to perfect it all the time.
"Being a restaurant owner throws up a whole lot of different challenges too but I absolutely love it," he enthuses.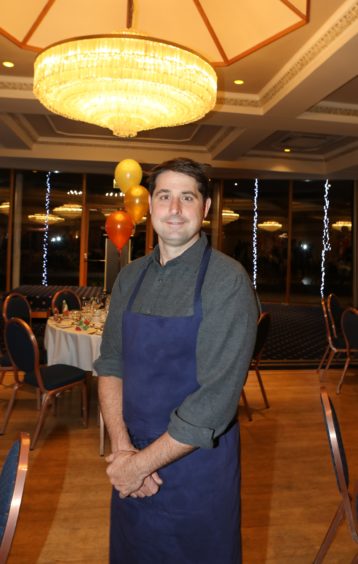 "We have a 12ft wood burning hearth in the kitchen and my wife and I run a smallholding where we have 30 goats, chickens, ducks and grow lots of vegetables and herbs, so we always have fresh produce for the restaurant."
Thanksgiving takes place on November 28 and Justin explains what it's all about.
"Thanksgiving is a national holiday in the US commemorating the Native Americans helping the Pilgrims," he says. "It's all about friendship, sharing and bringing people together.
"For us, food is incredibly important and yet sitting down at a table together to eat is becoming rarer in this fast-paced life. Thanksgiving is one day that makes us stop and is very special."
Justin starts preparing for Thanksgiving in January when he plants pumpkin seeds for the big feast. Turkey is also an important part of Thanksgiving and Justin will make a bread stuffing using his home-baked goat's whey sourdough, with pumpkin, celery and herbs.
Desserts include classic sweet pumpkin or winter squash pie, made with allspice, cinnamon, cloves and ginger, or an apple pie. "The apple season in Maine has just finished so there are apples in abundance," he smiles.
"This year we have variegated Godiva pumpkin which I'll roast and then serve with the sauce."
Justin will be celebrating with family, friends and 'found' family but the guests will have to wait until early evening to tuck in, as Justin volunteers at a soup kitchen during the day.
He loved his visit to Dundee: "Travelling for chefs is incredibly valuable, to see how other people view food. It's good to look at what we're consuming and to show demonstrate that the US isn't just about hamburgers and pizza."
Justin's recipe for Sourdough Stuffing with Sausage and Roasted Squash
No stodgy stuffing here: This sourdough stuffing with sausage is a lively blend of sweet squash, salty sausage, and tart sourdough.
Total Time: 3 hours
Hands-On Time: 40 minutes
Yield: 8 servings
Ingredients
2 loaves (about 1 pound each) sourdough bread, cut into 1/2-inch cubes
3 cups butternut squash, cut into 1/2-inch cubes
3 tablespoons olive oil
2 teaspoons kosher salt, plus more to taste
1 teaspoon freshly ground black pepper
2 sticks unsalted butter, plus more for baking dish
1 pound sweet Italian sausage, removed from its casing
2 medium leeks, white parts only, cleaned and thinly sliced crosswise
2 stalks celery, diced
1 1/2 tablespoons minced fresh thyme
1 1/2–2 cups turkey or chicken stock
Directions
Preheat oven to 250° and set racks to the upper middle and lower middle positions. Line two rimmed baking sheets with foil. Grease a 9-by-13-inch baking pan with butter and set aside.
Arrange bread cubes on the sheets and bake until lightly toasted but not completely dry, 45 to 60 minutes. Increase oven temperature to 375°.
In a large bowl, toss squash with the olive oil, salt, and pepper. Spread it out on the baking sheets and roast until just tender, about 30 minutes.
Set a 3- or 4-quart pot over medium heat and melt the butter. Add the sausage, breaking it up with a wooden spoon, and cook until no longer pink. Add the leeks, celery, and thyme and cook until very tender, about 10 minutes. Remove from heat.
Put the bread cubes into a large bowl and pour the sausage mixture and 1 1/2 cups stock over all. Add the squash. Gently toss the mixture together, making sure the cubes are all moistened. Taste and add stock, salt, and pepper as needed.
Pour dressing into the prepared baking dish and cover tightly with foil. Bake on the lower middle rack (at 375°) for 15 minutes, then remove foil and bake until golden brown on top, 15 to 20 minutes more. Let stand 10 minutes before serving.