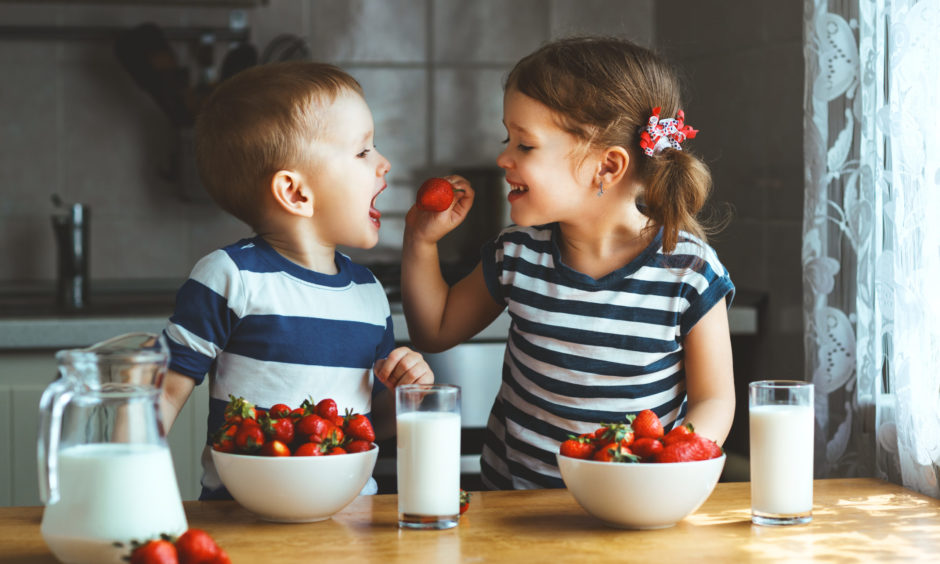 At times it can prove difficult to convince children to eat fruit and we should all be doing more to ensure we get our five a day. These delicious sweet treats should do the trick.
Getting children in to the kitchen to help make some delicious servings of sweetness is a great way of encouraging them to eat the fruits of their labours.
These recipes from M&S are guaranteed to have your youngsters coming back for more.
Simple to make and using a variety of lovely, fresh summer berries, they're treats adults will really enjoy, too!
The summer berry crunch combines strawberries, raspberries, peaches and pomegranate with yoghurt, granola and vanilla essence.
And no one would knock back an iced blueberry and lemon meringue crush.
Only four amazing ingredients for a simple treat that is ready to enjoy in only 10 minutes.
We may be saying goodbye to summer, but you never need an excuse for an iced lolly, and what could be better than making your own strawberry and custard ones?
---
Summer berry crunch
(Serves 4)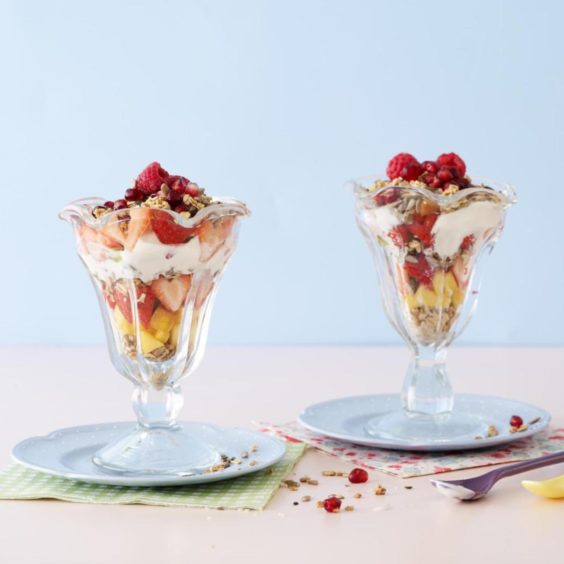 Ingredients
200g granola
30g toasted mixed seeds
200g natural yogurt
1 orange
1tsp vanilla essence
100g strawberries
100g raspberries
1 pomegranate
3 yellow-flesh peaches
Method
Cut the orange in half and squeeze the juice from each half.
Hull the strawberries and cut into rounds lengthways. Add to a medium-sized bowl along with the raspberries and the orange juice.
Add the vanilla essence and give it a good mix. Leave to one side.
Cut the pomegranate in half, place over a bowl and place the cut side face-down in the palm of your hand. (You may want to ask an adult to help you with this stage).
Using a heavy spoon or rolling pin, bash the top side until all the seeds start to fall through your fingers.
Discard the skin and any white pith that might have fallen through. Add the seeds to the fruit mix.
Carefully cut the peaches up roughly and set aside. Get yourself four large glasses or clean empty jam jars and start layering.
Add 1 tbsp granola to the bottom of each glass followed by 2 tbsps of the fruit mix, a sprinkling of seeds, and a layer of yogurt, then top with peaches.
Repeat until the glass is nearly full and top with a final layer of granola and a little pile of the remaining fruit and seeds.
---
Iced blueberry and lemon meringue crush
(Serves 8)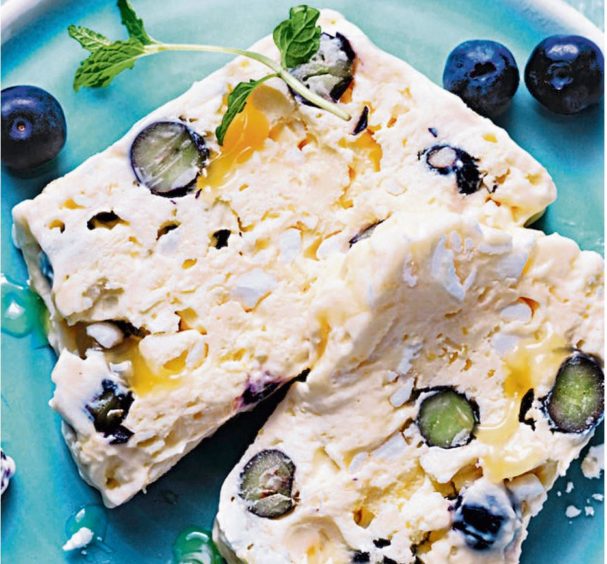 Ingredients
180g blueberries
325g Sicilian lemon curd
300ml whipping cream
8 Cook With M&S meringue nests
Method
Lightly crush the meringues and set aside. In a bowl, whip the cream to soft peaks.
Fold in the lemon curd and the blueberries.
Fold in the crushed meringues.
Spoon into a 900g loaf tin lined with over-hanging with cling film.
Pop in the freezer until it is firm, then fold the overhang of cling film over, wrap again and freeze until ready to serve.
Alternatively, spoon into some ramekin dishes, cover tightly with cling film and freeze. Transfer the frozen loaf to the fridge 30 minutes before slicing.
The ramekins are best left to stand at room temperature 10 minutes or so before tucking into.
---
Strawberry and custard ice lollies
(Makes 6)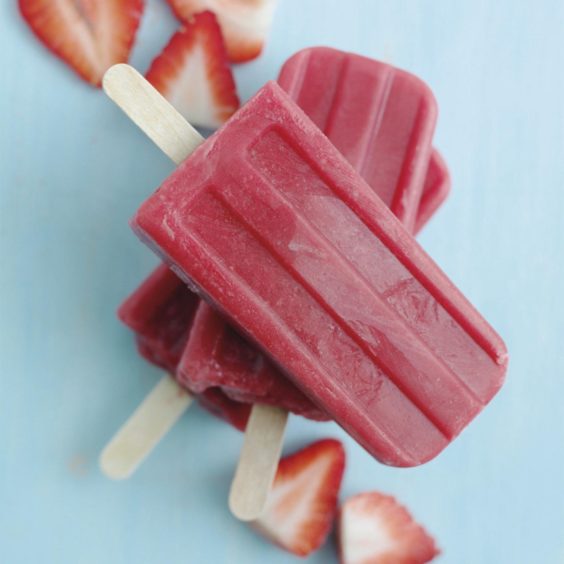 Ingredients
400g strawberries
150g custard
Method
Hull the strawberries.
Puree the hulled strawberries in a food processor or liquidiser then press through a sieve into a bowl.
Stir in the readymade custard and mix until smooth.
Pour into six lolly moulds, add lolly sticks and freeze overnight.
To serve, dip the moulds briefly in warm water then lift out of the moulds.
---
Read more in this series…
Kids' Kitchen: Brilliant bakes to help pep up the school lunchbox
Kids' Kitchen: Animated food that'll be a hit with the young ones