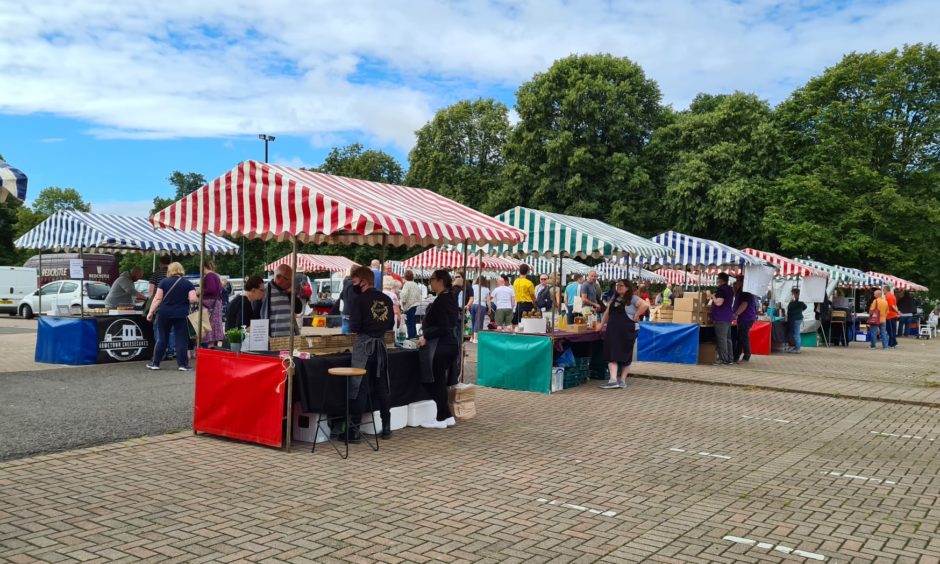 The coronavirus pandemic forced Perth Farmers' Market to move from the city centre to the South Inch, but support from regulars and newbies has given the event a timely boost.
After a successful month in August, Perth Farmers' Market once again takes place on the South Inch this Saturday.
Last month's market saw the event changing its location for the first time in its history.
And although the relocation from the city centre was a concern for organisers, folk from the Fair City and beyond came out to support the monthly venture on its return.
Market manager Adeline Watson said: "We were concerned that by moving away from our usual location in King Edward Street it would have an impact on the large number of customers that normally attend the market.
"However, we were pleasantly surprised that not only did all our regulars come along, we also managed to attract a lot of new visitors who were intrigued by the brightly-coloured canopies appearing on the Inch combined with the adjacent car parking facility."
Information point
Market organisers also took the opportunity to publicise what was available for visitors to enjoy elsewhere in Perth.
"Our information point always has literature encouraging visitors to explore the fantastic independent shops, cafes and restaurants in Perth and we were delighted to point these out to all of our new customers," added Adeline.
"The market itself is an independent business so we appreciate the challenges currently facing the retail and hospitality industry. Perth Council has also been extremely supportive to us during this transitional period.
"The market currently supports around 50 high-quality small food and drink producers and is now more of an outdoor delicatessen than a traditional generally meat-based offering.
"Customers are now much more discerning when it comes to knowing where their food comes from and you can hear some great conversations between consumer and producer.
"Food production and employment is vital to the Scottish economy and without organisations like Perth Farmers' Market, small producers would find it extremely difficult to sell directly to the public."
The market takes place on the South Inch car park from 9am until 2pm on Saturday.