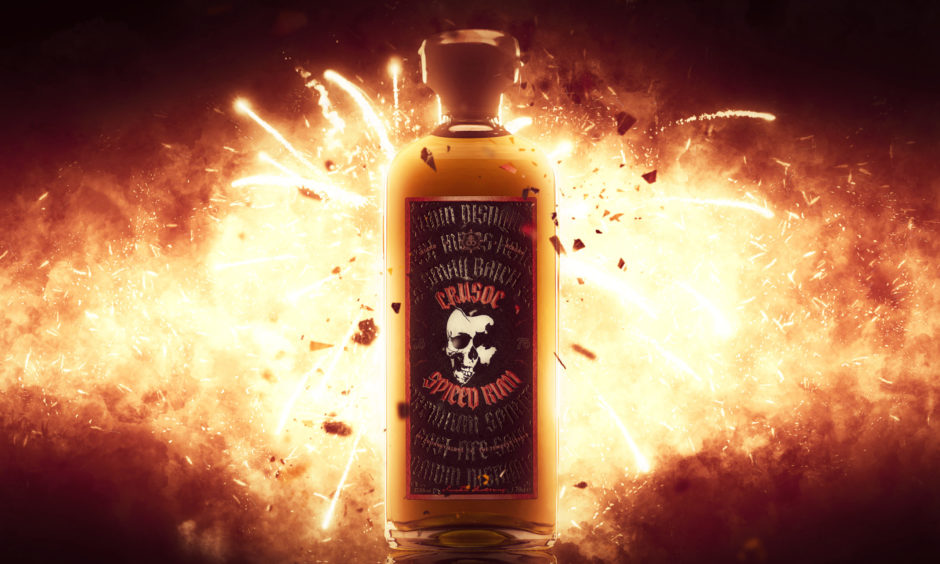 Rum is tipped to be the next big drinks brand explosion in Scotland. Brian Stormont spoke to a Fife distiller who has brought out the area's first spiced rum.
An innovative Fife-based distiller has launched the kingdom's first-ever spiced rum named after Daniel Defoe's Robinson Crusoe whose real-life inspiration hailed from the region.
Lundin Distilling is behind Crusoe Spiced Rum which has been produced at their Kirkcaldy distillery where they also distil a range of gins.
The spiced rum has been inspired by the larger-than-life character Alexander Selkirk, who was born in Lower Largo and was the inspiration for Daniel Defoe's Robinson Crusoe.
Iain Brown, head distiller, explained: "Alexander Selkirk was a pretty dark character. The sort of guy you'd love to have a few rums with but maybe try to get away from before the fighting started".
Robinson Crusoe
Alexander Selkirk ran away to sea after getting into trouble with the law and embarked on a career of piracy.
After quarreling with the captain of his ship, he was marooned on a deserted island for four years before being rescued.
His return brought him infamy and his life became the basis for Daniel Defoe's famous novel "The Adventures of Robinson Crusoe".
"We've always thought that the Crusoe story isn't promoted enough locally," continued Iain.
"Crusoe is famous the world over but the true story behind it is probably more amazing than Daniel Defoe's novel. The tales of violence, piracy and desert islands are a perfect backdrop for our rum.
"Robinson Crusoe and Alexander Selkirk come from Lower Largo and there is that nice tie-up with sea-faring piracy that rum works well with."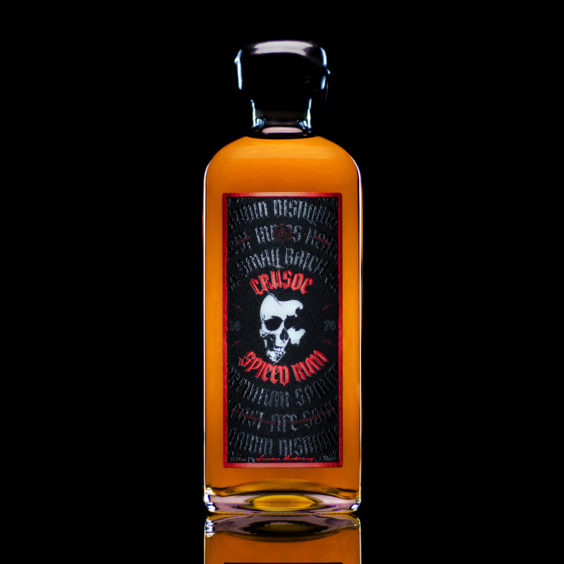 Rich, fruit flavours
Crusoe Spiced Rum uses a house blend of rums from Barbados and Jamaica which are infused with whole vanilla, pineapple and spices by the team at Lundin.
"We played around with making our own rum for a while but the truth is Scotland's climate isn't ideal for getting some of those lovely rich, fruity flavours you want in a good rum," added Iain.
"We bring in our base rum from distilleries in the West Indies, who are the real rum experts. We then infuse the blend with fruit and spices to create a soft, fruity rum that can easily be sipped on its own over ice or used in your favourite rum cocktails.
"We have been in the gin game for a while. The rum market is a funny one and people have been saying for ages 'rum is the next big thing' and I'm not entirely convinced it will ever take off in the same way that gin has.
"There is a lot more movement and that is because you have a lot of people who are used to drinking craft kind of spirits who are maybe looking to move on to something else and that was kind of the idea and obviously behind that there is the whole Crusoe thing.
"With the gin it's a lot more floral for which there is definitely a more female-type market, but rum is a bit darker, a bit heavier and you can do things that are a bit rockier which is sort of the style of bottle we have gone for.
"It's a slightly different market. We aren't expecting to capitalise on the same market that we have now. It will take us a bit longer to get there but the rum has definitely got a kind of cooler market appeal."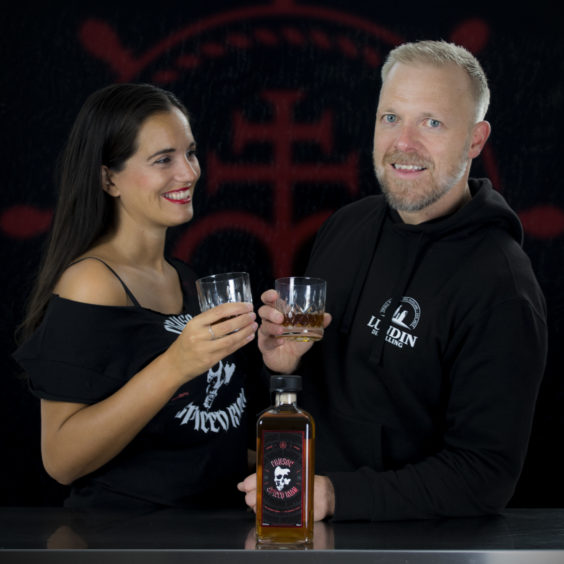 So why rum?
"I like whisky but it is a slightly harder thing to make. It doesn't have the same sort of geographical restrictions that whisky does and because we don't have the time as a new-start company to put 12 years into making a decent whisky we can actually bring in some good-quality rum and get it out on the market quite quickly," revealed Iain who runs the company with his partner, Roxanne Martin.
"Rum is something that I have always liked myself but wasn't always sure if the market was there to support it, but I think the time is right now to get into it.
"What we have been able to do is because we import and effectively blend rum from Jamaica and Barbados here and then spice them up we are able to give good-quality products a local spin. That's the idea.
"The guys in Jamaica and Barbados have centuries of expertise in making rum. In Scotland we are good at whisky and we are good at gin because traditionally there has been a big white spirits market here.
"We are trying to get the best part of what they do in the West Indies and combine it with the best parts of what we do with the botanicals here as we do with the gin. We are putting a botanical influence into the rum, crossing over with some of what we use in our gin and the spicing element.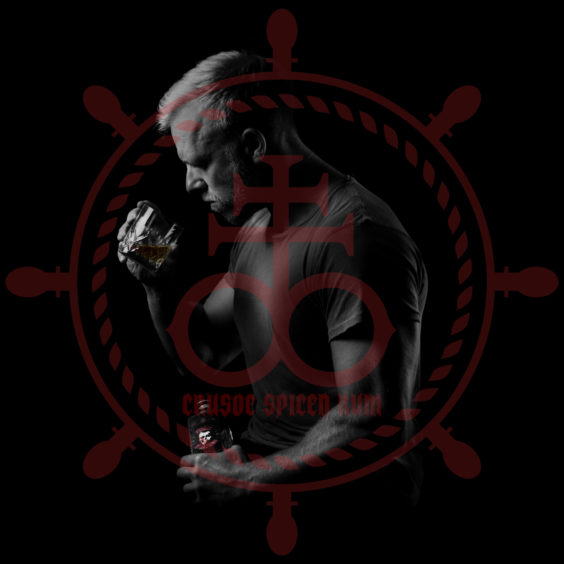 Cannot stand still
Having been established in 2015, Lundin Distilling began taking its products into the market place two years later.
And now Iain believes it's time to look for more innovation because the drinks game does not stand still.
"It's nice to get a fairly classic spiced rum which is what we are getting out there, but I see us moving into doing some more flavoured expressions with the rum as well.
"We are working on another couple of things with the rum which we will hopefully bring out before Christmas.
"From doing all the markets and events and festivals we used to do we saw with customers and potential customers they never stood still. There was no brand loyalty because they want to move on to the next brand or next expression.
"You see it in the beer game where there are hundreds of craft breweries and they never stand still, they've always got their next mango or guava or milkshake stout coming out and with spirits it's a little bit harder because you're not asking people for £3, you're maybe asking them for £35, so it's a little bit slower the innovation, but it's still what the consumers want.
"What we have tried to do is create something you can sip and just pour over ice. If you can make something like that it appeals to the modern palate. It seems that people are drawn to slightly sweeter flavours than they were years ago."
Rum sales growth
Last year Brits bought more than 10 million bottles of flavoured and spiced rum from shops and supermarkets, a growth of 6% by volume, which the Wine and Spirit Trade Association is predicting will become the largest off-trade category of rum within the next 12 months.
The rise in sales is up almost 80% since 2014 when under six million bottles were sold.
In the on-trade, Brits' willingness to experiment with new and exciting cocktails on a night out, which has helped gin to become so popular, is also helping the rum category.
Sales of both dark and golden rums are also on the increase in the 12 months to June, with dark rums worth £127 million and golden rums worth even more at £383 million.
The most exciting surge in sales, for rum makers, is shown in the amount of golden rum sold in UK shops and supermarkets, when in the 12 weeks from March to June in 2019 Brits bought 65,000 more bottles of golden rum than they did during the same period in 2018, up 23% in volume.
Impressed
Iain has been impressed with some of the other innovations going on in the industry, adding: "So the guys in Dark Matter (Scotland's first rum distillery) were probably the first ones to make rum. They are doing it in a good way. They are making their own rum, they are distilling it here.
"But I've not found many Scottish rums that I really like, mostly I think because we don't have the climate. I really like Jamaican rum – it's different, it's funky.
"That's not denigrating anything that is done here. Some of the guys here make great rums, but the ones in the West Indies are exceptional rums. And that is purely a climate thing for me."
As for the prospects of launching a rum following the Covid pandemic, Iain said: "It's definitely a bit ironic creating a rum based on a legend of self-isolation after everything we've all gone through in the last few months.
"Our business is slowly returning, although there is still a massive gaping hole due to on trade, but there are a few green shoots."
Read more about rum …
National Rum Day: The Scottish labels leading the way for innovation