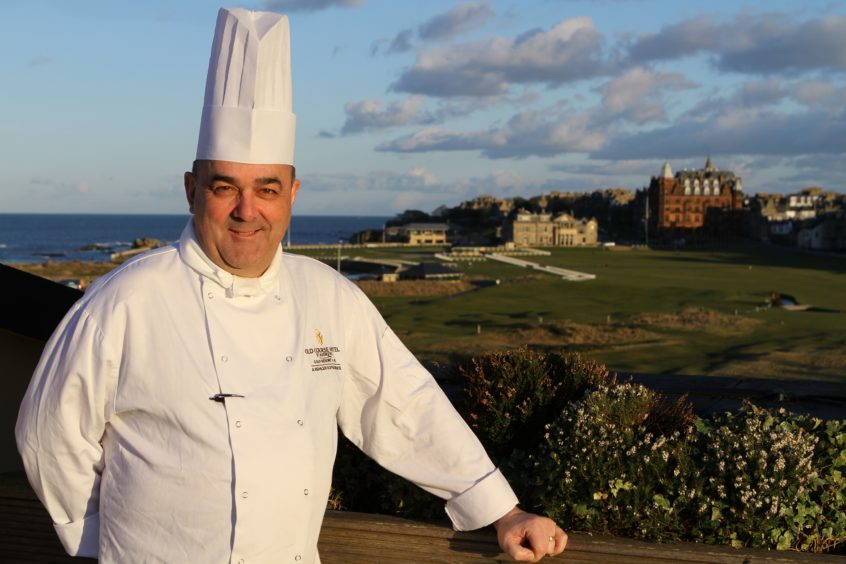 Martin Hollis, executive chef at the Old Course Resort St Andrews, tells Caroline Lindsay how his happy childhood helped shape a hugely-successful career – and why he is now looking to the next generation.
When Martin Hollis left school, his parents moved from the south of England to Cambridge. Unsure of what he wanted to do, his mum and dad suggested he looked into hospitality and cooking – and the rest, as they say, is history…
After graduating from college with no less than four City & Guilds qualifications, a Diploma with Distinction and the Craft Student of the Year Award, Martin moved to Ayrshire to start his career at the five star Turnberry Hotel.
The seeds of his passion for cooking were sown as a child growing up on the south coast of England.
"There were a lot of cattle farms and arable land all around where we lived," he recalls.
"I can remember cycling eight miles a day during the summer holidays to pick blackcurrants that were going to make Ribena! We were paid 50p per bucket and at that time that could buy almost a gallon of petrol.
"My mother was a great home cook and I was always encouraged to help her make things. I enjoyed lending a hand in the kitchen and could confidently cook things by the time I was in my teens – things like poached and scrambled eggs, simple roasts and I loved home baking.
"Weekends were always busy in our house, but we were always guaranteed a stew on a Saturday and roast on a Sunday," he continues.
"As a family, we would sit around the table and spend some quality time together. During the summer, I loved a family picnic on a beach – it was a treat.
"And our amazing parents allowed my brothers, sister, and me to be involved in a lot of youth groups which developed my social skills and enabled me to interact with and manage large teams of chefs," Martin reflects.
"I've also been lucky enough to work with some of the best chefs in the country and be mentored by them throughout my culinary journey.
"I've always worked in five star properties which has kept me on top of culinary trends and enabled me to be diverse in style and run multi-site restaurants across the Old Course Resort.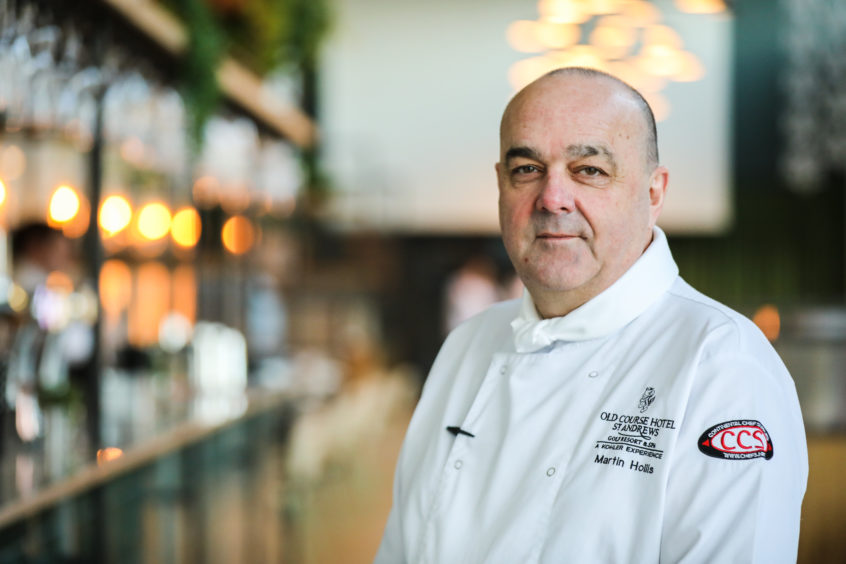 "Cooking has also taken me around the world, to places like the Greenbrier in south west Virginia, USA.
"I also spent a week at the Chateaux Saren with the chefs from Moet & Chandon and Dom Perignon, France developing menus to pair with their vintage Champagnes.
"And my wife has supported me throughout my career – she's had to put up with 'cheffy' talk and sacrificed a lot to enable me to be where I am today."
Looking back on the past eight years that he's worked at the Old Course, he says: "I have enjoyed working with the team and seeing how the operation has grown over time.
"It continues to grow with the investment of the Kohler family and this has been tremendous for not only the resort, but Fife and Scotland as well."
Martin's talents as a chef won him the coveted Chef of the Year award at this year's Courier Menu Awards.
"I felt very humbled to be recognised by peers in the industry – it is really rewarding," he smiles.
"I must thank the culinary team at the Old Course for their support too – without them it would be a harder task to achieve the standards we have."
Martin enjoys all aspects of being a chef but finds it hard to single out one thing because the role is so complex.
"I enjoy mentoring the young talent that we have in the team; I encourage them to be as good as they can be," he says.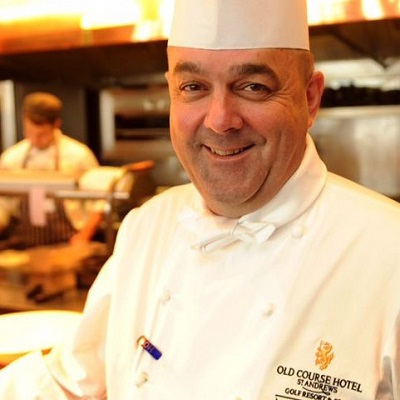 "And I love the fantastic produce we are lucky to have on our doorstep.
"But this year has been challenging, to say the least. It has changed the catering industry, not only in the way we operate, but how the whole food chain has to operate as well," he reveals.
"Some businesses have overcome the challenges but there are others that need support to get through these difficult times.
"There will be a skills shortage in the industry, and we need to encourage more people to enter the hospitality trade so we can nurture their talent and revive the tourism sector.
"We are currently looking at how we can set up a culinary academy so we can help fill this skills gap," he continues.
"Lockdown has affected everyone's job in some way, and it will continue to so for some time yet. We all have to adapt in many ways, to deliver the experience to our guests.
"From the producers, suppliers, the chefs to food service staff, the rules have changed and continue to change in how we live, work, and socialise.
"We can continue to produce the best dishes and serve them in a gracious manner but for now we will be wearing masks, gloves and maintaining a social distance for the time being."
The menus at the Old Course Resort are based on fresh seasonal produce and showcase Scottish produce at its best.
"Whether it's a Scotch beef burger at Hams Hame, Jigger Inn beer battered fish and chips, or St Andrews Bay Lobster in The Road Hole Restaurant, it will be the best Scotland has to offer," says Martin proudly.
"We try and source as locally as possible. Our suppliers are a network across Scotland and are passionate about their produce so we can always get the best that is available throughout the year.
"We are also a member of Food From Fife, which brings together food and drink from across the region.
"I like to cook anything fresh, and it can be anything like fresh berries, vegetables, fish, game, or beef. The list is endless."
There's no such thing as a typical day for Martin, which he says "makes the role as chef exciting, there is always something to do.
"I am always looking for new ingredients, flavours, textures, and methods of preparation.
"My favourite ingredients are most probably fish and seafood – there are so many varieties, which can be paired with so many other seasonal ingredients," he says.
"They can be prepared in many ways, which makes it so versatile. It is always cooked at the last minute, so is always fresh, vibrant and tasty."
Hard pressed to think of any ingredients he doesn't enjoy cooking – or eating! – he says: "I just feel that sometimes chefs over complicate dishes – which we have all been guilty of – and don't give the ingredients the respect they deserve which can be detrimental to the eating experience."
As we get deeper into autumn Martin reveals some of the seasonal dishes guests can look forward to tucking into.
"We will be using some of the seasonal game birds like pheasant and partridge," he says.
"Wild mushrooms, celeriac, pumpkins will appear on the menu too.  We also look at our cooking methods so we can create the comfort foods expected with the seasonal produce.
"I like any time of year as there are so many things that come in out of season and we look forward to changing the menus so we can showcase them at their best."
Smoked salmon brunch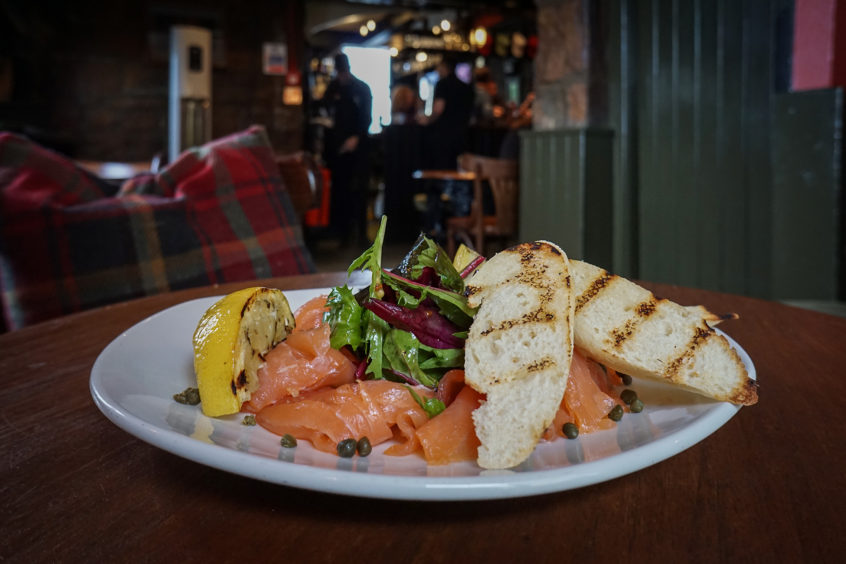 This a really fresh and delicious dish, that's really quick and easy to prepare – great for a house full of guests.
This is based on a single portion, double the quantities for two people:
Ingredients
125g Scottish smoked salmon
1 tbsp capers
3 x slices of bloomer bread – thinly sliced
Small handful of mixed salad leaves
Half a lemon
For the honey mustard dressing:
2 tsps of olive oil
1 tsp honey
1 tsp wholegrain mustard
1 tsp white wine vinegar
Arrange the smoked salmon on a plate and scatter with the capers.
Place the dressing ingredients in a bowl and whisk together, add the mix leaves to the bowl and coat with the dressing. In a griddle pan add the bloomer bread slices and half lemon cut side down, and char-grill, remember to turn the bloomer bread.
Place the dressed mixed salad on top of the salmon, put the bloomer bread and half lemon on the plate and serve whilst the bread is still warm.
Squeeze over the char-grilled lemon and enjoy!
This makes a lovely easy starter, or a beautiful, healthy fresh main course to enjoy with friends in the sunshine.
More about Martin Hollis
Autumn is the perfect time to bake a savoury tart, says Old Course chef
Martin Hollis shares his delicious recipe for filo pastry of courgettes and feta cheese with plum tomato and basil pesto