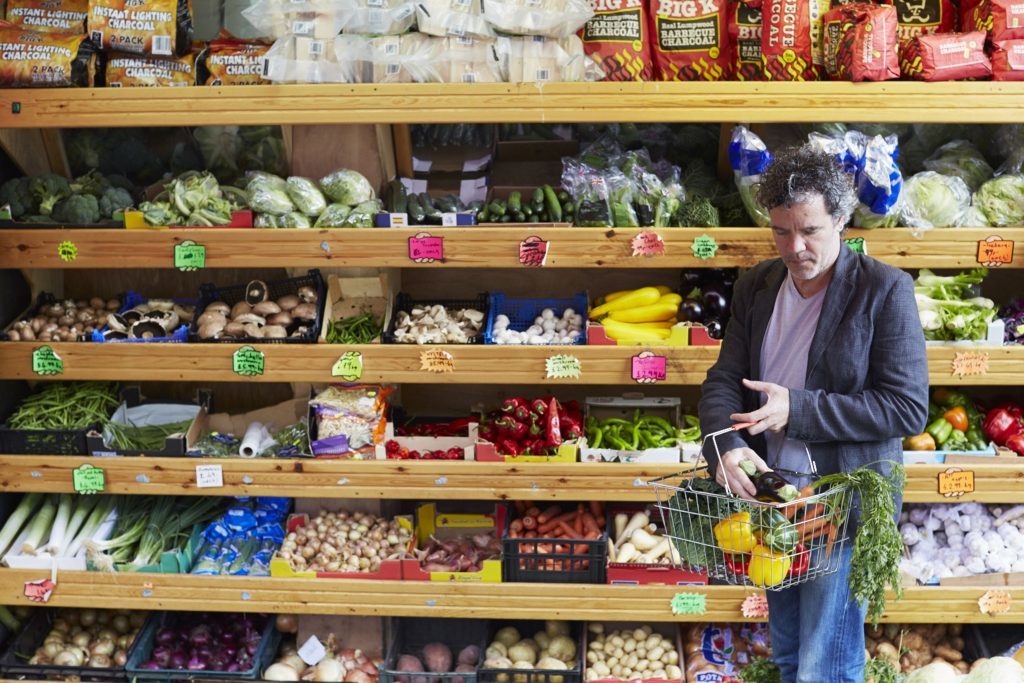 Famed for his fusion cooking style, restaurateur, writer and chef Peter Gordon is turning his attention to salad in his latest book, Savour. He chats beef fat, mayonnaise and school grades with Ella Walker
Salads can be limp, boring and vinegary if the wrong chef made the dressing but, according to New Zealand-born chef Peter Gordon, there's more to salad than sad leaves of iceberg lettuce.
Upstairs at his Marylebone restaurant in London, The Providores & Tapa Room, he's celebrating the launch of his latest book, Savour, a tome dedicated entirely to salads, by laying on a whole spread of them.
Canapes on china spoons circulate the room, delicately balanced with mouthfuls of seared salmon, duck and fig, and burrata topped with a tomato and mango dressing, before we pile into our seats and get cracking on the starters.
There's miso baked aubergine with feta, roast parsnips with halloumi and smoky shavings of apple, as well as puy lentils mixed with pomegranate, roasted grapes, chilli, mint and basil.
As you can tell, these are not exactly your standard 'garden salad on the side', this is salad Peter – the "godfather" of fusion cuisine – Gordon-style.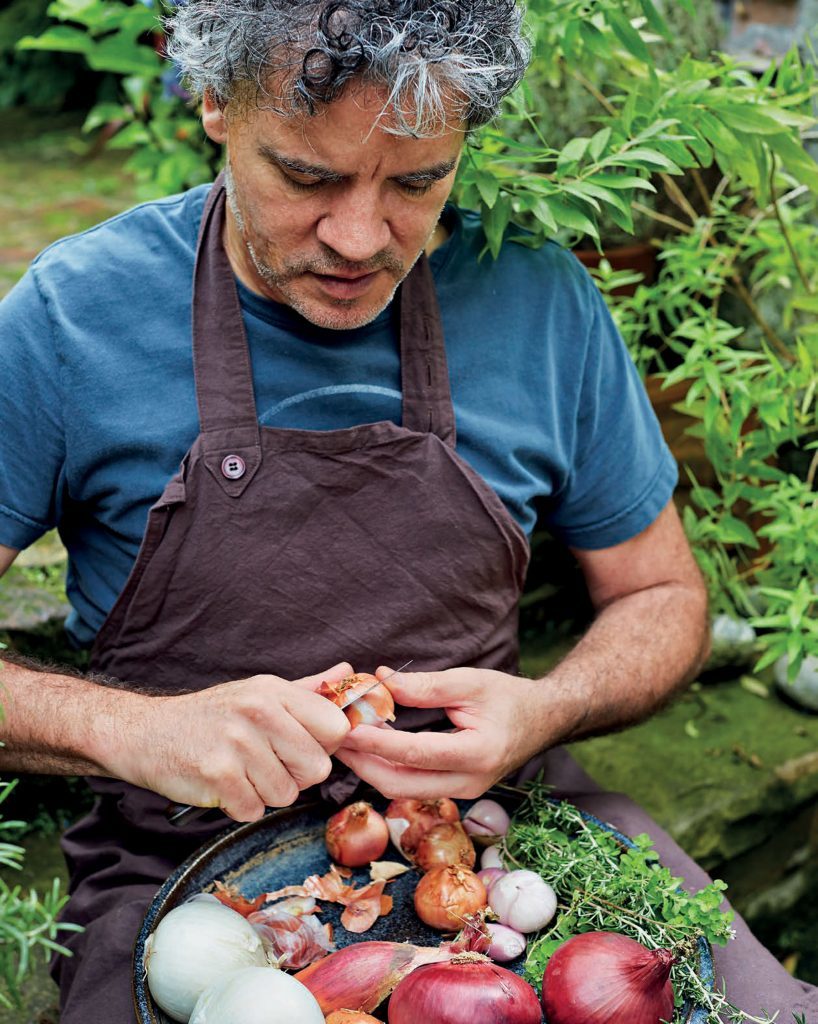 Over Thai-style gammon hock, with macadamia nuts in a hot and sour tamarind caramel, alongside kale and preserved lemon couscous (very moreish) and a bowl of chickpeas with feta and cumin, he tells me he's been cooking since he was four years old.
"As a child, animal carcasses would be hanging from hooks in the house," he remembers. "We deep-fried everything in beef fat."
When Peter was seven, he and his family were prepping for a barbecue when disaster struck. He was trying to get up high enough to look into a pot on the stove, when he slipped, grabbing hold of it on the way down, knocking the vat of boiling fat onto himself as he fell.
He still bears the burn scars on the right side of his neck and arm.
"I had to have a skin graft and I missed a year of school, but it didn't put me off cooking," he explains matter-of-factly. "I never even liked the taste of beef fat, and I love deep-fat frying! When my parents divorced, my mum started deep-frying everything in sunflower oil and I was like, 'Yes! That's so much better'."
Although there are moments of deep-fat frying in Savour – yes, even in a book about salad – if there's one thing Peter wants people to take from the new book, aside from the fact that salads are suitable whatever the season, it's "not to pour boiling water on couscous!"
"It'll never stick together again if you use tepid water," he promises in garrulous fashion.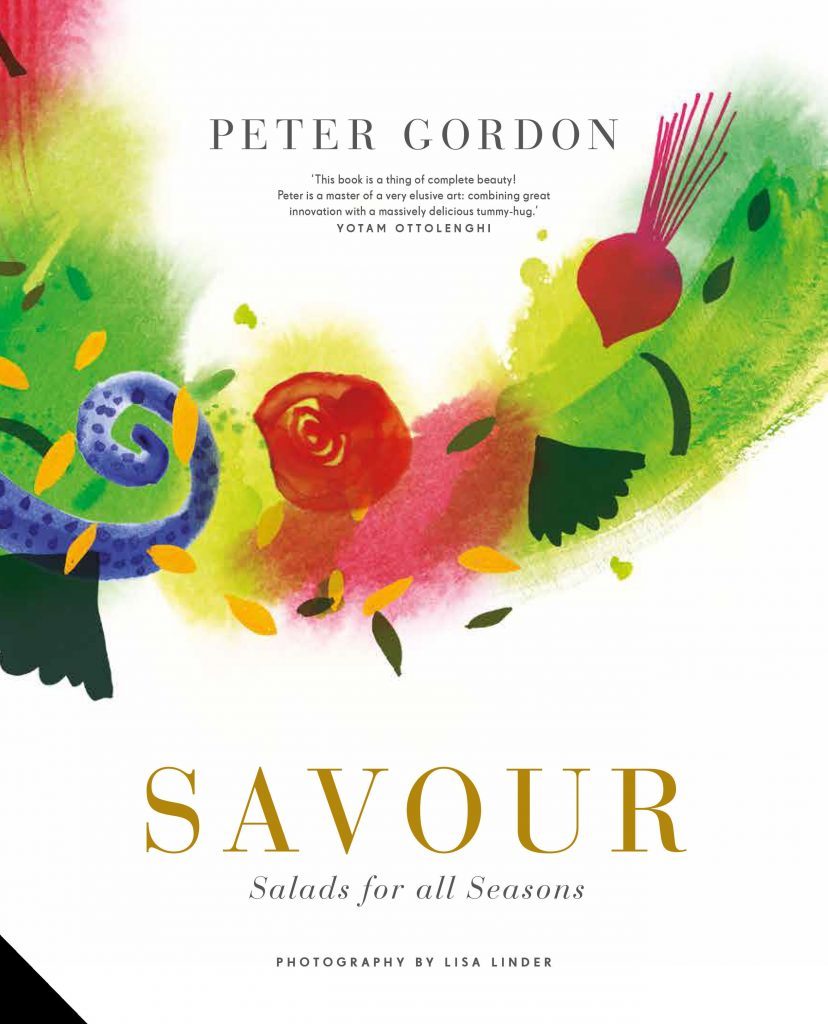 Peter, in his early 50s, who is of Scottish and Maori descent and now based permanently in London, has no qualms about voicing how proud he is of Savour, and it's rather refreshing.
"I didn't do very well at school. I got 50% in English – the tests in New Zealand are different – which is bad. I was good at maths and cooking and geography, but now I've written eight books," he says passionately.
"I'm so happy," he adds, almost clapping with glee.
Perhaps the most controversial of the recipes in his new book is a very strange list of ingredients for mayonnaise that Peter learnt to make as a child. Strangely there's no egg or vinegar involved…
"At 18, I became an apprentice chef and they were like, 'Do you know how to make mayonnaise?' I was like, 'Yes, I do!'" he remembers with a deprecating laugh. "I went around getting the ingredients together, but I couldn't find their condensed milk…!"
Yes, this acclaimed chef and restaurateur makes mayonnaise with condensed milk… but don't let it put you off, the salads really are delicious.
Why not try a few yourself? Here are three to get you started…
:: CHILLI-ROAST SWEET POTATO, COURGETTE, ROAST GARLIC, HAZELNUTS AND PEARS
(Serves 8 as a side dish)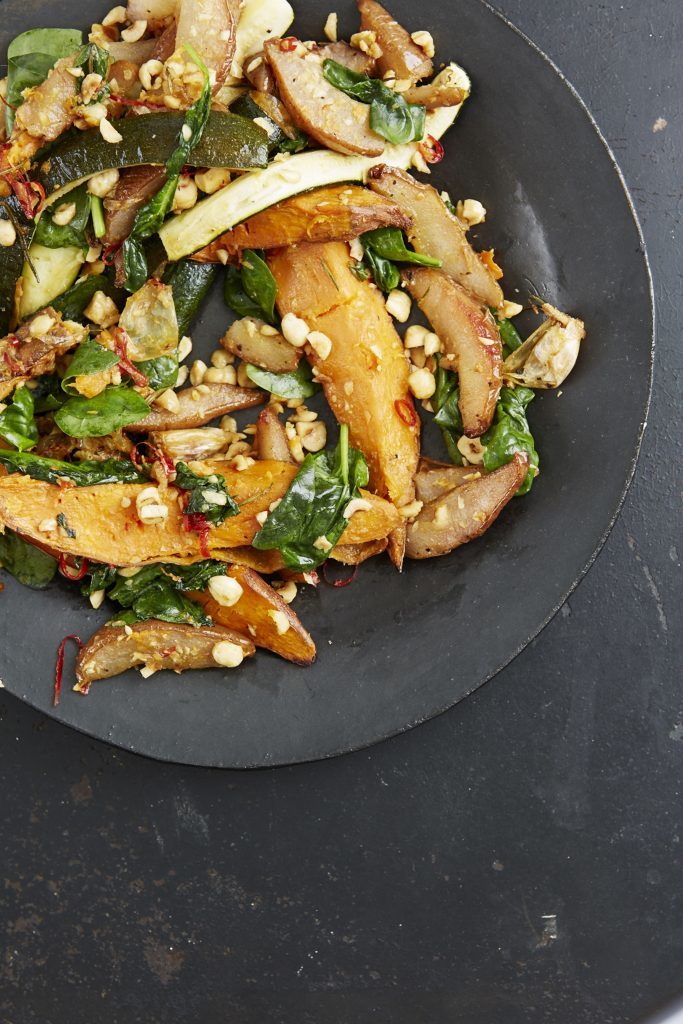 1 head garlic, broken into separate (unpeeled) cloves
1kg sweet potatoes, skins scrubbed, cut lengthways into wedges
2 large pears, halved, core removed, cut into thin wedges
1 or 2 red chillies, thinly sliced
1tbsp rosemary leaves
2tbsp olive oil
2tbsp sesame oil
3 courgettes, quartered lengthways
100g hazelnuts, skins off, roughly chopped
100g baby spinach (or use large-leaf spinach and coarsely shred it)
Salt and pepper to taste
Preheat the oven to 180C/Gas mark 4.
Put the garlic in a pan, cover with 3cm water and add half a teaspoon of fine salt. Bring to the boil, then cook over a medium heat until the water has almost evaporated. Drain.
Put the garlic, sweet potatoes, pears, chillies, rosemary, olive oil and half the sesame oil into a roasting dish. Sprinkle on one teaspoon of salt and plenty of freshly ground black pepper. Roast in the oven for 45 minutes, tossing twice.
Add the courgettes, hazelnuts and remaining sesame oil and toss together, then cook until the pears and sweet potato are cooked through, about 20 minutes.
Remove from the oven and stir in the spinach.
:: ROAST CHICKEN, KUMQUATS, BLACK GARLIC, KALE AND AVOCADO
(Serves 6 as a main dish)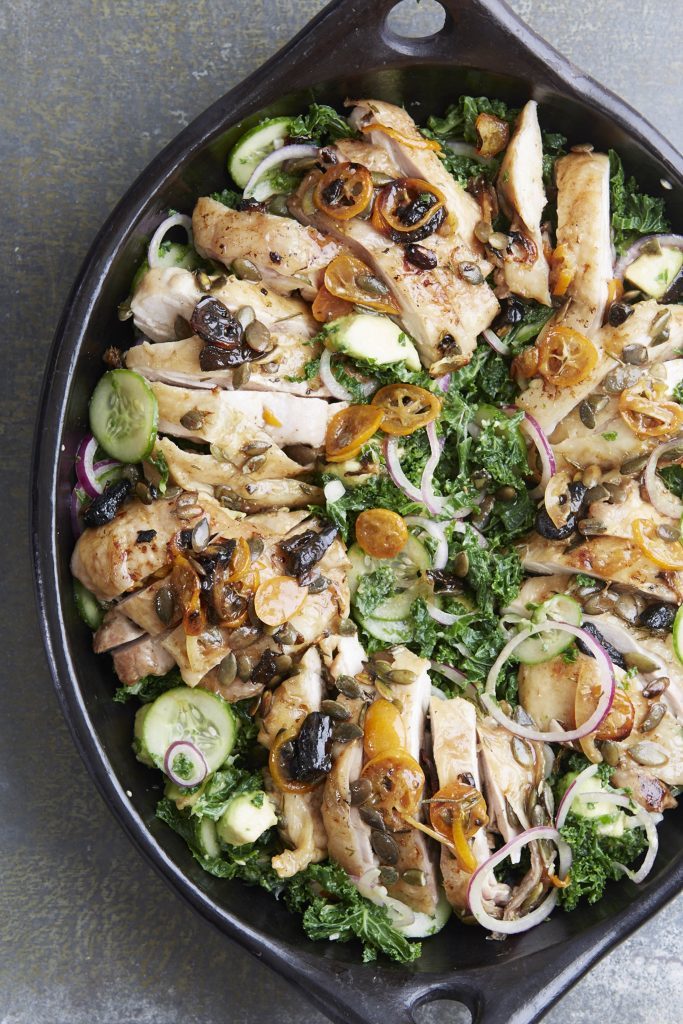 8 boneless chicken thighs
8 black garlic cloves, sliced (available from Sainsbury's and Amazon)
8 kumquats, unpeeled, thinly sliced (available from Waitrose and selected fruit and veg stores)
2tsp fresh rosemary (or fresh thyme or oregano or a mixture)
4tbsp sunflower seeds
2tbsp avocado oil (available from Sainsbury's and Ocado)
1 small red onion, thinly sliced into rings
200g kale, thick stem removed and discarded
2 avocados
2tbsp lemon juice
1 cucumber, ends discarded, thinly sliced
Salt and pepper to taste
Preheat the oven to 180C/Gas mark 4.
Place the chicken thighs, garlic, kumquats, rosemary and sunflower seeds in a roasting dish. Pour on the avocado oil and two tablespoons of water and season with salt and pepper. Toss everything together. Roast, turning the chicken several times while cooking, until the chicken is cooked through and the skin is golden and crispy, about 30-40 minutes. Remove from the oven and leave until cool enough to handle, then cut each thigh into four or five slices.
While the chicken is cooking, soak the onion in cold water for 10 minutes, then drain.
Meanwhile, blanch or steam the kale for three minutes. Tip it into a colander and, when it is cool enough to handle, squeeze out as much water as you can, then coarsely shred it.
Remove the flesh from the avocados and cut into chunks. Mix with the lemon juice to prevent it going brown.
To serve, toss the kale, onion, cucumber and avocado together and lay it on the bottom of a serving dish. Lay the chicken on top then spoon over the contents of the roasting dish.
:: TUNA WITH COCONUT, CHILLI, MANGO, APPLE AND LIME
(Serves 2 as a main, or 4 as a starter)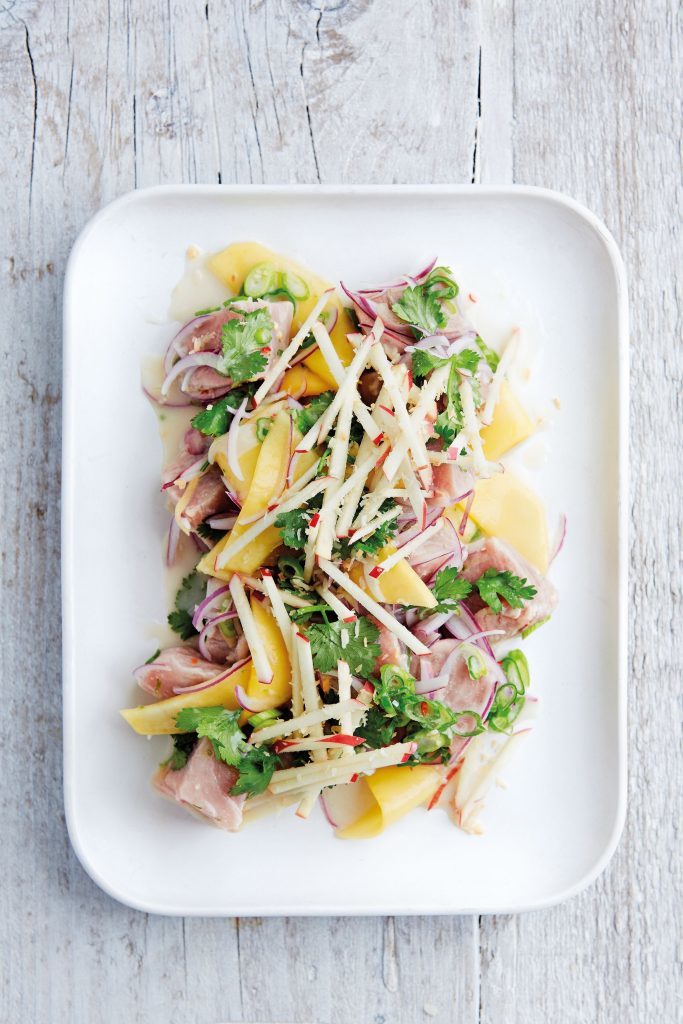 350g very fresh tuna loin, skin and bones removed
3tbsp lime (or lemon) juice
1 small red onion, halved and very thinly sliced
1/2tsp finely grated lime zest
1/2 medium-heat red chilli, finely chopped (use more or less to taste)
1tsp light brown sugar
1 ripe, sweet mango
100ml coconut milk
8 stalks coriander, leaves picked
1 spring onion, thinly sliced
1 crisp, sweet apple
2tbsp desiccated coconut, toasted
Flaky Salt
Cut the fish into cubes about 1.5-2cm square. Mix with half the lime juice and a quarter of a teaspoon of flaky salt, then cover and leave in the fridge for 30 minutes.
Briefly rinse the sliced onion under cold water, then mix with the lime zest, chilli, sugar and remaining lime juice. Cover and place in the fridge until the fish is ready.
Peel the skin from one half of the mango and cut off the cheek (you'll need only one cheek). Thinly slice the flesh.
Drain the juices from the fish. Toss gently with the onion mixture, coconut milk, mango, coriander and spring onion. Cover and leave for five minutes in the fridge.
Cut the apple (unpeeled) into juliennes and toss with the toasted coconut.
To serve, give the fish another gentle mix and taste for seasoning, adding extra salt if needed. Divide among your bowls or plates and sprinkle the apple and coconut on top.
:: Savour: Salads For All Seasons by Peter Gordon is published in hardback by Jacqui Small, priced £25. Photos by Lisa Linder. Available now
THREE OF THE BEST… Salad utensils
:: Lene Bjerre Adla Salad Set, £22, Houseology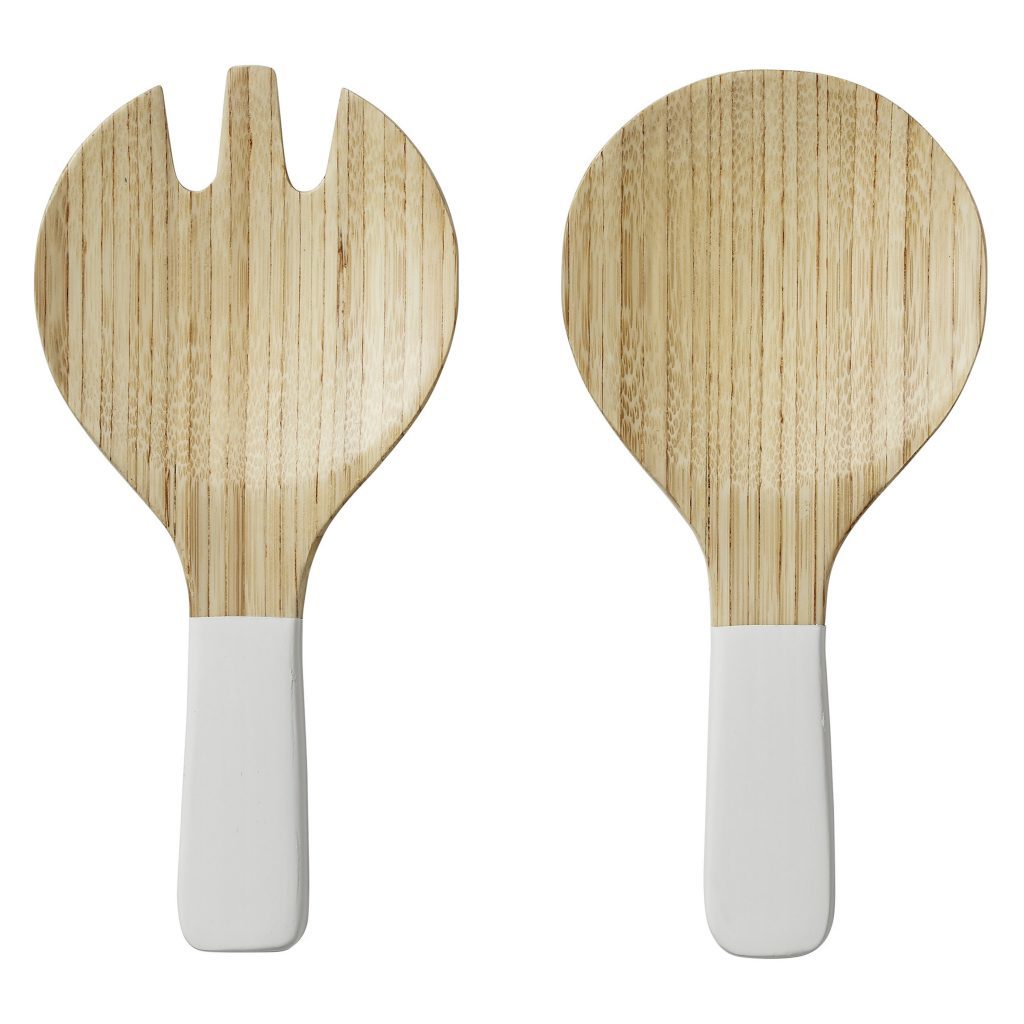 Smart and stylish, these firm, flat wooden salad servers will look great when you're serving guests alfresco this summer.
:: Orla Kiely '70s Flower Red Salad Bowl, £19, Amara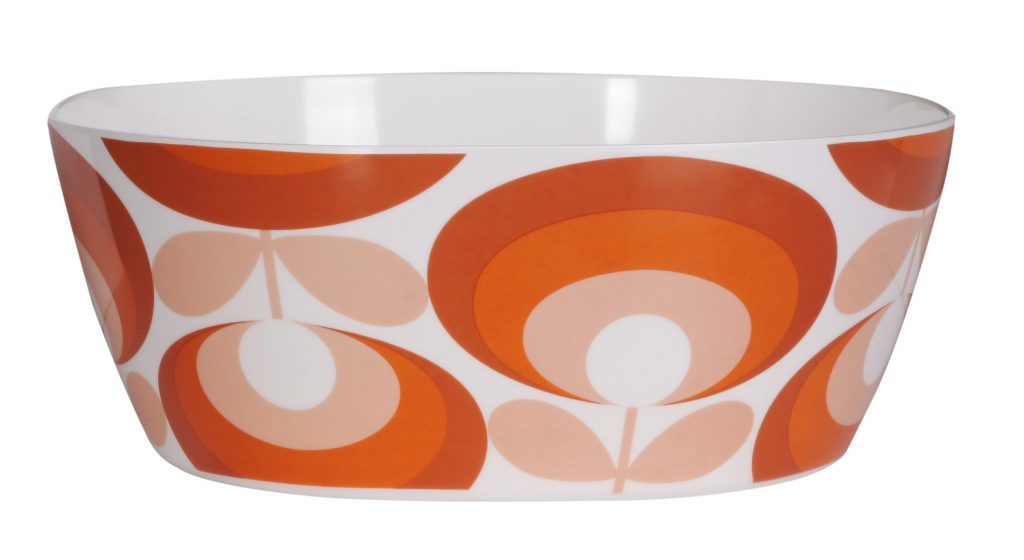 Bright, colourful and a decent size, this bowl will brilliantly showcase any salad you decide to put in it.
:: SEDLIG 2-piece salad servers set, £10, IKEA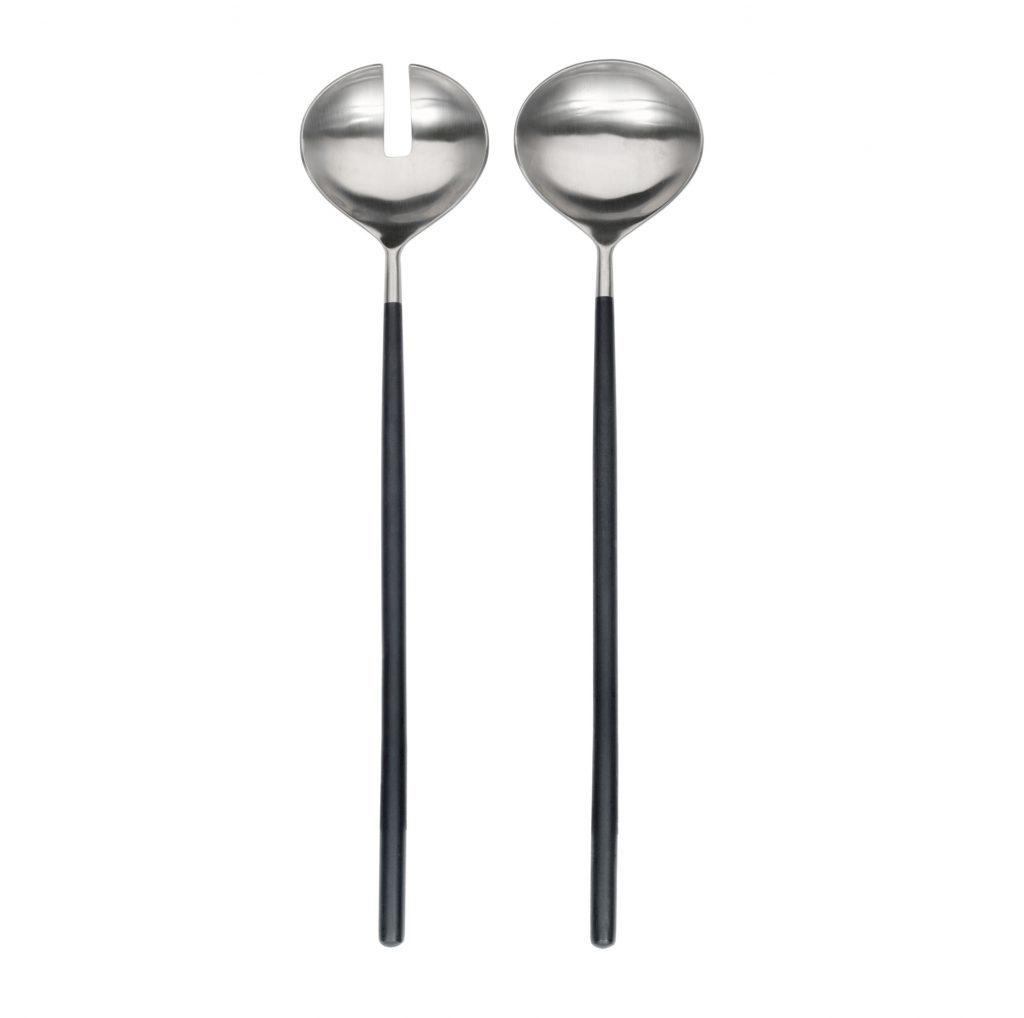 These minimalist servers may look unwieldy, but in fact, they're straight forward to use and won't mush your veggies as you transfer them to your plate.