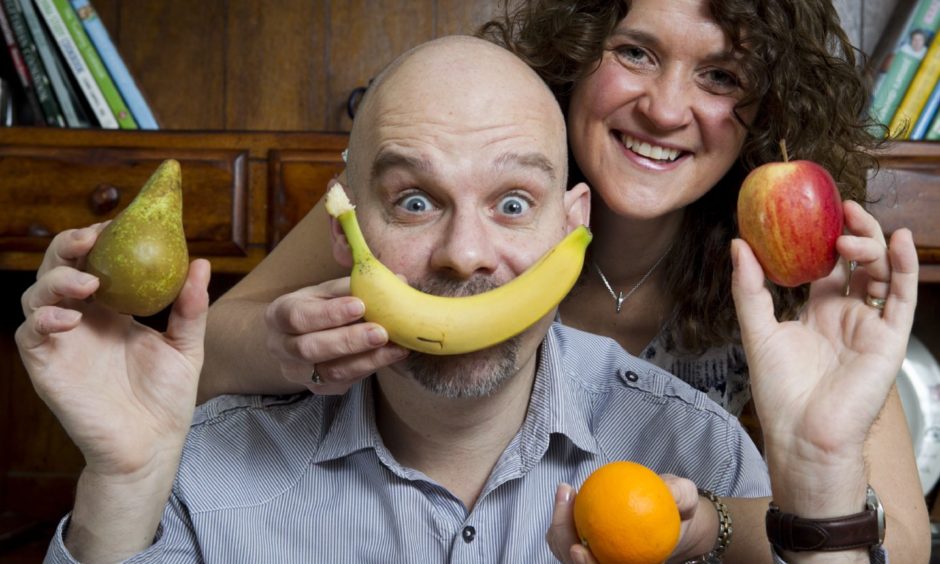 When Richard Blanchfield returned home from yet another trip to the GP, he had a stark prognosis to share with his wife.
"He told me the doctor said: 'No one gets better, everyone gets worse, and you could be in a wheelchair by the time you are sixty,' explains Freuchie-based nutritionist Louise Blanchfield.
In 2012, aged only 40, Richard was suffering from a crippling combination of autoimmune disease as well as an inflammatory condition and was relying on a walking stick to get around. Meanwhile, his GP had quadrupled the dose of his anti-inflammatory drugs.
"He couldn't dress himself – then it attacked his knee and he couldn't walk," Louise explains. "He was hobbling with a stick, just about able to drive."
Next, it attacked Richard's wrists, so much so he couldn't feed himself properly. As Louise watched their then seven-year-old daughter helping to cut up her father's food, she decided it was time to take matters into her own hands.
At that time Louise was a physiotherapist and she can recall thinking: "You are forty. There is no way that this is going to be life."
Looking for answers
Thanks to much perseverance and study, Louise – a physiotherapist – managed to develop her dietary knowledge to help Richard's body heal itself from these debilitating conditions.
She is now a fully-qualified nutritionist based and the couple are sharing their knowledge in new book Eating My Way Back to Health to help people who suffer from autoimmune diseases and inflammatory conditions regain control of their health.
Louise says: "I was out of my depth but I thought 'surely there must be something we can do'. Being a physio, I had always been aware of how diet and lifestyle impacts on your health – but I never realised just how much.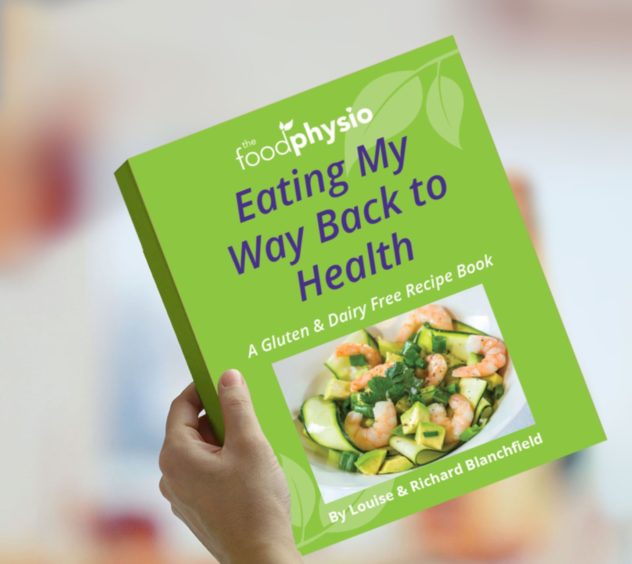 "We'd put the kids to bed at night and, for weeks, I would be on my computer reading research papers, reading books, looking though lectures and eventually I said I think we need to change our diets as you have a possible food intolerance."
Richard had been diagnosed with ulcerative colitis aged only 18. This causes inflammation and sores in the digestive tract. It is an autoimmune condition, which results in the body mistakenly attacking healthy tissue. His immune system was identifying food as foreign bodies.
From then on, Richard was prescribed drugs such as steroids and immunosuppressants – which reduce the strength of the body's immune system. He had been due to have major bowel surgery but was instead kept on the immunosuppressant medication.
All the while, Richard's ulcerative colitis was worsening, and he went on to develop a secondary inflammatory arthritis which was far worse and more crippling.
He first noticed he had stiff shoulders and Louise attempted to treat him with physiotherapy, which didn't work: "I just didn't feel this was musculoskeletal – it was systemic inflammation," Louise goes on.
So the family gave their diet an overhaul, making it free from gluten and dairy with lots more fruit and veg. Louise describes it as a paleo diet: "If it doesn't look like it came out of the ground or off a tree then we're not eating it. Nothing processed. As clean a diet as we possibly can."
After five months, Richard's health was transformed. Eighteen months later, a colonoscopy showed any scarring had vanished completely. He had also regained movement in his muscles.
Louise explains: "It took time, but sure enough the attacks were less often and severe. His range of movement got better in his shoulders and slowly but surely he began to get better and better."
Now that Richard's conditions are under control, Louise says he's gone from "walking stick to zip line" as on their last holiday he was "canyoning, zip-lining and canoeing without symptoms of pain and free of all medication."
Career change
Louise's discoveries spurred her on to study for food qualifications: "I believe we must spread the word to as many people as possible about how different you can feel just by changing your diet lifestyle." Now she is The Food Physio – a qualified nutritional therapist as well as a physiotherapist.
She and Richard began recording the recipes that worked for them: "We decided that one of the ways we could help people to help themselves is to write a book."
The book contains over 100 tried and tested recipes as well as their own stories, tips for variations and information about the healing properties of food. The book was launched in February but the pandemic interfered with publicity and events.
Louise believes that people's genetics can be a factor in how their bodies react to lifestyles and what we consume – but a good diet plays a key role. "Genetics loads the gun – but diet and lifestyle pull the trigger," she says.
"We underestimate the toll that we put on our bodies through normal everyday living and also by not fuelling it correctly. The onus on food should be that it's about fuelling your body properly.
"There are other reasons why we become not as efficient at processing our foods and deriving the nutrients that we need but I honestly believe that if you fuel the body correctly and you have the nutrients in correct amounts then it's amazing just how well it heals."
Louise adds: "I really want to get the word out that you don't just have to take a tablet and you don't just have to slowly get worse."
For more information, visit: thefoodphysio.com
More stories featuring Louise Blanchfield:
Healthy eating: What can we learn from wartime food rationing?