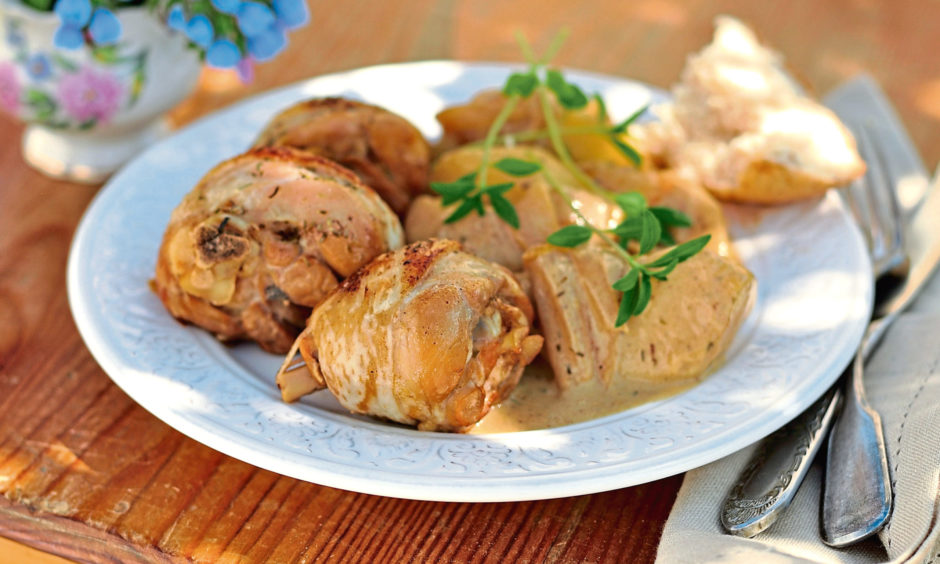 Paul Newman, chef proprietor at Thyme at Errichel near Aberfeldy, makes a classic French dish using local ingredients.
I will remember 2020 for many reasons, but I hope one of the lasting memories will be of its particularly spectacular autumnal display.
In keeping with the season, wood pigeon and pheasant are very much on the menu. These birds are truly delicious when cooked well, but do be careful not to overcook them and dry them out.
Available from most local butchers, ask for an oven-ready pheasant or pigeon, pick up some good local apples and get ready to enjoy some warming seasonal cooking.
Based on a French classic, for Chicken Normandy (pictured above), I have used pheasant but you could try this recipe with any other game bird or poultry. I have used a Dutch oven (or any heavy pan with a well fitting lid), but you could use a slow cooker, to keep the moisture in). The recipe serves 2-3 people.
You'll need 50g butter; 2 apples, cored and sliced into wedges or 16 crab apples; flour for dusting and thickening sauce; one oven-ready pheasant or chicken, 500-600g; 150g pancetta or smoked bacon lardons; salt; large onion, finely chopped; 2 sticks finely chopped celery; one clove garlic, minced; 150ml good chicken stock; 100ml apple brandy; 400ml apple cider; 2 sprigs fresh thyme or 1 tsp dried thyme; 60ml double cream.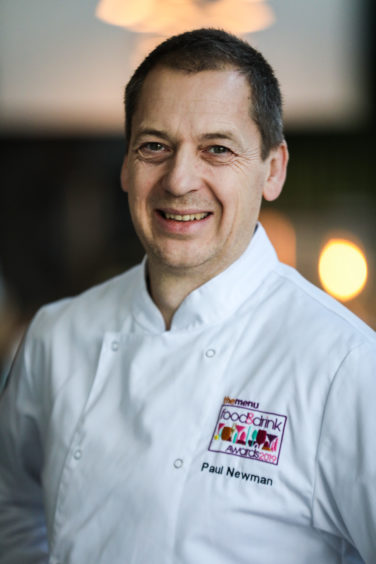 Salt the pheasant or chicken and let it sit at room temperature for 30 minutes. Heat 20g of the butter in a large, oven-proof pan over medium heat.
Add the apple slices and sauté until they turn a little brown around the edges, turning occasionally. Sprinkle the apple slices with a little salt. Set aside on paper towels.
Dust the pheasant in flour and add the remaining 30g of butter to the pan. Brown the pheasant for 3 to 5 minutes per side. Remove from pan and set aside.
Add the onion, celery and bacon lardons and increase the heat to medium-high. Sauté, stirring occasionally, until the onions and celery are softened and translucent and the bacon is cooked.
Add garlic and cook for another minute or two. Take the pan off the heat and pour in the brandy. Put the pan back on the heat and, using a wooden spoon, scrape any browned bits off the bottom of the pan.
Let the brandy boil until it has reduced by about half. Add the stock and the cider and bring it to a boil.
Add the thyme. Lay the pheasant in the pan, cover and simmer gently until tender, anywhere from 90 minutes to 2 1/2 hours. Turn the heat to high, add the apples and boil down the sauce by half.
When the sauce is reduced and coats the back of the spoon, turn off the heat and add the cream. Add salt to taste and enjoy!
Read more in this series:
Chef's Table: Aberfeldy chef uses Anster cheese to make an old favourite
Chef's Table: Support Scottish producers by seeking out local food, says Aberfeldy restaurant owner