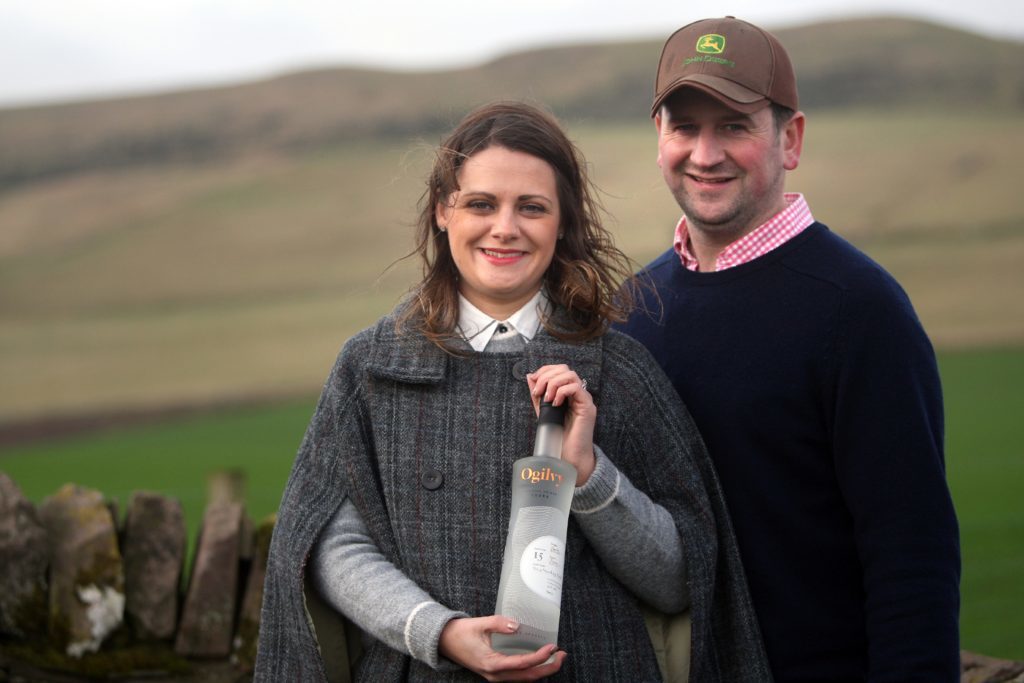 Scotland is a vodka loving nation, making up around 35% of our spirit intake – beating both blended whisky (13%) and gin (7%). Gayle Ritchie meets an Angus couple producing an award-winning potato vodka that's taking the world by storm
A rich, fruity aroma is wafting through the countryside, high above the fertile Strathmore valley.
The source of the smell can be traced to Hatton of Ogilivy farm, where Caroline and Graeme Jarron are hard at work producing Ogilivy Vodka.
The Jarrons set up the distillery in 2014 – complete with a custom-built still from John Dore & Co (the world's oldest still maker) – and started producing vodka.
The vodka, made using Maris Piper potatoes in small batches, is already an award winner, scooping a double gold medal and silver at the prestigious 2015 San Francisco World Spirits Competition, as well as the Vodka Trophy 2015 at the International Wine & Spirit Competition in London.
You won't need a mixer with this crisp, creamy, citrusy spirit -– the makers recommend you drink it neat, over ice.
"It's very smooth and you can savour it as you would whisky," says Caroline.
"You can also drink it long, with cloudy lemonade, which lets the sweetness of the vodka come through. It's got a good base for cocktails and an intriguing mouthfeel."
The Jarrons have farmed the land at Hatton of Ogilvy since 1910 and Graeme is a fourth generation farmer.
Everything is done on site, from growing the potatoes to bottling the vodka.
"We talk about food metres, not miles," says Graeme, pointing to a field where potatoes are grown.
"The furthest potato field is a mile away and we mark the name of each field on each bottle."
Graeme heads up Ogilvy's operations alongside Caroline, and it's this fusion of rustic know-how and metropolitan chic (Caroline also runs an interior design business in Edinburgh) that's proved a fruitful mix.
Keeping it in the family, Graeme's father Eric still harvests the potatoes, while his mum Grace runs the farmhouse B&B.
The seed for Ogilvy potato vodka was sown back in 2012 when the Jarrons were dreaming up ways of diversifying.
"We came up with lots of mad ideas, from growing hydroponic peppers to setting up a fish farm and producing crisps," says Caroline.
"Ultimately, we wanted to do something unique, and vodka really stood out."
This led to a call to the brewing and distilling boffins at Heriot-Watt University and in 2013, the Ogilvy Farm tattie trials got underway.
PHD student Abhi Banik developed the winning recipe after joining the Jarrons as full-time distiller and he was heavily involved in the design of the still.
The distillery was built using "bits and bobs" including a second hand fermenter once used to make Cadbury's Creme Eggs.
In 2015, Lewis Scothern joined the team as master distiller and is now responsible for transforming the tatties into the creamy spirit that excites international competition judges.
Potatoes that don't make the grade – because of their shape and size, and not because of a lack of quality – are picked for the vodka.
They are cooked with skins on, which, says Caroline, is key to the unique flavour.
"We want to educate people that drinking vodka can be a pleasant experience; it doesn't have to be the cheap nasty stuff you had as a student!" she smiles.
The company now produces around 12,000 bottles a year, which works out at 600 each batch.
The vodka sells online and to independent retailers, and the USA is clamouring for it, although the volume they're asking for will be hard for the Jarrons to produce any time soon.
A major highlight for Caroline and Graeme is taking their product to local fayres and markets where they get "honest feedback".
"The vodka was a chance to bring both our skill sets together to build a brand that can be passed to the next generation," says Graeme.
"Farming has to evolve and this has taken everything we've got. We work long hours but when we win awards, it's worth it."
For more information, see ogilvyspirits.com