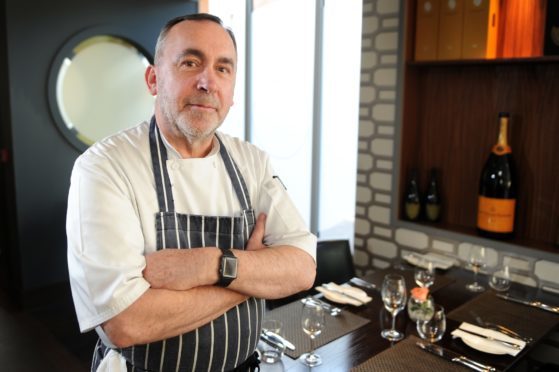 Stephen Collinson, chef patron of Collinson's in Broughty Ferry, tells Caroline Lindsay why cress makes him mad
Q Desert island food?
A Roast rib of beef and Yorkshire pudding – fond memories of Sunday roast when I was still living at home and cooked by my mum as it was the only time the whole family sat down together for a meal.
Q Favourite TV chef?
A Nigella Lawson. Needs no explanation!
Q Favourite cook book and why?
A Take Twelve Cooks by Kay Avila. As a young chef enjoyed watching this programme in the mid-80s featuring great chefs such as Albert and Michel Roux, Raymond Blanc, Nico Ladenis, Pierre Koffmann and Anton Mosimann.
Q Favourite ingredient?
A Eggs – what would we do without them? They are used in so many different dishes.
Q Most hated ingredient?
A Something like mustard cress and iceberg lettuce, used to drive me mad when cress was scattered all over a dish.
Q Perfect dinner guest?
A Professor Brian Cox because he's such an interesting guy, just the way he explains things. And you don't need a degree in astrophysics!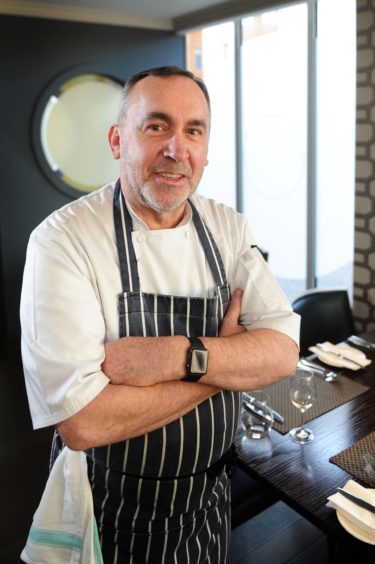 Q Favourite kitchen gadget?
A My trusty old wooden mandolin – I use it every day for slicing potatoes. You can't buy them any more as far as I know. My ice cream maker comes a close second.
Q Favourite music to cook to?
A Some jazz – could be Ella Fitzgerald or something like that or even Pink Floyd's Dark Side of the Moon – depends on my mood.
Q Perfect menu?
A Any fresh fish or shellfish particularly lobster, langoustine, mussels, halibut, hake, sole, sea-trout.
Q Favourite country for food?
A Scotland of course – amazing produce and on our doorstep.
Q Favourite chef, alive or dead?
A Michel Roux Jr. I had dinner at his restaurant Le Gavroche in London in 1985. It was such a great experience at that time, and my first fine dining experience.
Q Favourite culinary season?
A Spring – for me it's just the best season for a lot of great produce.
Q Salt or pepper?
A It has to be salt because there's nothing worse than under-seasoned food.
Q Favourite herb?
A Too many to mention but I would say thyme, we use it every day for the homemade focaccia.
Q Favourite spice?
A So many to choose from but I would say cinnamon or star-anise.
Q Favourite way to cook the humble potato?
A No favourite as such, you just need to make sure you have the right variety of potato for each dish.
Q Favourite go-to recipe if you're in a hurry?
A An omelette, especially when local girolle mushrooms are available.
Q Favourite naughty nibble?
A Brie, bacon and cranberry toastie.
Q Favourite health food?
A Spinach – takes seconds to cook or raw in a salad.
Q Ideal picnic dish?
A Homemade Scotch eggs and salad.
Q Ideal BBQ food?
A Nice piece of tuna or rib-eye steak.
Q Are you critical of the food when you're dining out?
A No not really, unless it is really bad – nothing wrong with constructive criticism.
Q Do you tip in restaurants?
A Yes.
Q Top tip for failsafe cooking?
A Keep it simple and have a plan.
Q Worst cooking sin in your opinion?
A Just generally badly cooked food and cheese straight from the fridge…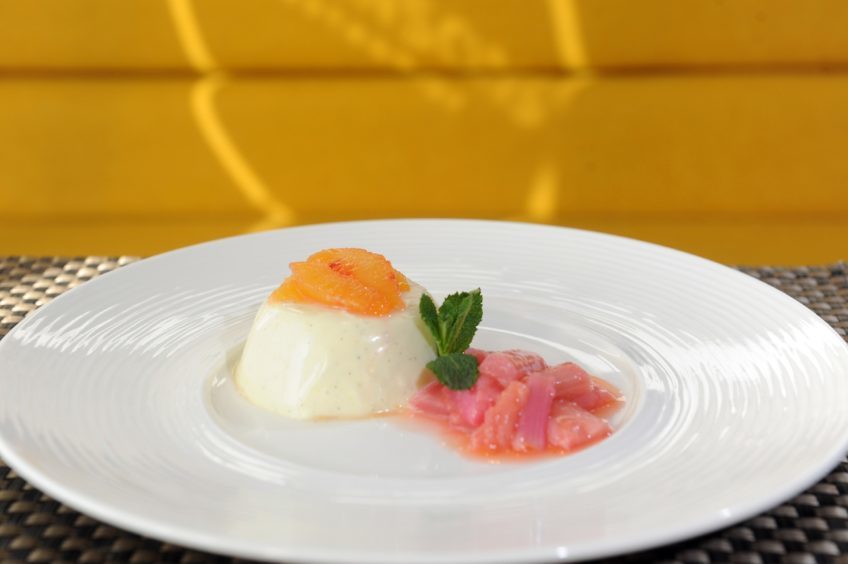 Blood orange and vanilla panna cotta with roasted rhubarb
Serves 4
Ingredients
For the panna cotta: 2 blood oranges, juice and rind reserved (regular oranges will do)
75g caster sugar
150ml double cream
1 vanilla pod, split lengthways
2 gelatine leaves soaked in cold water until soft
300ml buttermilk
For the rhubarb: 300g rhubarb cut in 2cm pieces
1 tbsp caster sugar
Orange juice that you reserved
Directions
Preheat the oven to 140C/275F/gas mark 1
Place the orange rind on a baking tray and bake for around 20 minutes until dry
In a small pan heat the dried rind, with the sugar, cream and vanilla bring to the boil, add the drained soaked gelatine stir until dissolved, strain then stir in the buttermilk
You can use ramekins or dariole moulds pour in the panna cotta mixture and chill for at least 2 hours.
For the rhubarb turn the oven up to 200C/400F/gas 6.
Place the rhubarb on a roasting tin, sprinkle the sugar and drizzle over the orange juice.
Roast the rhubarb for 10 – 12 minutes until tender.
To serve: dip the dariole mould into hot water for a few seconds and place the panna cotta in the centre of a plate and serve the roast rhubarb around or on top of the panna cotta. If using ramekins Just spoon some of the roast rhubarb on top.