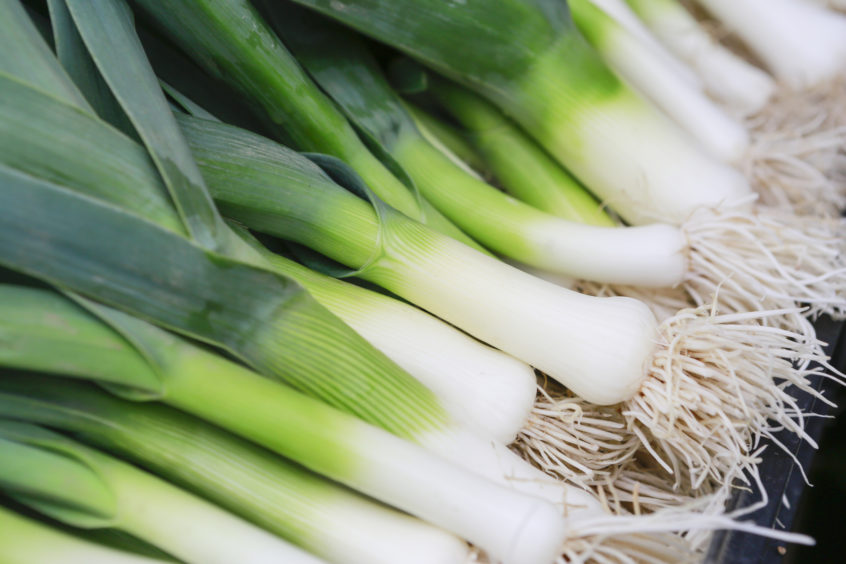 Martin Hollis, executive chef at the Old Course St Andrews looks at the distinguished history of the leek
The humble leek has a distinguished history. It was eaten by the Egyptians, the Ancient Greeks and the Romans, who almost certainly introduced it into Wales and the United Kingdom.
Leeks are the perfect ingredient for winter soups and pastas. However, don't underestimate the great potential of the often-overlooked leek. In season October through May, this mellow vegetable reaches its peak in January.
They're closely related to onions, shallots, and scallions, most resembling the last — though much larger, typically 12 inches in length and around two inches in diameter.
Leeks are commonly divided by harvest seasons – summer and winter. Summer leeks are generally smaller than winter leeks, which are more strongly flavoured. The most popular varieties of winter leeks are King Richard and Tadorna Blue.
Here's my recipe for a delicious leek and blue cheese bake and it only takes 30 minutes to prepare – the perfect Sunday roast accompaniment. You'll need six large, washed leeks, cut diagonally into 6cm pieces, 50g crumbled blue cheese (Dunsyre Blue, Blue Murder), 500ml double cream and one tablespoon of Dijon mustard.
For the crispy topping: 75g diced pancetta, a few sprigs of rosemary, finely chopped,  pinch of dried chilli flakes, 50g breadcrumbs, and olive oil.
Heat the oven to 200C/fan 180C/gas 6. Put the leeks into a 15 x 20cm baking dish, packing them in tightly as they will shrink when cooked. Mix the crumbled blue cheese, double cream and mustard in a bowl with a little salt and lots of black pepper. Pour over the leeks, cover with a double layer of foil and bake for 1 hour 30 minutes until the leeks are very soft.
Put the pancetta into a cold frying pan then fry over a medium heat for 10 minutes until really crisp. Add the rosemary and chilli flakes and cook for 1 minute. Put the breadcrumbs in a bowl, tip in the pancetta, including all of its fat, and mix well. Remove the foil from the leeks and cover evenly with the breadcrumbs and a drizzle of olive oil. Return to the oven for 15 minutes or until the breadcrumbs are golden.
Chef''s tip: When choosing leeks at the market, look for firm, straight, dark green leaves and white necks. Avoid yellowed or wilted leaves and cracked or bruised bulbs. Fresh leeks should be stored unwashed and untrimmed in the refrigerator where they will keep fresh for between one or two weeks. Try wrapping them loosely in a plastic bag to help them retain moisture or store them in the freezer for up to three months. Cooked leeks are very perishable and will only stay fresh for about two days.
For a vegetarian version, leave out the pancetta and add in some mushrooms.