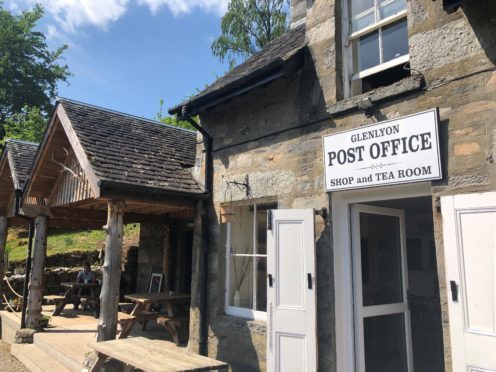 This week I went back to my happy place and one of my favourite places in Scotland, if not the world. It doesn't have a Michelin star, there are no white tablecloths or espumas, and there isn't a palate-cleansing amuse bouche in sight.
This tearoom is real, true and it is in the most spectacular setting that really needs to be seen to be believed.
The Glen Lyon Post Office is a small stone cottage nestled into a hill off the beaten track in rural Perthshire. The wealth of local activities including fishing, cycling, hiking and  shooting draws people to the area but it is by no means solely a tourist destination and is a favourite among the locals too.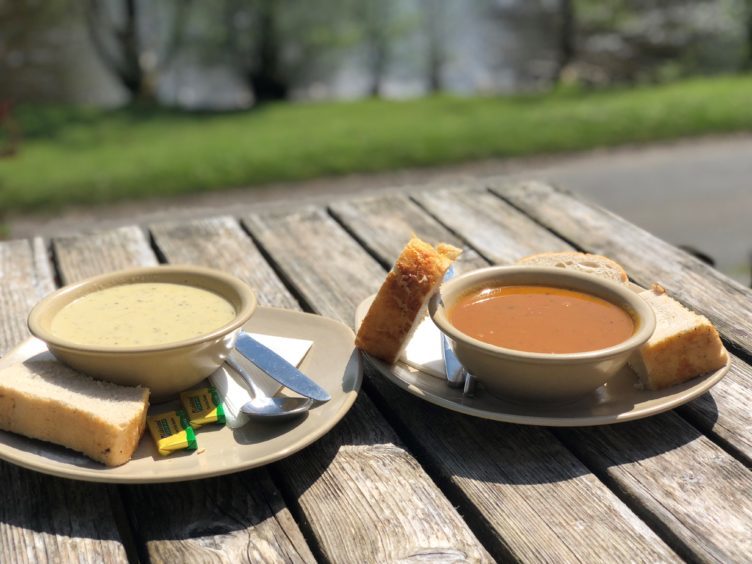 Mr Kerry, myself and our little person were out for a relaxing cycle – it is my favourite bike ride as we drive to the top of the hill and then cycle down the other side for 18 miles, passing a tea room and then a pub, and I only need to dismount to walk up two small hills the whole way. The Post Office is always our first stop and one of the main reasons we don our not-so-fetching padded shorts in the first place.
In glorious weather, such as we have been blessed with recently, my description of the setting of the tea room would never do it justice.  The river babbles over the stones and twinkles in the sunlight just below the patio and the imposing hills in the distance are framed by thousands of shades of green as birds of prey can be seen swooping in the breeze. It really is glorious.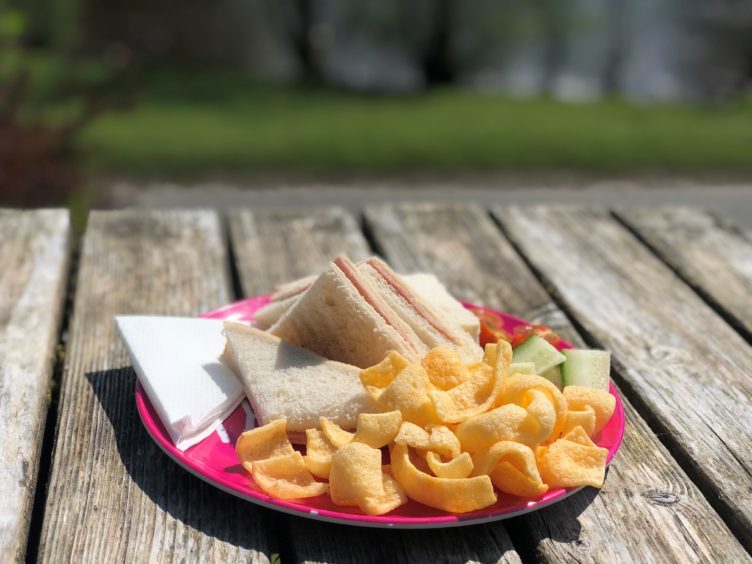 On this particular Saturday afternoon, the outside tables were only half occupied which is unusual for this time of year. On a busy weekend, the owner prepares by baking 16 cakes and that doesn't include the plethora of scones and brownies also on offer – an extraordinary amount for just a handful of tables.
Customers venture inside to order – it's  a tiny convenience store and post office with a few simple tables and chairs. Here, they are greeted by a blackboard of the daily menu.  Board games are available for the wetter days and it really feels like what it is – a remote and very authentic cottage post office and tea room.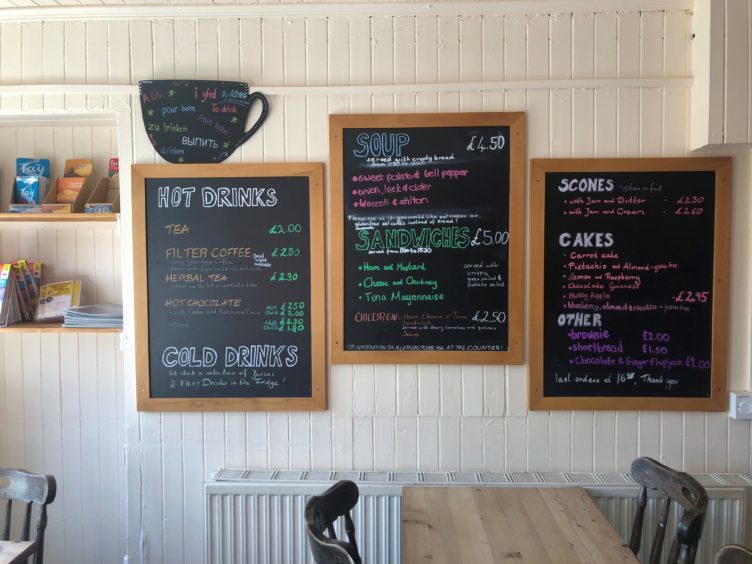 Basics such as tinned soup, crisps and lemonade are for sale as well as useful maps of the area and ice lollies for the onward journey.
If you're thinking this place is somewhat antiquated or behind the times, that is certainly not the case. The menu offers gluten free options, the quirky bright turquoise bathroom has a proper baby change facility and the cake offerings go far beyond a traditional Victoria sponge – the blueberry, almond and ricotta variety particularly caught my eye.
Despite the warm weather, we ordered soup and were both delighted that we did. My vibrantly-coloured sweet potato and red pepper version had just the right balance of sweet and tang and I loved the fact that the skins of the baked potatoes had also been used, adding texture to the soup as well as an additional earthy flavour.
Mr Kerry chose onion, leek and cider which was wholesome and rich with soft, sweet vegetables creating a creamy texture, yet with an undertone of freshness from the cider. Both soups were served with doorstep slices of fresh, crusty bread and butter perfect for lapping up every last drop.
We ordered a children's sandwich for our little person which was a lovely plate of simple ham on white bread, served with cherry tomatoes and Quavers.
Satisfied with our lunch, we could have got back on the bikes and headed off but having seen the list of cakes, this was never going to happen. The lemon and raspberry sponge was light and zesty with a lovely thin drizzly icing crust. Studded with the raspberries it was very pretty indeed. The other slice we shared was the nutty apple cake which was just divine. It was like a heavenly mix off sticky toffee pudding and apple strudel with a lightly spiced, caramel flavour, and chunks of cooked apple and crunchy nuts. This was certainly not sugar-free but moist and spongy and rich.
The tea is served in delicate china cups and saucers, the sandwiches come with both green and potato salads a well as crisps, the scones arrive piled high with cream and jam (or butter if one prefers) and the filter coffee is roasted in Glen Lyon itself. I wasn't trying to find fault but if I had been then I would have had a mighty difficult task.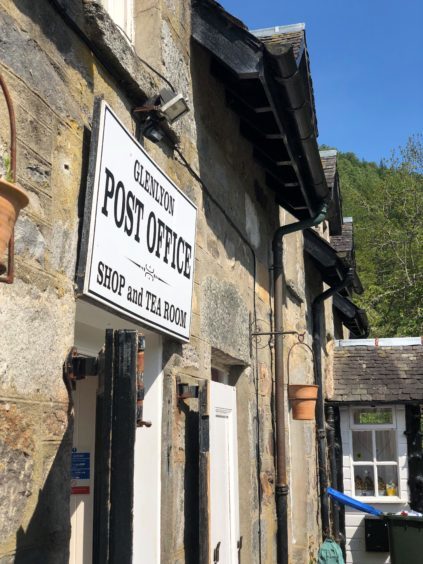 Thinking of the tearoom gives me a warm, fuzzy feeling. Current owner Becky, who lives in the adjoining cottage, has been there for 8 years and has developed a winning formula. It is rustic, traditional and quaint serving simple, wholesome, freshly prepared food. There is nothing fancy or, dare I say, trendy about the place and it is all the better for it. If you're after a macchiato and quinoa salad then this won't appeal but the warm welcome, breathtaking vista and great soup will have me returning for many years to come.
Info
Price: Soup: £4.50, sandwiches £5.00, scones from £2.30, cakes £2.95
Value: 10/10
Menu:  9/10
Atmosphere: 10/10
Service: 9/10
Food: 10/10
Total: 48/50
Info: The Glenlyon Post Office & Tearoom
Address: Glen Lyon, Perth & Kinross,
Tel: 01887 866221
Web:  www.facebook.com/Glenlyon-Tearoom-198211440302552/