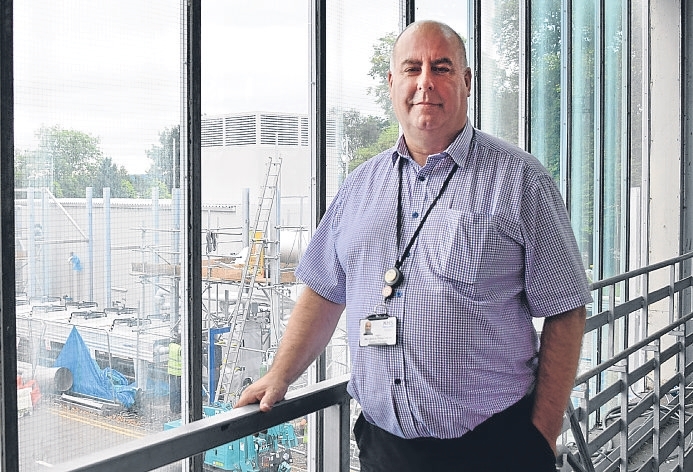 A massive energy saving project is already under way at Ninewells Hospital
in Dundee that should save the health board almost £750,000 a year.
An overhaul of lighting – replacing ageing bulbs with controllable LED lighting – is already delivering savings of more than £200,000 annually.
Also nearing completion is the upgrade of the hospital's heating system – one of the most eagerly anticipated projects in years for estates manager Robert Harvie.
A massive state-of-the-art boiler has been transported from Austria to replace Ninewells' ageing system. It is nearly ready to go live, with the old boiler having been extracted by 500 tonne crane through the roof. It will deliver "guaranteed" savings of around
£500,000 a year for the next 25 years – something the team is extremely excited
about.
Robert said: "The existing boilers were introduced 40 years ago and were 10 years in the planning so really the technology is more than 50 years old. "The delivery of the new boiler has been a year-long process so far but we hope the project will be completed by December.
"It will be far more efficient than the system it is replacing and will immediately start making major savings for the hospital.
"This all happens behind the scenes. People rarely see the nuts and bolts of what makes the hospital tick.
"It is really exciting though. We are looking at savings of £500,000 a year and all of those savings can be redirected into patient care which, after all, is why we are here."
Reinvesting in care is also behind the new energy efficient lighting being introduced at Ninewells and also at PRI and Stracathro.
Phase one has seen the replacement of old lighting with new LEDs and smart
controls that see lights dim in corridors when they are not being used.
By the end of 2017, it is hoped that further phases will see annual savings
increase to at least £300,000.
For more on this special series, click here.