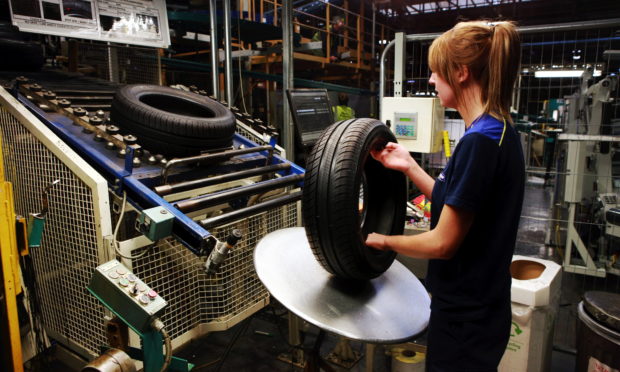 The morning after the night before is when you expect the fug of a hangover to start lifting.
But for Michelin's Dundee workers there was little relief as events surrounding the botched factory closure announcement just got murkier.
Through hurried text messages, work WhatsApp groups and late Bonfire Night phone calls staff were summoned to an early morning meeting at the Baldovie site.
They knew what they were to hear – they were simply waiting for the executioner's axe to fall. The fait accompli came in a to-the-point 10-minute address by local management.
They read out the widely circulated closure statement and informed workers that their individual options would be explored in the days and months ahead as the statutory consultation process takes its course.
And that was it. A bleak announcement on a bleak day for Dundee.
But questions remain as to how one of the city's largest private sector employers with almost 850 staff found itself in this situation.
We are told there has been structural decline in the market for the factory's core products – premium tyres of 16-inches and below and energy saving low-rolling resistance tyres.
But has that decline been so marked that Michelin was completely blindsided?
Michelin Dundee closure: Workers in tears after 'kick in the teeth' job axe announcement
Is it really credible that a truly global manufacturer has been so out of touch that it blithely ploughed ahead with tens of millions of pounds of investment when the market was moving in another direction?
If that scenario is correct then Michelin is not the highly diligent and knowledge-led firm I had thought it was.
But more, why did it take a month for the staff to be brought into the loop after Michelin's board decided on October 9 it was closing the factory?
It was no secret Baldovie was under strain as, just four weeks earlier, local management had confirmed plans for a significant cut to production rates as market pressures in the form of cheap Asian imports took their toll.
But even then, there was no inkling of what was coming down the road.
The plan was to manufacture fewer tyres over the next three years. It was expected that output would fall from peak capacity of circa 134,000 tyres a week to 96,000 – not that the doors would close.
Michelin waited four weeks to tell Dundee workers about factory closure
That felt reasoned and realistic and offered a future for Dundee in admittedly tough and tumultuous economic times.
But Michelin's main board obviously just saw good money going after bad, and pulled the plug.
As a corporate body tasked with delivering a return to shareholders, the economic argument made at Michelin's headquarters in Clermont-Ferrand, France, prevailed over the emotional argument that is now being played out in Dundee.
Skilled and loyal Dundee workers and their families are the losers here and every effort must be made to help them at this time.
But the closing of the gates at Baldovie – if it comes to pass as is now expected – will be a sad day for Dundee and the wider region it has offered opportunities to for almost half a century.
The closures of Timex and NCR's manufacturing operations stand out as black marks on the recent industrial history of this area.
But Michelin's demise is every bit as grievous a blow to the economic fabric of this region.