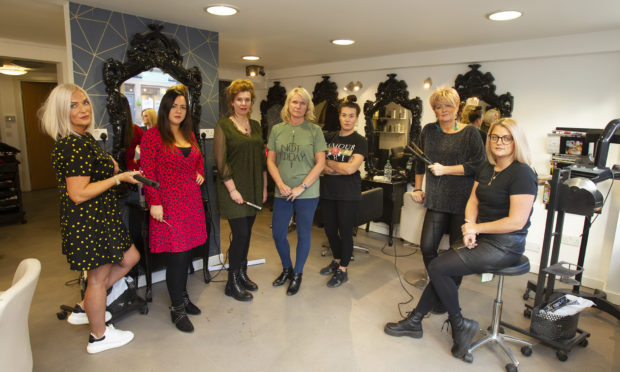 A group of Forfar businesswomen have transformed an old pub into a hair salon in only a weekend after a shock eviction from their former premises.
Bailiffs changed the locks on the Re-invention salon in the High Street at the beginning of December after the group was served with an eviction notice due to issues with their landlord's mortgage.
They were offered space in the Old Reid Park Bar a week before having to move out of their salon, which had been in place for around 10 years.
Co-owner Linda Mackie said they worked hard to turn the place around in time to serve clients this week.
"It's not the way we would have had it, but it's a new beginning," she said.
"We have made the best of our situation and the new place is going to be quirky and fun."
The Re-invention hairdressers were left "shocked" and "furious" when the court officials entered their premises with the papers in November.
Having paid their rent on time, the businesswomen had not been aware there were serious issues with the properties.
They were given only two weeks to leave, the eviction date being one previously set aside for the group's Christmas party.
Linda added: "We have been through a whole lot of emotions – shock to then being devastated, to then being angry to being quite accepting of the situation.
"It was sad to be moving on, but quite a worry too as it is the busiest trading time of the year for us."
Re-invention co-owner Diane Russo said four of the hairdressers have moved to the converted pub premises.
The others are now working in other salons in the town.
She said: "They came and changed the locks at 2pm.
"Fortunately for us another businessman, Ian Anderson, phoned me last Wednesday and said we could have his premises across the road.
"We started working right away. It has been crazy but every cloud has a silver lining."
She said she had been overwhelmed with the offers of support.
"There have been so many kind words, messages, and offers of places to go. The hairdressers in the town even offered us chairs," she added.
Landlord and property owner Martin Reid declined to comment in detail when the eviction notices were served, but said there had been a financial misunderstanding relating to refinancing of borrowing.
He did not comment when asked about the evictions having now taken place.
Sandra Robinson, owner of non-surgical clinic Radiance Aesthetics, who was also evicted this week under the same circumstances, said she was still working with Healthcare Improvement Scotland to find acceptable alternative premises.
"They have been very supportive and I am hopeful we will resolve the situation soon," she added.