VIDEO: Watch as boozy 74-year-old crash driver accidentally captures terrifying drunken journey through Tayside on dashcam
By
Graham Brown
February 24 2020, 7.55am
Updated: February 25 2020, 8.25am
A court has been shown a video nasty of a Tayside 74-year-old's 15-mile journey on a busy commuter road while more than four times the drink-drive limit before 9am.
Danger driver James Bowman repeatedly weaved around the A923 between Blairgowrie and Muirhead, near Dundee, hitting a bridge and then ploughing on after striking a glancing blow to another car in an offence which saw him snared by his own dashcam footage.
A sheriff said it was a miracle no-one had been killed after viewing part of the 20-minute clip which showed the inebriated pensioner completely on the wrong side of the road on numerous occasions.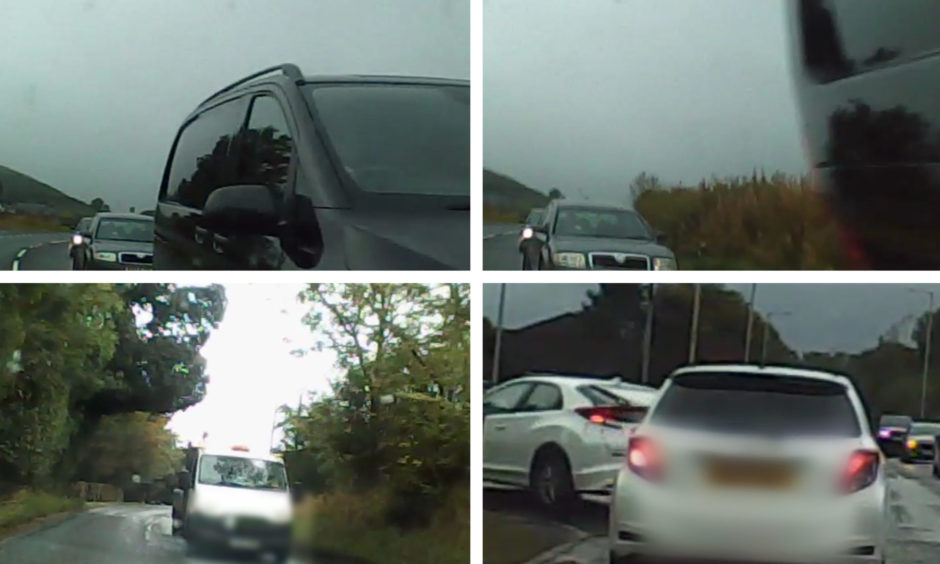 It also revealed a concerned relative suggesting Bowman sounded "the worse for wear" in an in-car phone call minutes into the 8.30am drive to pick the man up from Dundee.
Bowman is heard saying: "I'm fine", but soon after repeatedly shouts "Hello" at the ringing phone after failing to answer another incoming call.
After veering around the road out of Blairgowrie, he is then heard to say "bugger" after hitting the approach to the bridge over the River Isla, near Coupar Angus.
On bends around Tullybaccart he then collides with a Mercedes coming in the opposite direction, but ploughs on regardless, veering into a layby before rejoining the road.
The former businessman was eventually stopped by a concerned motorist who had tailed him during the journey, and when breathalysed by police gave a reading of 90 microgrammes – more than four times the legal limit of 22.
Bowman, of Ashgrove Court, Blairgowrie admitted dangerous driving and drink-driving on September 25 last year in an offence his lawyer said was "as bad as it can be".
Solicitor Brian Bell said: "I would accept, as he does, that it is at the high end of appalling driving and he also accepts he is lucky not to be in a higher court.
Sheriff Derek Reekie told the pensioner: "It is an utter miracle no-one was seriously hurt, including yourself.
"If it was a morning after reading, you must have been virtually drinking all night. It must have been plain to you that you were seriously intoxicated and not just mildly impaired.
"It is also a miracle you are not appearing in a higher court had there been a serious injury or a death, which your driving could easily have caused.
"If you were a younger man, custody would have been the case," he told the accused.
The sheriff said the case was a "tragic set of circumstances" after hearing Bowman had lost his livelihood and marriage following the collapse of a nursing home business employing 100 staff.
Sheriff Reekie banned him from the road for 45 months and ordered Bowman to resit an extended driving test.
He must also carry out 150 hours unpaid work and will be curfewed to his home from 7pm to 7am for three months on an electronic tag.