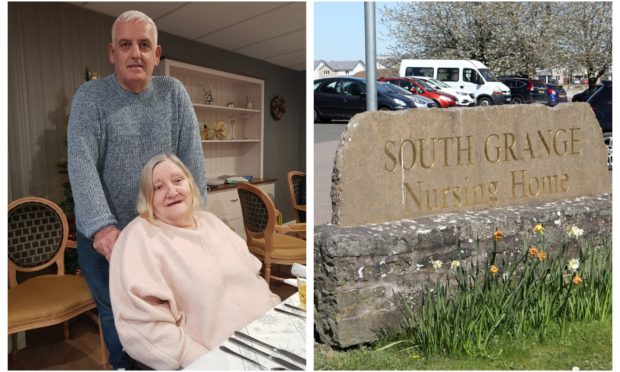 A Tayside son and daughter who claim their mother was "left to die" in a local care home have encouraged other bereaved families fighting for justice to come forward.
Liz and Larry Cullen say they are not giving up in their bid to find out what happened to Yvonne, a resident at South Grange Nursing Home in Monifieth, Angus.
The 75-year-old passed away on May 1 after testing positive for Covid-19 but her children are convinced she was not given adequate care in the week prior to her hospitalisation, despite showing severe symptoms.
The Crown Office, which investigates sudden and unexplained fatalities, has set up a dedicated unit to examine all Covid-19 deaths of key workers and care home residents, including Yvonne's.
The pair say the service is so far the only body to take them seriously and criticised the home's owners Barchester, as well as the Care Inspectorate and Angus Council's Adult Support and Protection Service.
Larry said they simply want the circumstances thoroughly investigated.
"We only want to know the truth," he said.
Barchester, which runs similar facilities throughout the UK, has repeatedly stated the home followed all protocols.
Liz said she believes there could be many other residents across Scotland who were not given a fighting chance, adding families need to know the full circumstances surrounding each tragic passing.
The nurse said: "This is one family's fight for justice but this has affected so many people. Lives have been lost when it shouldn't have happened.
"If you invite a virus that you know is fatal into a home of vulnerable people who already have existing comorbidities then what do you think is going to happen?
"There seems to be complete apathy to investigate our mum's death."
Having asked the Care Inspectorate (CI) to investigate Yvonne's care, they are now accusing the watchdog itself of failing to look at the evidence she has supplied.
The CI has taken action in only the most severe cases, such as at Skye's Home Farm Care Home, where is has sought to remove HC-One as the care provider following a major outbreak.
Yvonne also said a meeting regarding care at South Grange held between Police Scotland, Angus Health and Social Care Partnership, Barchester, the Care Inspectorate and the local GP, closed down any investigation without adequately assessing Yvonne's treatment.
A spokesperson for the CI said: "A concern has been raised with us and we are considering all information in relation to this carefully."
The manager at South Grange has since left the company with Barchester stating the decision was "of her own volition but she was a highly respected member of the team".
A spokesperson for Barchester said the home has followed official advice throughout the pandemic and said its sympathies lie with all those who are bereaved.
She said: "The team at South Grange Care Home offer their deepest condolences to the family and friends who have lost a loved one in this awful pandemic.
"Every one of these deaths has been a tragedy for all of us, and we send our heartfelt condolences to our residents, their families and our staff that have suffered.
"Throughout the pandemic, the home was in regular contact with Health Protection Scotland and the local authority and we closely followed the official advice.
"The safety and wellbeing of our residents and our staff is our utmost priority and the home is now COVID free."
A spokesperson for the Crown Office said: "The Procurator Fiscal has received a report in connection with the death.
"The investigation into the death, under the direction of Covid-19 Death Investigation Team (CDIT), is ongoing and the family will continue to be kept updated in relation to any significant developments."
To contact the unit with information, email covid.deaths@copfs.gov.uk
Angus Council said it does not comment on individual cases.