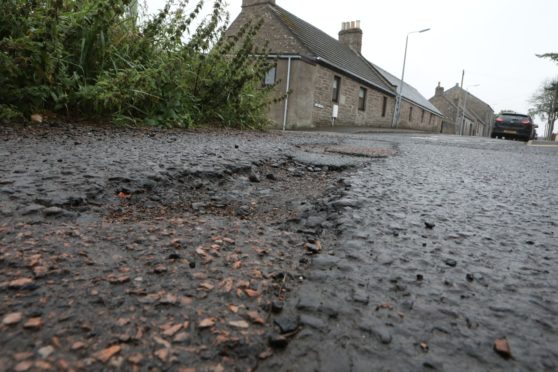 Angus is to lead calls for cash from Holyrood and Westminster to help fed-up householders plug the holes in unadopted roads they live on.
The authority is to draw up a map which will reveal the scale of the problem across the district after a councillor said some roads were getting so bad they might have to be closed.
But critics have warned the idea of a handout for help to tackle responsibilities which lie with property owners could be like pouring cash into "an open-ended bucket".
Arbroath West and Letham Liberal Democrat councillor Richard Moore brought a motion before the full council asking chief executive Margo Williamson to write to the Scottish and UK governments seeking a grant system to help householders.
His request for a breakdown of the Angus situation and the possible cost of bringing miles of county roads up to adoptable standard was also agreed in the 14-11 vote, but opponents said the exercise was a waste of time and money.
Mr Moore said: "Historically many properties were sold without the road being adopted and costs to bring them up to adoptable standard are prohibitive for most householders.
"We can drive down their street, but we don't have the responsibility of keeping it up to scratch and there are roads in such a poor condition that the council's own refuse lorries won't go down them so people have to wheel their bins to the end of it.
"The council has neither the responsibility or resources to tackle this and the situation is deteriorating daily – as are the roads.
"There needs to be a national conversation on this and we need to start that conversation on how to address this," he said.
Fellow ward SNP councillor Alex King said householders should be fully-informed they were taking on a property on an unadopted road.
"If you can't afford the obligation, then you really shouldn't be buying the house," he said.
"This situation is way beyond what we can deal with, it is an open-ended bucket.
"Once we start repairing roads, there will be a very large number that suddenly need maintenance."
Montrose SNP councillor Bill Duff said: "This is like trying to find some gold at the end of the rainbow and I think we are asking our officers to waste a huge amount of time cataloguing this when nothing is going to happen with it."
A report on the Angus situation will be brought back to councillors in due course.