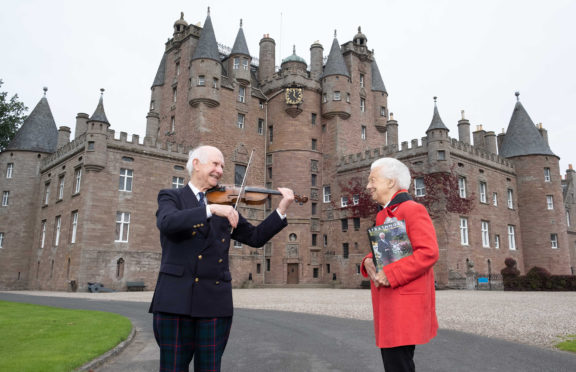 An Angus fiddle composer whose work graces the walls of a string of Royal households has completed his latest charity compilation in a lockdown labour of love.
Angus Strathspey and Reel stalwart and retired Forfar Procurator Fiscal Sandy Ingram has raised more than £30,000 for charity down the years with books of music and CD recordings of his tunes.
Many were written to mark special occasions for locals such as weddings, retirals and milestone marriage anniversaries.
Sandy's talents have also won the admiration of The Queen, the Duke of Rothesay and the Duchess of Gloucester for whom he has previously penned original compositions.
He has now released the third volume of his Strathmore Airs and Grace Notes, which includes the latest Royal work – presented to the new Earl of Forfar on his first visit to the town in July 2019.
In the suitable setting of the Queen Mother's Glamis Castle childhood home, Sandy presented Mary, Dowager Countess of Strathmore with a copy of the new volume, with all the proceeds from its sale going to Alzheimer Scotland.
He said: "As before, the tunes are all of the traditional Scottish fiddle and accordion genre.
"Most were already on paper, but a few were written during lockdown and it had been at the back of my mind to do a new volume for a while so I got cracking and it kept me out of mischief."
Alongside the tune written to welcome the new Earl of Forfar after Prince Edward received the ancient title as a 55th birthday present from his mother, there is the Air to Georgie, presented to former Angus Lord Lieutenant Mrs Georgiana Osborne to mark her 2019 retirement as The Queen's representative in the county for almost two decades.
Sandy, 89, added: "There are a whole host of other tunes for many people who are well-known, or perhaps not so well-known, in Angus and beyond but they all have a special significance to the people they were written for."
They include one for Angus Strathspey and Reel Society pal Bob Spalding, from Kirriemuir and a slow air for leading Angus photographer and artist Jack MacDonald and his wife, Marion.
"Volume one came out in 2001 and then there was another in 2009. Across the three volumes of Strathmore Airs and Grace Notes there are probably around 150 tunes so I am glad to have got this latest project completed in lockdown," said Sandy.
Copies of the book of tunes can be obtained from him by contacting 01307 840223.