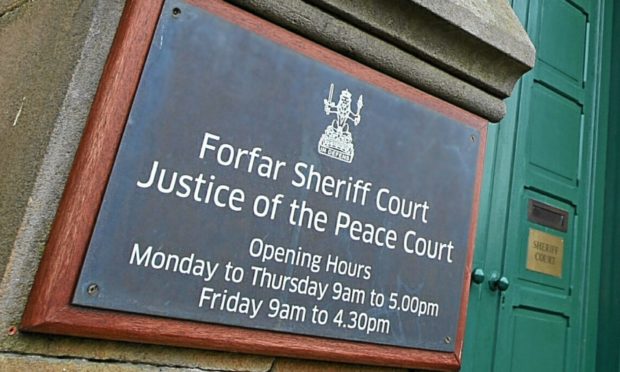 A maniac who lunged at a man with a brick in a drunken Forfar attack has been jailed for a year.
Shocked families in a local playpark watched as Marc Smith forced his terrified mother to pull over the car they were travelling in prior to the offence.
The man was confronted by brick-wielding Smith, but escaped being struck with it as the 26-year-old assaulted him with his hands.
A sheriff said custody was the only option for Smith given a "significant record for violence" in the past several years and the steel worker will also be the subject of a six-month supervised release order on completion of the jail term.
Smith, described as a prisoner at Perth, appeared on indictment before Sheriff Gregor Murray at Forfar and admitted assaulting a man by lunging at him with a brick at a house in Prior Road, Forfar on June 22, and behaving in a threatening manner at Arbroath Road on the same date.
Depute fiscal Kirsten Letford said the incident began shortly before 7pm after Smith's mother had picked him up from Arbroath.
"He was in the front passenger seat and under the influence," said Mrs Letford.
"The accused said he wanted her to drive him to his ex-partner's house to collect some belonging, but she said no, and told him that she would go."
Smith flew into a rage and stated banging on the dashboard of the car.
His mother slowed down, but her swerving car caught the attention of passers-by and they watched as she got out and ran off.  A female witness told Smith to stop and he also got out of the car, jumped over a wall and ran off.
The fiscal said the accused then made his way to the house of a man he knew and was allowed entry after telling him he was there for an emergency, but without warning tried to lunge at him with a brick in his hand.
"The man attempted to close the door but fell to the floor, whereby the accused hit him twice on the back of the head with his hand," she added.
Smith's solicitor said the accused and his long-term partner had separated just before the incident and he had been distressed over the break-up.
"He is at an age where a change can be made, he can get out of the revolving door of custody," she added.
Jailing Smith for 12 months, Sheriff Murray said: "You have spent most of the last five or six years in custody for crimes of violence.
"You appear on what were initially very serious charges but these have been very much watered down.
"However, anyone was entitled to be scared stiff when you were drunk, holding a brick and shouting and swearing.
"Hopefully someone sensible will emerge at the end of the day, it is about time."