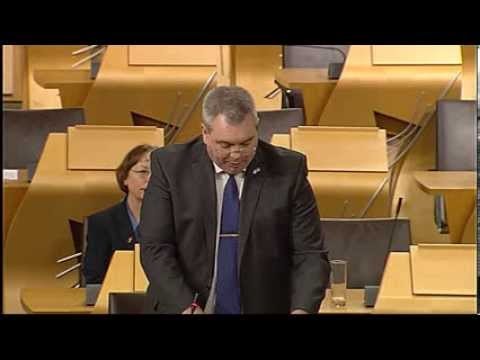 Exposing "Walter Mitty" veterans would be an appropriate and fitting legacy for the late Conservative MSP Alex Johnstone.
That's the view of his trusty sidekick Jim Millar from Arbroath who said a Stolen Valour Bill would also provide a service "to a section of the community he admired so much".
Mr Millar, who was the North East Scotland MSP's parliamentary advisor, said Mr Johnstone was keenly aware of the proud military heritage of the north east, and this was tied into a wider interest in military history.
He said: "He had enormous respect for veterans and military personnel, and developed a sophisticated understanding of the challenges that service leavers can face as they adjust to civilian life.
"He knew that issues such as the symptoms of PTSD sometimes take years to manifest, long after an individual has left the forces, and wanted to ensure that veterans got the help and support they sometimes need.
"However, it was becoming increasingly obvious that individuals who had never served, were passing themselves off as current military personnel, or more frequently, as decorated war heroes.
"Real veterans describe these people as 'Walts' after the daydreaming character 'Walter Mitty'.
"Alex was scathing about these people, and felt that this behaviour was not just contemptible in itself, it was also a significant insult to those who had earned their medals through serving their country."
Mr Johnstone previously lodged a motion in the Scottish Parliament slamming those who falsely portray themselves as armed forces veterans.
It remained something he strongly believed in and he had begun raising the prospect of a Bill again before he fell ill.
Currently incidents can only be prosecuted under existing fraud legislation, in cases where a person has used fake claims for financial gain.
Online groups, often manned by former veterans with access to military records, have already set themselves up as self-styled 'Walt Hunters' who expose and ridicule imposters.
Mr Millar said: "Alex looked closely at the Stolen Valour legislation, and the impact that it had.
"He was also examining a Bill currently going through Westminster, which covered the wearing of unearned gallantry and campaign medals.
"However, he was of the view that the issue was now well beyond a few individuals behaving in a way that some view as harmless, and felt that legislation was required that made it easier to prosecute people who passed themselves off as veterans in some circumstances.
"I think the case for a Scottish Stolen Valour Bill is very strong.
"We are not just talking about people who falsely wear medals on Remembrance Sunday.
"Anecdotally, I have heard of individuals who fabricate military service, or combat incidents in order to access services, training opportunities and employment.
"When this happens, it diverts much needed resources away from those veterans who need support.
"The issue is not going away, and it may be growing.
"I share Alex's view that it needs to be addressed.
"A Stolen Valour Bill in Scotland, would not make us unique, as other countries already have something similar, but Scotland could lead the way among the UK legislatures in delivering a comprehensive Bill that not just acts as a deterrent for these Walter Mitty characters, but makes it much easier to punish those who indulge in this behaviour.
"Alex was a real presence in Holyrood, and he frequently sought to defuse the adversarial atmosphere that can exist there.
"A Stolen Valour Bill would be an appropriate and fitting legacy for him, as well as providing a service to a section of the community he admired so much."