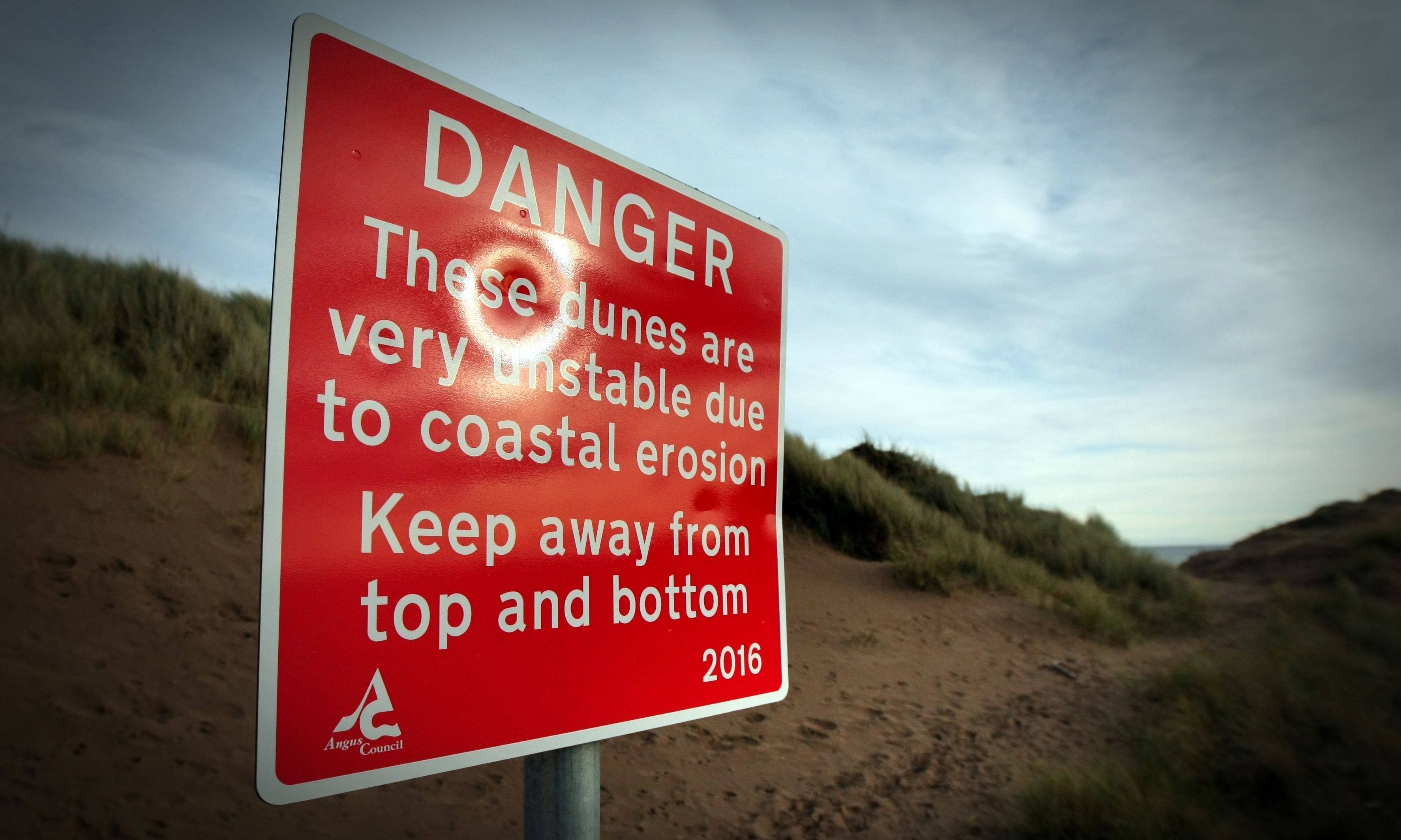 A "ray of hope" has been revealed for crumbling Montrose after a scientific test was hailed as a success.
Residents believe there is little evidence of work to save their now-thin strip of beach, as metres of dune are lost to the North Sea each year.
The world's fifth oldest golf course in the town has already conceded one hole to the sea, with armour stripped to provide protection elsewhere.
But The Courier has seen the results of a year-long study that may give townspeople some hope.
Montrose Port Authority (MPA) regularly dredges to allow access for huge vessels, with matter normally dumped to the south so it will not wash back into the harbour.
A small amount of sediment was dumped due east of the golf course's first tee, loaded with tracer material, and monitored over the course of a year.
The study found most of the tracer settled on the beach and remained there.
The local authority will work with MPA to undertake a "full-scale dredge/dump and tracer study as soon as is practicable" and work with Montrose Golf Links Ltd to manage realignment.
Further tests and a full-time licence for such dredging will now go before Marine Scotland.
Montrose councillor David May said the test was "very successful" but wants greater communication between agencies involved.
"There was work taking place with the harbour board in terms of a tracing element being put in some of the sand that's dredged in the harbour being deposited offshore.
"The impression I had is that it was very successful and a meeting of stakeholders was quite a positive one.
"But we found out the day afterwards there was more dredging done and it was deposited at Lunan.
"I was gobsmacked at that. We weren't told."
The "stakeholder group" was made up of Angus Council elected members and officers, MPA, the links management, GlaxoSmithKline, Marine Scotland, Scottish Natural Heritage and the Scottish Environment Protection Agency.
The trial will be considered along with the rest of Angus' flood prevention strategy, with more Scottish Government cash available in 2022.
However Mr May fears that will be too late to save much of the dune system and the links.
"We are almost certainly going to lose the third tee sooner rather than later," he said.
"A lot of resource has been spent on constructing a replacement but the land is being lost rapidly. A lot of that historic golf course is going to go."
The report follows a joint letter from Lib Dem MSP Mike Rumbles, Conservative Liam Kerr and SNP member Mairi Evans to the council, demanding to know what measures are planned to ensure the town's protection.
A Tayside coastal erosion expert has previously warned that the sea has crept 70 metres towards Montrose within the last 30 years.