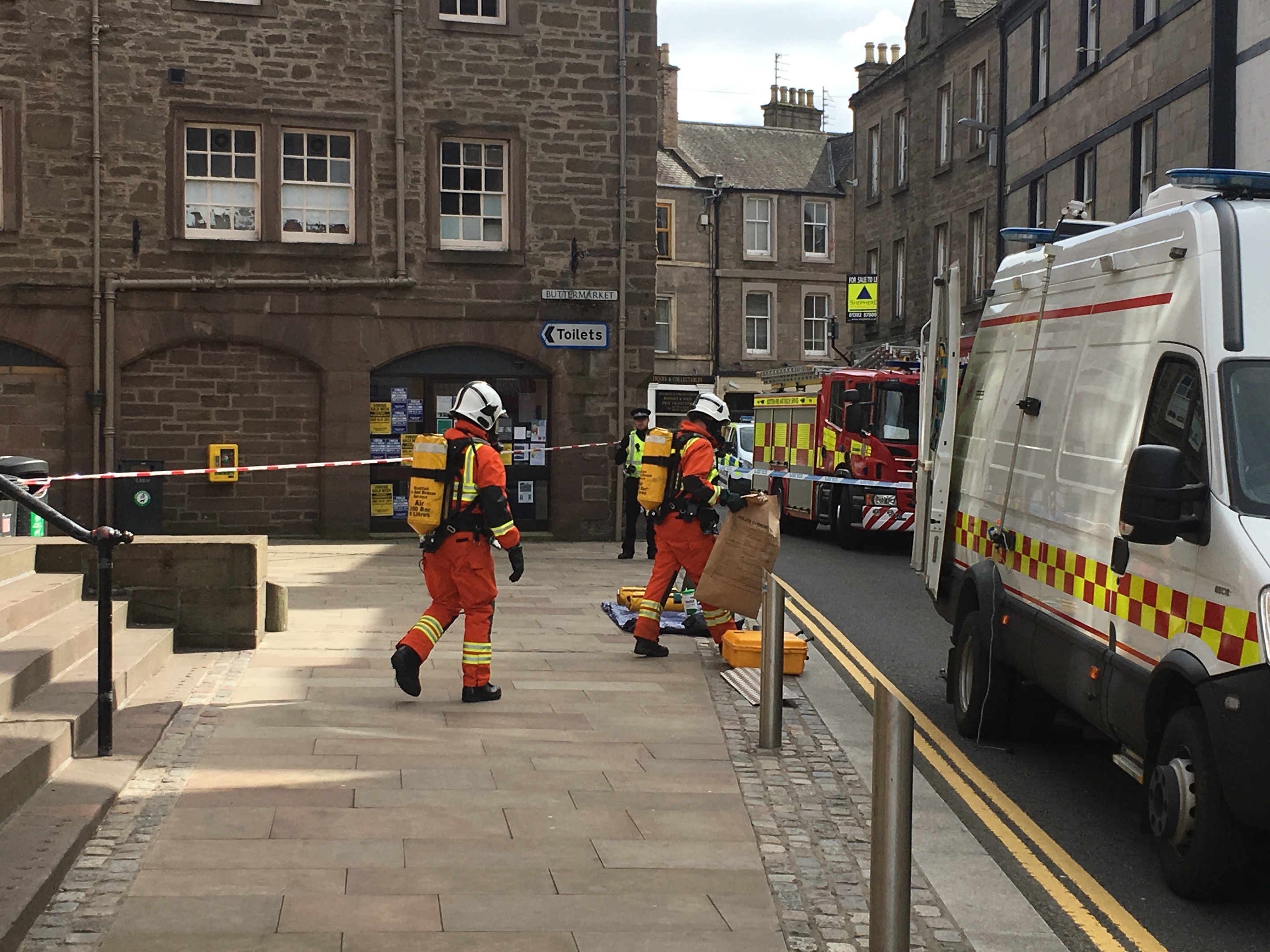 Angus Council staff have been praised for how they handled the discovery of a letter which stated it contained anthrax at offices in Forfar yesterday.
As well as the anthrax spores threat, it is understood the message also contained the message "Get SNP out. Tories in".
The alarm was raised after the letter was discovered at the Municipal Buildings in the town's Castle Street at around 1.35pm.
It led to a section of Castle Street being cordoned off while specialist firefighters in chemical suits removed the letter for testing.
Police, ambulances, four fire appliances, a heavy rescue unit and a specialist chemical unit were dispatched to the scene as the drama unfolded.
After the letter was removed in a brown evidence bag two paramedics were later seen entering the building.
The response by staff has been praised by an ANGUSalive spokesman.
He said: "Staff are safe, well and have received the appropriate support both during and after yesterday's incident, while assisting with the police investigation.
"The buildings are open for business as usual today. As always, our staff followed established mail handling procedures, which are aligned to national security guidance.
"Given there is an ongoing police enquiry, it is not appropriate to comment further at this time."
The guidelines for responding to a suspicious item, as issued by the Centre for the Protection of National Infrastructure, are to avoid unnecessary handling of the item.
If it is being held then it should be put down on a cleared, flat surface and kept separate and easily identifiable.
People should then immediately clear away from the area, including adjacent rooms and the rooms above and below. Police should be contacted.
A police spokeswoman said: "Enquiries are continuing".
For full coverage, see Friday's Courier or try our digital edition.